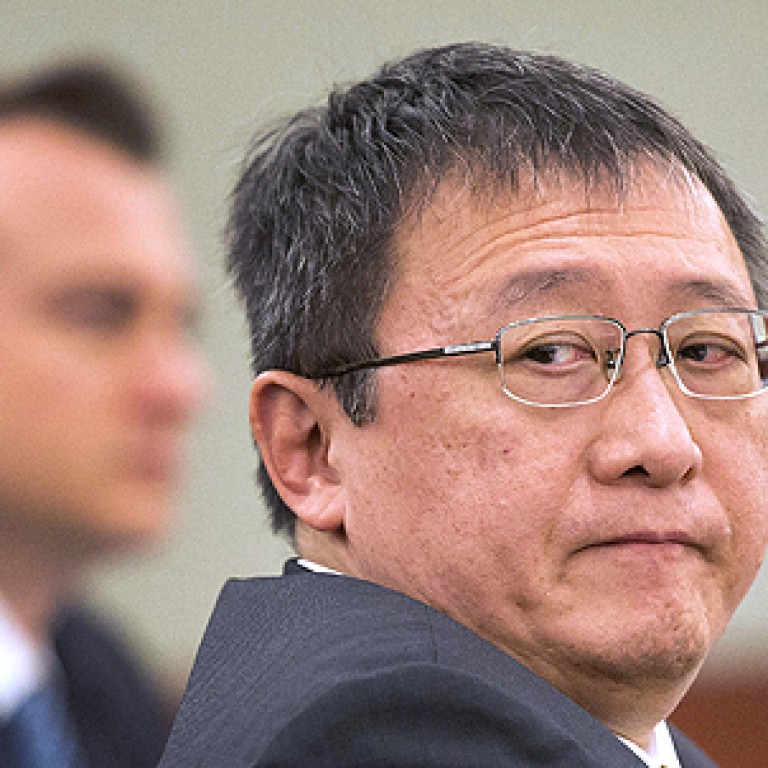 Hong Kong businessman a step closer to US$70m jury award from Sands
A Nevada judge on Tuesday denied Las Vegas Sands' request to throw out a jury verdict awarding former consultant Richard Suen of Hong Kong US$70 million in a breach-of-contract case.
A Hong Kong businessman is one step closer to collecting a multimillion-dollar award from Las Vegas Sands, the largest US casino company.
A Nevada judge on Tuesday denied Sands' request to throw out a jury verdict awarding former consultant Richard Suen of Hong Kong US$70 million in a breach-of-contract case.
Sands presented 12 reasons the company should be granted a retrial.
After hearing a full day of arguments on Tuesday, District Judge Rob Bare declined to overturn the decision a jury reached in June. Sands is now expected to appeal to the state Supreme Court.
Suen says he was hired by Las Vegas Sands to curry favour with the Chinese government and help the company win a gambling licence in Macau, the only place in China where casino gambling is legal. He first sued Sands, which is owned by billionaire Republican super donor Sheldon Adelson, in 2004.
Sands holds that it would have won a licence without Suen's help.
A jury found in Suen's favour in 2008, awarding him US$58.6 million, but Sands successfully petitioned for a retrial, arguing that the jury had been presented with inadmissible hearsay evidence.
Suen won a second jury trial in June. The second trial attracted more attention than the first because Sands has become a major global casino company in the intervening years, thanks to its success in Macau, and Adelson has gained fame as a top contributor to conservative causes.
Sands' success allowed Suen to demand more money during the second trial. He says he and his company were promised US$5 million and 2 per cent of net casino profits, and Sands' profits have exploded since 2008.
Las Vegas Sands now operates four resorts in Macau's Cotai Strip area and makes about 60 per cent of its profit in the former Portuguese colony an hour from Hong Kong by ferry. Sands also operates the Venetian and the Palazzo casinos on the Las Vegas Strip.
Neither Suen nor Adelson were present in court on Tuesday. Their attorneys came weighed down by oversized three-ring binders. One pushed a trolley bearing legal documents.
"There was a heck of a lot of paperwork filed," Bare said, noting that he had allowed both sides to exceed normal page limits for their supporting documents.
Among other arguments, Sands' attorneys hold that the jury was again allowed to consider hearsay evidence, including testimony from Sheldon Adelson's brother Lenny, and that Suen failed to demonstrate that he helped secure a license.
The company's attorneys also argued that the trial should be scrapped because a juror was revealed to hold a secret prejudice against Adelson.
The man in question, juror number 12, taunted a fellow juror who was reluctant to find against Sands, and said she must be afraid Adelson would threaten her life if she angered him. The woman took offence and asked to sit separately from the rest of the jury for the remainder of deliberations.
"As there was no evidentiary basis for Juror No 12's inflammatory comment, it can only be explained by a serious bias against LVS [and its CEO]," Sands' lawyers wrote.
Sands first raised this issue in court immediately after the verdict was delivered. At the time, Bare said the company should have raised the issue before it lost the case.
In June, the company said it saw compelling and sufficient grounds to appeal, and would do so "aggressively."
Reached on Tuesday night, Sands spokesman Ron Reese said nothing has changed and the company will "absolutely" appeal the decision.
Arguments at the Nevada Supreme Court level will likely resemble Tuesday's hearing.
Suen's lead trial attorney, John O'Malley, said the team was "looking forward" to defending the judgment at the Supreme Court level.
"We're very pleased with Judge Bare's careful and thorough analysis of the issues raised by the Sands, and we are very pleased with the result," he said.