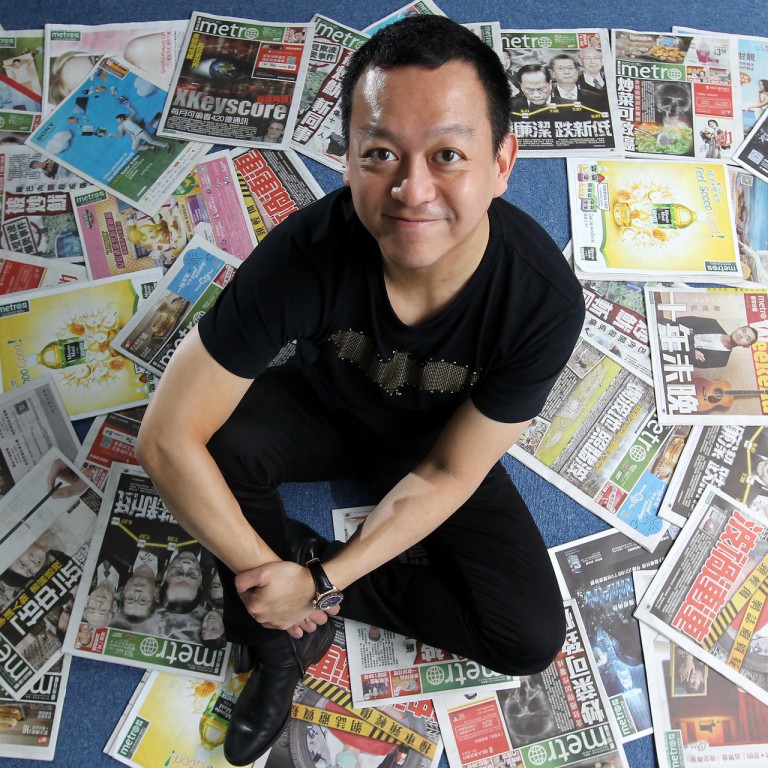 Restaurateur buys Hong Kong newspaper as side dish
What is a cash cow business? Casinos? E-commerce? The answer given by restaurant boss Kenny Wee Ho may surprise many - newspapers.
What is a cash cow business? Casinos? E-commerce?
The answer given by restaurant boss Kenny Wee Ho may surprise many - newspapers.
Wee has paid HK$200 million to acquire Metro Daily, Hong Kong's first free newspaper - "in cash", he said - with the deal to be finalised within days.
" Metro Daily is a cash cow," Wee said. "It is a profit-generating business."
He expects to make his investment back in three years.
Wee, born in Hong Kong and educated in Australia, now runs three restaurants in Hong Kong, three in Taiwan and two others in Australia.
He said he wanted to diversify his business portfolio because "to be honest, restaurants won't make huge money".
But he also said he would not take risks in pursuit of big money. "I'm not a risk-taker," he said.
Wee said he had been looking at different businesses in recent years, and Metro Daily had emerged as the best choice.
At one stage he was on the verge of investing in investment banks but decided against it because the investment required was too big and he knew little about the industry.
"I don't have the guts to risks like that," he said.
He had also followed the property market closely but had failed to spot any investment opportunities due to soaring prices.
"By comparison, Metro is a safe investment," Wee said.
"The paper has been there for more than a decade and I see no possibility for its performance to deteriorate dramatically."
Metro Daily was launched in 2002 and 400,000 copies are distributed in MTR stations every weekday morning. Publishing group Sing Tao News, which publishes its own free Chinese-language newspaper, Headline Daily, once showed interest in acquiring Metro Daily as part of a syndicate.
Headline Daily is currently the market leader. Launched in 2005, its daily circulation topped 880,000 copies last year, according to the latest financial report available.
Wee said he would not touch Metro Daily's operations.
"It's a profitable company and it has its working routine," he said. "I don't want to change it."
But as a boss who can go to the office every day, in contrast to the newspaper's former Swedish owners, who are far away, Wee said he would be better able to explore the potential of and improve the paper's "vitality".
Part of the plan is to expand the distribution of beyond MTR stations to residential buildings and convenience stores.
Wee said Metro Daily lacked the resources to compete with Headline Daily or Next Media's Sharp Daily in terms of wide news coverage but had its own advantage through its distribution monopoly in MTR stations. "Looking forward, what we will do is to continue to expand the unique distribution networks," Wee said.
He said that while 400,000 copies were enough for the MTR, he would negotiate with developers to distribute the free paper in some residential areas and shopping malls. "These distribution channels have to be exclusive to us," he said.
If such deals were achieved, circulation could easily be increased to 600,000, he said.
Vitality also means more investment in multimedia to add value to the masthead. Wee took his iPhone from his pocket, and said: "Our future is in smartphones."
He said the paper would co-operate with the advertisers and do a lot of online retailing, adding that Metro Shop, an online shopping platform, would open next month.
"We've already got more than 70 advertisers to join," Wee said.
He said consumers would enjoy discounts and convenient pick-up arrangements, and could place orders and make payments on their mobile phones.
The Hong Kong business contributed net revenue of €717,000 (HK$7.3 million) to Metro International last year, down 49 per cent year on year according to the group's 2012 annual accounts, with the Swedish publisher saying "the newspaper in Hong Kong is facing increased competition from new market entrants".
This article appeared in the South China Morning Post print edition as: Restaurateur buys paper as side dish