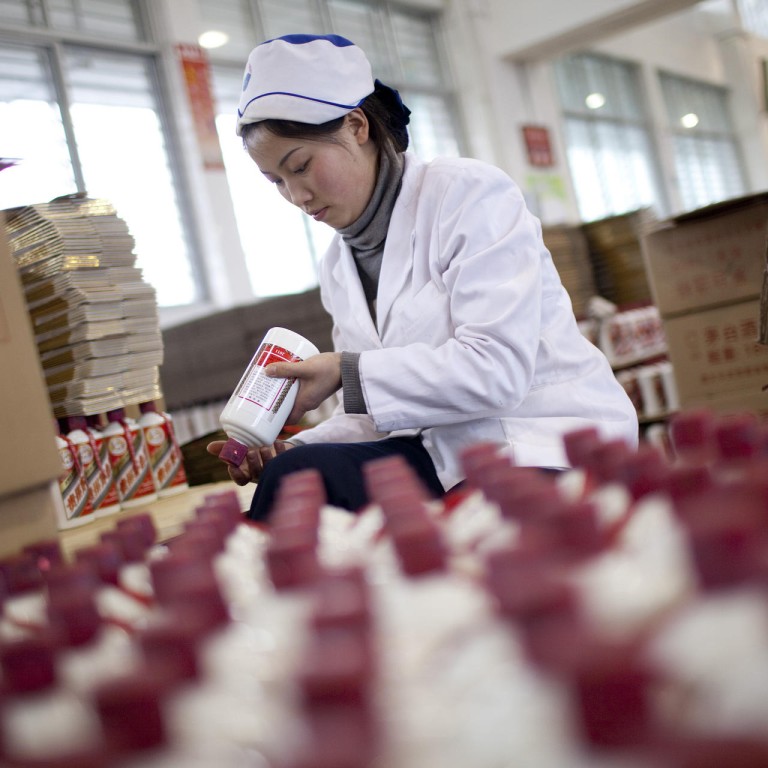 New

|
Curbs leave alcohol firms in low spirits
Outlook for the high-end wine and spirit sector remains gloomy as the mainland cracks down on lavish spending at official banquets
Spirits, and prices of spirits, are low for many local and foreign alcoholic beverage companies with operations on the mainland after a challenging year marked by depressed demand as a result of restrictions on lavish spending at official banquets.
Expensive wine and spirit brands such as Moutai, once a darling of the wealthy Chinese, have fallen out of favour. The Chinese Luxury Consumer Survey this year of individuals with personal wealth of more than 10 million yuan, found that high-end baijiu brand Moutai had dropped out of the Top 10 preferred gift items by male millionaires.
Silver Base Group, the biggest global distributor of Wuliangye and Moutai, recently posted interim losses of HK$771.4 million, a 335 per cent jump year on year, amid slumping sales and prices.
The firm announced it is adjusting its product mix, from 90 per cent of the bottles at the top end a year ago to an even split by launching several low- to mid-tier ranges.
Although Silver Base chairman Liang Guoxing said at a press conference recently that he believed the worst was over for the company and that the industry as a whole had made the proper price adjustments to suit the drop-off in consumer demand, others are not so optimistic on the outlook.
French beverage producer Remy Cointreau announced a profit warning last week saying operating profits will fall at least 20 per cent due to a steep slowdown in mainland sales.
"The last six months in China were tough and things are not going to get much better in the near future," Remy Cointreau chief executive Frederik Pflanz told the media.
Last month Pernod Ricard, which owns several alcohol brands including Absolut, Chivas, and Jameson, said it was also struggling in China.
"This market correction may not have bottomed out yet. I think prices in the high-end spirits sector may drop further," said an industry analyst.
"China's wine market has been growing at an amazing speed but they (Chinese consumers) are still in the learning process," said Ariane de Rothschild, whose legendary family produces world-class wines from the Chateau Clarke and Chateau Malmaison vineyards.
"All producers are torn between being happy (to see wine prices rise) and at the same time too much speculation is also unhealthy. We do worry about speculative bubbles. At the end of the day, when the price is so high, you are drinking dollars," Rothschild told the South China Morning Post in an interview on her recent visit to Hong Kong.
"Financially, it's fantastic. Philosophically, I am not comfortable because I am a wine drinker too," she said, adding, however, the buying power of high-end private wine collectors in China should not be underestimated in the years to come despite Beijing's crackdown.
According to market research firm Millward Brown, alcoholic beverage companies have taken a battering in the past year.
Although Remy Cointreau said it would stick to its prices, which they believe is the top indicator of a product's quality, domestic brands have not been able to hold the reins on distributor discounts.
In February, top liquor makers were fined HK$558 million for breaking anti-trust laws. Several companies, including Moutai and Wuliangye, admitted they had been penalising distributors that were offering deeper discounts than they had set.
In 2011, Moutai prices were upwards of 2,000 yuan for 500ml bottles but a report on Sina.com, the mainland's No 1 news portal, this year revealed that they could be bought for as low as 780 yuan.
When Moutai was popular for government banquets or upper-crust business occasions, individual consumers would often find it difficult to find it at shops because hotels and wholesalers would hoard the liquor.
"Hopefully the speculation will ease. It's actually also the same thing for the global luxury business. The fast pace (of business growth) has put a lot of pressure on luxury makers to make products on a large scale. Is that luxury or not luxury? You tell me," said Rothschild.
This article appeared in the South China Morning Post print edition as: Curbs leave alcohol firms in low spirits