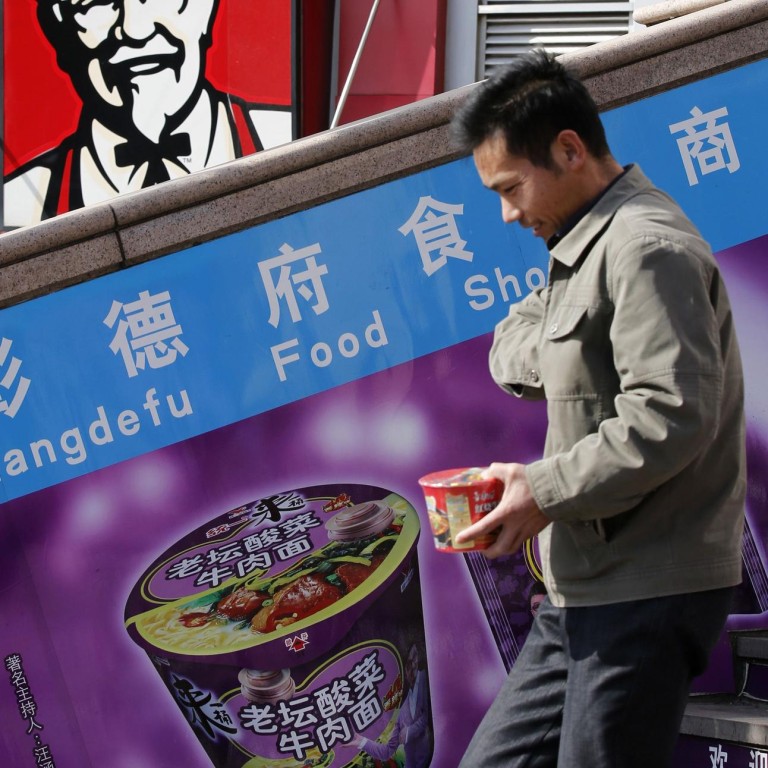 More local rivals slow down Yum sales in China
Same-store sales in country rose 2pc last month compared with analysts' estimate of a 6pc rise
Yum! Brands, owner of the KFC and Pizza Hut brands, said its China same-store sales rose 2 per cent last month, trailing analysts' estimates, as its fried chicken and pizza chains face more local rivals.
Analysts estimated a 6 per cent increase, the average of 10 projections from Consensus Metrix. Sales at KFC stores open at least 12 months on the mainland rose 5 per cent in December, the company said in a filing. Same-store sales at Pizza Hut fell 3 per cent.
The company, which has about 4,460 KFC and 1,100 Pizza Hut locations in China, is enduring more competition from local dining chains such as Dicos and Hua Lai Shi.
KFC also is trying to bring back Chinese diners following an outbreak of avian flu and the investigation of a former supplier for selling food with too much antibiotics.
Yum's China sales plummeted in December 2012 after China Central Television reported that a few poultry farmers doing business with Yum suppliers fed their chickens excessive amounts of antibiotics. That was followed by a bird flu outbreak in the spring.
In November, Yum posted a surprise 1 per cent gain in same-store sales in China after a half-priced chicken deal boosted sales at KFC.
Yum shares rose 0.2 per cent in early trade in New York yesterday. The shares gained 14 per cent last year while the S&P 500 Restaurants Index advanced 23 per cent.
In China, Pizza Hut has been expanding its menu and revamping its beverages to attract new diners. Along with pizza, the chain sells steak and pasta as well as breakfast fare.
The fast-food company in December reiterated its forecast for a 20 per cent profit increase, excluding certain items, in 2014. Yum, which gets about half of its revenue from China, plans to open about 700 new stores in the country this year.
Comparable-store sales are considered an indicator of growth because they include only older, established locations. Yum, which also owns Taco Bell, has more than 39,500 restaurants worldwide.
Yum is due to report fourth-quarter earnings on February 3.
Bloomberg, Reuters
This article appeared in the South China Morning Post print edition as: More local rivals slow down Yum sales in China