Focus
Get more with myNEWS
A personalised news feed of stories that matter to you
Learn more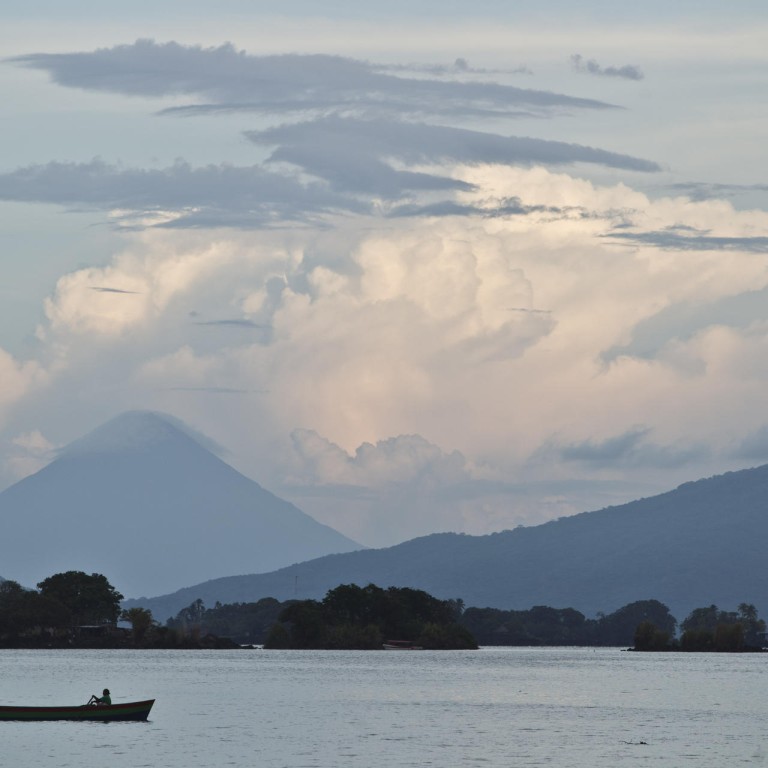 Storm clouds gather over Hong Kong-backed canal that will slice through Nicaragua
Ambitious plans backed by Hong Kong-based developer to construct 290-kilometre-long canal moving ahead despite grave environmental concerns
As he gazes from his porch at the Pacific Ocean, fisherman Pedro Luis Gutierrez conjures a vision: one day, mammoth ocean-going vessels will sail here from afar and vanish into a canal piercing the jungle.
"The ships will cross over there in the middle of the beach," says Gutierrez, who's heard about plans to build a rival to the Panama Canal in Nicaragua.
For now, an inland waterway is a mirage. Few outside of Nicaragua took seriously the announcement last year that a Hong Kong-based company had won a 50-year renewable concession to build a canal. But the plan is moving along quickly. Scores of Chinese engineers have mapped the topography here, and deal-makers in Hong Kong are scouring the globe for investors.
Sometime later this year, President Daniel Ortega and Chinese telecom tycoon Wang Jing will decide if the project should get the green light. That could unleash earthmovers on one of the largest engineering challenges the world has seen, comparable to the mainland's enormous Three Gorges Dam.
The stakes are high: if the transoceanic canal gets the go-ahead, it might take a decade to build, gobble US$60 billion and slice through vast stretches of tropical forest. At 290 kilometres, it would be more than three times the length of the US-built Panama Canal. Plans indicate it would accommodate supertankers and giant container ships that are far bigger than those the Panama waterway will accept when its expansion is complete next year.
For Nicaragua, the project may launch this nation of five million people from poverty, creating jobs and prosperity.
For China, the plan would mean easier access to crude oil from Venezuela and a greater foothold in the western hemisphere. Such geopolitical considerations may mean more for China than the price tag.
"In the initial scenarios we looked at, you can see that up to a million people could be employed within the 10-year span of construction," says Manuel Coronel Kautz, an engineer who heads the Transoceanic Grand Canal Authority of Nicaragua.
The plan's sceptics cite a host of environmental and financial concerns. "I don't think the canal will ever be built," Panamanian Foreign Minister Fernando Nunez Fabrega said in an October interview.
If it were, he added, its financiers would be hard-pressed to compete with the Panama Canal, which will double its capacity when its expansion is complete in mid-2015.
Coronel says that 300 to 400 professionals - including teams of Chinese geologists, British environmental experts and other foreign technicians and trade experts - had been working on financial, environmental and commercial feasibility studies.
But much is cloaked in secrecy. That exasperates scientists, who warn that Ortega may be making a devil's pact, swapping priceless environmental heritage and national sovereignty for speedy development.
"It's not easy to analyse the problem because there is so little public documentation about the canal. The route isn't known and feasibility studies haven't been made public," says Jorge Huete-Perez, a molecular biologist and president of the Nicaraguan Academy of Sciences.
The list of worries is long: hurricanes, earthquakes, endless mounds of mud, salt-water filtration into Lake Nicaragua, angry displaced Rama and Miskito Indians and a massive influx of Chinese workers, among them.
But there's also anticipation, even euphoria, among some Nicaraguans. "It is said that without the canal, we'll grow at 4.5 per cent a year until 2020," says Kamilo Lara, an environmentalist and supporter of Ortega. "But with the canal, growth could be as high as 15 per cent."
Lara was among 21 Nicaraguan businessmen, academics and civil society leaders Wang invited on an all-expenses-paid trip to China in late October to learn more about the proposed canal.
Wang, a 41-year-old entrepreneur, is chairman of both Xinwei Telecom and HKND Group, the Hong Kong-based firm that holds the canal concession.
Nicaraguans on Wang's tour say the entrepreneur was treated, in the words of one, "as if he were Mao".
Awestruck by Wang's influence and the displays of pomp on the trip, several Nicaraguans said they'd concluded that China's government was interested in the Nicaraguan canal. "It made us all think: 'It's a go'," says participant Diego Vargas Montealegre, president of the Nicaraguan-American Chamber of Commerce.
But Wang told the in October that his company was acting alone.
"It is a strictly commercial project. There was no order from the Chinese government," he said.
In June, after barely a week of debate, 61 Sandinista lawmakers voted to grant Wang's HKND Group a concession to design, build, operate and manage the canal and a series of related projects, including two deepwater ports, airports, an oil pipeline, six tourism developments and free trade zones. After a decade of operation, Nicaragua would gain 10 per cent ownership of the canal, and roughly 1 per cent each year after that.
HKND Group is exploring six possible routes, all using Brito Inlet as the Pacific outlet, and all traverse Lake Nicaragua, the largest freshwater body in Central America. The lake's average depth is about nine metres, so a channel would need to be dredged.
The ancient lake gives rise to some of the project's environmental and safety concerns. Some 38 species of fish, three or four of them unique to the lake, dwell in the 8,200-square kilometre body of water. Its most famous inhabitants are freshwater Caribbean bull sharks and prehistoric-looking sawfish, although most, if not all, have been fished out.
The lake's waters are turbid, a sign of silt erosion from the surrounding watershed. Thousands of tonnes of runoff spill each day into the lake, which would require constant dredging. Fierce winds often roil the lake's waters and might imperil large ships.
Even a small oil spill would ruin the lake as a resource for irrigation or drinking water and take decades to clean, says Salvador Montenegro Guillen, director of the Centre for Research on Water Resources at the National Autonomous University of Nicaragua.
Two volcanoes tower from Ometepe Island within the lake, a reminder that Nicaragua straddles a geologic hot spot. One of the volcanoes, Concepcion, spat ash in 2009 that coated three villages. Its last major eruption was in 1880. The other volcano, Maderas, is dormant. Earthquakes and hurricanes also afflict Nicaragua. A 1972 earthquake shattered the capital, Managua, and Hurricane Joan lashed the nation in 1988.
Some of Nicaragua's most renowned scientists are apprehensive about how the proposed canal may scar the landscape and pollute the lake, a potential source of irrigation for much of Central America if climate change worsens.
"We fear that the ecological alterations will be quite irreversible," says Jaime Incer Barquero, a former environment minister.
By cutting a 490-metre-wide canal across the nation's midsection, biologists say, the Mesoamerican migratory corridor will be severed, separating the gene pools of some fauna, such as tapirs and jaguars, weakening their populations.
Also unknown is where the project would deposit excavated soil and rock. The canal will require a channel more than 20 metres deep that climbs up to the lake at 31 metres above sea level and through a range of hills before emptying into the Atlantic side.
"Where are we going to put these millions of tons of mud?" Incer asks.
Even proponents of the canal acknowledge that it will leave a heavy imprint.
"The environmental impact is inevitable and will be strong. But it will be temporary," says Coronel, the engineer who's the canal's administrator. "After three or four years, it will be better than it was before."
Whether the canal is built may depend on whether China sees an imperative to open a trade route for Venezuelan crude and other raw materials that's not dependent on access to the Panama Canal. Its leaders see that waterway as one under Washington's domination.
"It may not be viable economically and deplorable from an environmental point of view, but China may feel it needs this anchor in Central America," Huete-Perez said.
This article appeared in the South China Morning Post print edition as: Storm clouds gather over Nicaragua canal