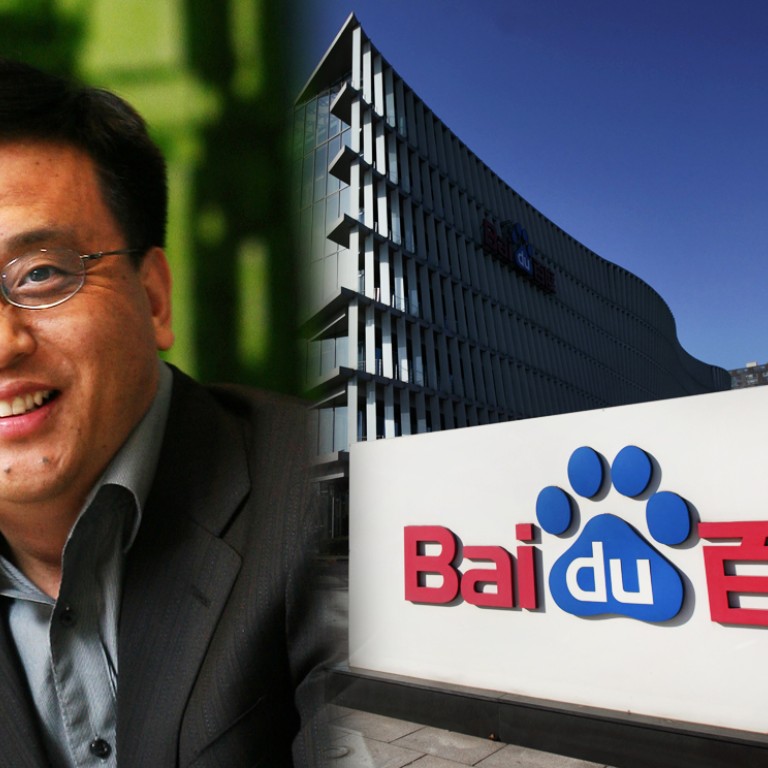 Exclusive
Microsoft's man in China defects to search powerhouse Baidu
Blow to US tech giant as Zhang Yaqin moves to online search powerhouse
Zhang Yaqin, the man who helped build Microsoft's biggest technology research operation outside of the United States, is leaving the software giant to join Chinese online search powerhouse Baidu.
Sources close to Baidu said Zhang would be named president for new business and become an integral part of the company's senior management. He would report directly to Robin Li Yanhong, the co-founder, chairman and chief executive of Baidu.
A protege of Microsoft co-founder Bill Gates, Zhang currently serves as a corporate vice-president and the chairman of Microsoft Asia-Pacific Research and Development Group, which has its headquarters in Beijing. He leads more than 3,000 engineers and scientists engaged in basic research, technology innovations and incubation, product development and strategic partnerships.
Zhang's resignation from Microsoft was expected to be announced by the company this week, the sources said.
For Baidu, hiring the distinguished scientist will likely give the company a greater profile in technological innovation as competition intensifies against mainland rivals Alibaba, the world's biggest e-commerce services provider, and Tencent, Asia's largest-listed internet company.
Zhang's departure could mark a big blow to Microsoft's operations on the mainland, where the company is facing an anti-monopoly investigation.
The State Administration for Industry and Commerce last week gave Microsoft a 20-day deadline to provide a written explanation concerning the company's domestic business, as well as respond to compatibility and other issues with its Windows and Office software reported by mainland enterprises.
The sources said Zhang's decision to leave Microsoft was made before the anti-monopoly probe was launched.
Zhang, who joined Microsoft in 1999, could not be reached for comment.
He will likely be missed as he is Microsoft's steadiest veteran executive on the mainland.
"Although Zhang is mainly responsible for technology research and development, Microsoft has always asked him to step in during times of crisis," a company insider said.
Zhang has been Microsoft's go-to guy when there are changes in senior management at the company's Greater China operations, which includes Hong Kong and Taiwan.
A coup for Baidu
Zhang Yaqin has long been identified with Microsoft on the mainland.
In 2007, Zhang took over Microsoft's mainland leadership role after Timothy Chen Yongzheng resigned as chief executive to join the National Basketball Association. Zhang stepped back to focus on his research duties after Simon Leung Lim-kin was appointed chief in 2009.
For Baidu, hiring Zhang as president for new business is a veritable coup. The distinguished scientist will likely give Baidu a greater profile in technological innovation as competition intensifies against mainland rivals Alibaba, the world's biggest e-commerce services provider, and Tencent, Asia's largest listed internet company.
At Microsoft, Zhang has long championed the mainland's ability to develop into a leading global market for so-called cloud computing services. Baidu also hired former Google executive Andrew Ng in May as the firm's new chief scientist in California.
Cloud computing allows companies and consumers to buy, lease, sell or distribute over the internet a vast range of software, business systems, data, storage and other digital resources. Such resources are hosted in data centres.
Baidu, which runs a vast network of data centres, also operates a fast-growing personal cloud storage service business with nearly 200 million users on the mainland.
At Microsoft, Zhang has also worked with and helped train many of the mainland's sought-after technology experts today. A notable former colleague is Zhang Hong Jiang, who left Microsoft in 2011 to serve as chief executive at Chinese software company Kingsoft. Other former Microsoft colleagues now hold senior positions at major technology companies such as Tencent, Alibaba and smartphone company Xiaomi.
Ricky Lai, a research analyst at Guotai Junan International, said Baidu's decision to hire a president for new business "appears to be part of efforts to beef up its senior management team as the company enters untapped markets and expands existing operations".
Baidu's initial high-profile hire this year was renowned artificial intelligence researcher Ng, who was appointed in May as its chief scientist and head of Baidu Research. Ng previously worked at Google, where he founded the internet giant's own artificial intelligence initiative called "Google Brain".
Lai said the president for the new business role at Baidu could also be part of a widely speculated plan by the company to prepare iQiyi, its mobile video service, for a possible initial public offering next year. In May, Baidu bought the online video business of Shanghai-based PPStream for US$370 million to further expand iQiyi's operations.
Zhang was born in January 1966 to an electrical engineering lecturer and a secondary-school teacher in Taiyuan, the capital of northern China's Shanxi province. A Seattle Times article in 2008 described their family abode as "a two-room house smaller than a Microsoft conference room".
A child prodigy, Zhang finished elementary and high school early. At 12 years old, he became the country's youngest college student after being admitted to the University of Science and Technology of China, in Anhui province.
"I really wanted to be a scientist," Zhang told The Seattle Times. Isaac Newton became his idol. "Back then, the hottest subject was physics. The biggest celebrity was a mathematician."
Following his father's lead, Zhang took up electrical engineering and swiftly earned his bachelor's degree in 1983. He graduated with a master's degree two years later. At 18, Zhang was accepted at George Washington University, in Washington DC.
He chose to enter the university, over Princeton and the Massachusetts Institute of Technology, so he could learn from professor Raymond Pickholtz, a leading authority in wireless communications technology. At the age of 23 in 1989, he received his doctorate in electrical engineering after his dissertation received the only perfect score in the university's history.
Zhang quickly found telecommunications research work in 1989 at US telephone company Contel, which was acquired by GTE in 1991. He left the company's Massachusetts-based division, GTE Laboratories, in 1994 to work at Sarnoff, a major research and development enterprise that was famous for developing colour television.
At Sarnoff, Zhang served as director of its multimedia technology laboratory with a team of more than 50 researchers. There he became one of the world's top experts on video technology and wireless communications, with about 50 patents granted for digital video, internet, multimedia, wireless and satellite communications.
In 1997, 31-year-old Zhang became the youngest fellow of the Institute of Electrical and Electronics Engineers, the world's largest association of technical professionals.
Lee Kai-fu, who helped establish Microsoft's research division on the mainland in 1998, convinced Zhang to work in the facility in Beijing. Lee quickly learned that his new recruit was like a magnet in attracting other talented researchers, making Zhang a co-pioneer in expanding Microsoft's research capabilities on the mainland.
In a blog post, Lee said: "Indeed, Yaqin set an example for other outstanding Chinese scientists to follow. We soon recruited Lee Jin from Sharp Labs and Lee Shipeng from Sarnoff Labs. Both of them greatly admired Yaqin and happily agreed to join us."
In August 2000, Zhang succeeded Lee as head of Microsoft Research China. Microsoft co-founder Bill Gates promoted the mainland facility into a regional research and development unit, Microsoft Research Asia, in November 2001. It was renamed in 2010 to reflect its wider role in creating new technologies for Microsoft's global market.
Gates earlier turned down Lee and Zhang's request to buy land for building a new research and development facility on the mainland.
On Zhang's watch, Microsoft was convinced to invest US$300 million in this infrastructure. At present, the budget for Microsoft's research and development operation across Asia is over US$300 million a year.
Zhang became responsible for a network of world-class research facilities in Beijing, Shanghai, Shenzhen, Hong Kong, Taipei, Seoul, Sydney and Bangkok.
Innovation from the regional research and development group can be found in all major Microsoft products, including Windows and Office software, the Bing search engine and the Xbox video game console.
This article appeared in the South China Morning Post print edition as: Microsoft's man in China joins Baidu