Focus
Get more with myNEWS
A personalised news feed of stories that matter to you
Learn more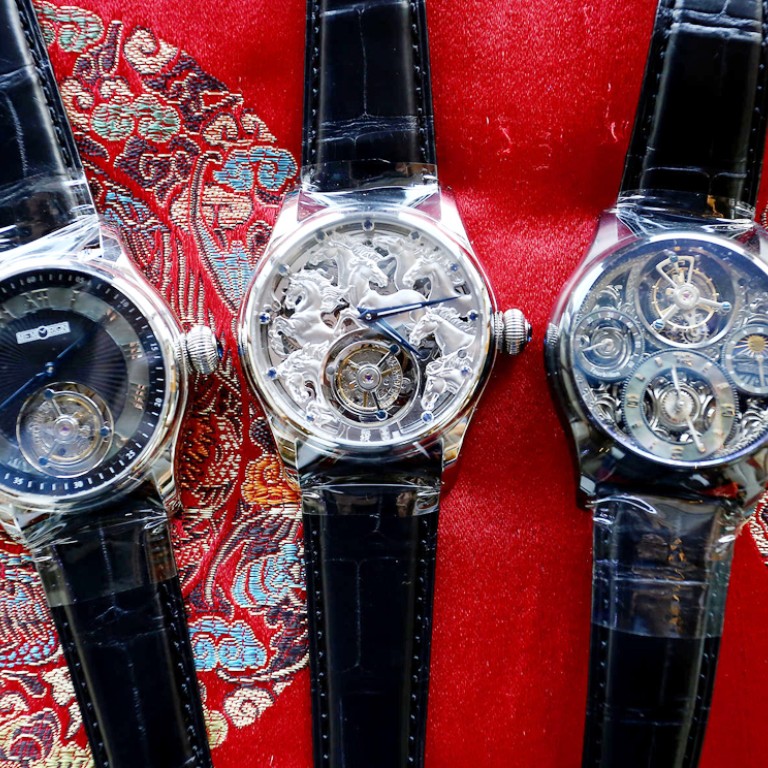 The return of 'Made in Hong Kong'? Companies hope to revive city as manufacturing hub
A new wave of high-end companies hope to once again make the city a hub for manufacturing
Tucked in a windowless, 100-square foot, air-conditioned room in an old industrial building in Chai Wan, three engineers are hunched over watches, trying to repair timepieces that sell for at least HK$30,000 each.
Guided by an experienced technician, they are training to understand the 1,000 steps and about 300 tiny parts needed to manufacture a Memorigin tourbillon watch from scratch, said William Shum, Memorigin's 29-year-old director.
The company is on track to produce the first mechanical tourbillon watch made in Hong Kong - including design, assembly, and branding - by year's end or early next year. With four engineers now, and perhaps a few more in the future, the company plans to produce about 5,000 timepieces a year. "As a Hong Kong native, I want to produce something that belongs to Hong Kong and in Hong Kong," Shum said.
Memorigin, a brand that Shum launched three years ago, is among the first wave of manufacturers to return to Hong Kong since the 1980s, when companies quit for the mainland after China opened up to foreign investment.
Automatic precision clock maker Novelin is also planning to move an entire production line from Foshan back to Hong Kong at year's end. Marco-Ling Fur, which processes animal skins for garment making, returned three years ago.
Hong Kong was the world's leading manufacturing hub in the 1960s and 1970s, pumping out toys, artificial flowers, plastics and clothes. Property tycoon Li Ka-shing, Asia's richest person, made his wealth from manufacturing plastics in the city in the 1950s.
Bringing back hi-tech or high- value-added industries is key to boosting Hong Kong's competitiveness, which the World Economic Forum has deemed static for the past few years. Hong Kong lags behind arch-rival Singapore, which is second in the world for competitiveness, and world leader Switzerland.
"If Hong Kong wants to stay competitive globally, it needs creative industries and innovation, not purely relying on services," said Billy Mak Sui-choi, an associate professor in the department of finance and decision sciences at Hong Kong Baptist University. "Hi-tech industries will provide a much-needed leg to the wobbly economy."
Hong Kong's economy is at a crossroads. The city relies heavily on financial industries and tourism for growth - sectors which are vulnerable now. The city's financial services are facing punishing competition. Hong Kong is competing for a bigger slice of yuan trade with Shanghai, London, Singapore and other cities, while its stock markets are vying with New York and Singapore to list publicly traded companies.
At the same time, the government is mulling ways to limit the number of mainland tourists, even though they're a big source of income. Three-quarters of the 54.3 million visitors to the city last year were from the mainland - and they've been blamed for everything from packed footpaths and crowded public transport to shortages of goods such as baby formula in city stores.
With retail sales declining for six months in a row from February, the city's economy was likely to grow by just 1 or 2 per cent this year, said government economist Helen Chan.
Federation of Hong Kong Industries chairman Stanley Lau Chin-ho said the city needed to reclaim its role as a titan of high-end, value-added industries.
But the government has no policy and offers no incentives, such as tax breaks, to support manufacturing or industry. Lau said the government should offer help with land where factories can be located.
"Like other advanced countries such as Germany, Switzerland and the US, we need industries, high-end ones, for stable economic growth," Lau said.
Hong Kong is discovering something that's become clear to many cities and nations: as economies sputter, governments realise they need to woo manufacturing jobs.
Apple chief executive Tim Cook unleashed a US$100 million "made in the USA" push in the United States last year with the aim of increasing production at home. Macbook Pro laptops were produced for the first time in Texas last year, instead of in China.
Joerg Wuttke, president of the European Chamber of Commerce in China, said some off-shore European companies had recently headed back to their home countries. Some toy and textile producers chose to locate closer to European markets by setting up workshops in Tunisia and Turkey, but Wuttke said he had not seen any marked production flight from China to Europe.
Setting up offices in Europe, Turkey or Tunisia allows for faster shipping of finished products because European importers tend to order goods at the last minute and expect quick delivery.
Soaring wages and demographic changes in mainland China meant it had lost its advantages of low costs and ample labour supply, Wuttke said.
To thrive as a large manufacturing centre, Hong Kong must improve its post-secondary education and innovation, particularly by increasing the number of scientists and engineers, according to the World Economic Forum. About one in every three university students enrols in science, engineering or technology disciplines.
The number of people in Hong Kong engaged in research and development, including scientists and engineers, jumped 7.8 per cent to nearly 25,300 in 2012 from a year earlier, according to Commerce and Economic Development secretary Gregory So Kam-leung. The government plans to create an Innovation and Technology Bureau to promote innovation and technology.
"Hong Kong should progress towards a knowledge-based economy, and should deploy resources in high-value-added and high-technology areas," So said. "[This] may include product development and design, brand promotion and management, and research and development."
For Memorigin, a key hurdle has been hiring engineers.
"Fewer people, especially the younger ones, are eager to join the manufacturing industry," said Shum, who hunted for the right staff in vocational schools. "The government needs to encourage students to join industries."
Liberal Party legislator Felix Chung Kwok-pan said the government should tap people who learned to sew in prison. "There are many prisoners who are responsible for making uniforms for the government's disciplined services. They are potential new blood after they are set free."
Precision clock maker Torin Fung said he hoped to move his Novelin factory to Hong Kong from Foshan in the Pearl River Delta later this year. The business started in Hong Kong in 2012, and production began in Foshan a year ago, but rising wage pressures have raised costs.
"Costs are unbearable," he said. "On the labour issue alone, I have had to deal with relentless rises in wages and contributions to their social securities fund, three meals a day, accommodation, and insurance coverage, not to mention their growing labour rights and on-and-off labour disputes."
In the past three years, blue-collar workers in mainland China have received annual pay rises of between 10 and 20 per cent as Beijing sought to encourage more than 200 million migrant workers to spend more domestically. White-collar workers fared even better, getting annual raises of at least 20 per cent for the past three years.
Five years ago, bra maker Top Form International considered moving back to Hong Kong the division that produced samples for Shenzhen clients, but the idea was eventually dismissed, said chairman Willie Fung Wai-yiu. "We couldn't find the right sewing workers," he said. "We did approach the sewing ladies who used to work with us some 30 years ago, but many have become grandmothers and preferred staying home and taking care of grandchildren."
Novelin's Torin Fung said he planned to start small in Hong Kong, installing five workers at a rented 1,300 square foot space at Hong Kong Science Park.
Each worker may receive a monthly wage of HK$10,000, which is still affordable, as the products can sell for about HK$2,000 each. He said he hoped that with automation, the five workers in Hong Kong could exceed the productivity of the 50 workers in Foshan.
However, there is still a stumbling block - land. Torin Fung said he had searched in vain through the city's three industrial estates in Tseung Kwan O, Yuen Long and Tai Po to find a 5,000 square foot space. "The Science Park by design is a research and development centre, not a production base," he said. "There is not enough space for industrial purposes."
So said there was competition for scarce land to be used for housing. The government's priority became apparent earlier this year when it switched the land use of the Science Park site in Pak Shek Kok to new homes.
"I am pessimistic," Lau, of the Federation of Hong Kong Industries, said. "We need space, but as you know Hong Kong doesn't have enough land for homes."
This article appeared in the South China Morning Post print edition as: Made In Hong Kong again