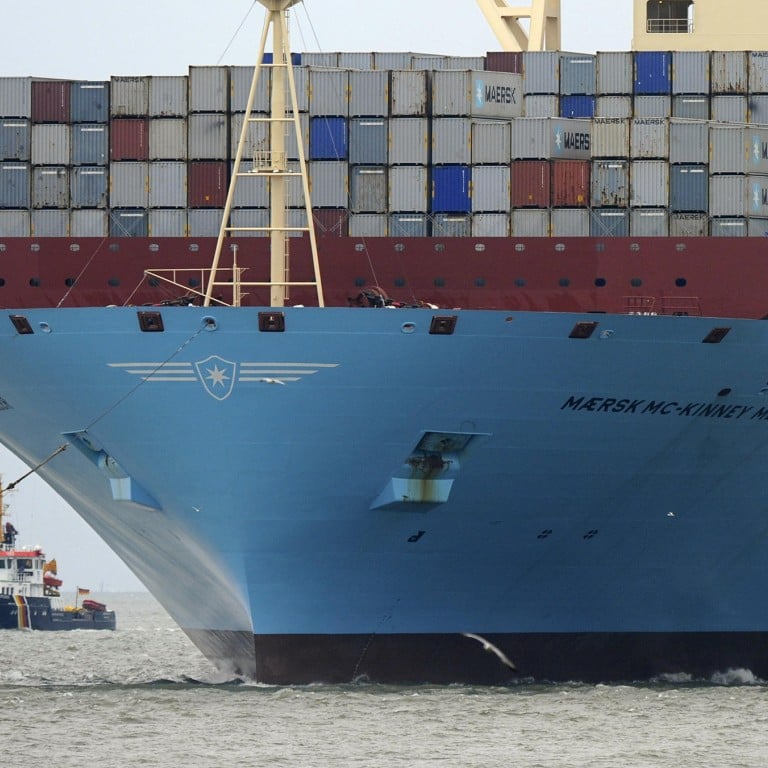 Maersk Line, MSC alliance may stifle competition
Asia-Europe container trades under threat after US approves Maersk-MSC vessel-sharing deal
There will be less competition in containerised trade between Asia and Europe following regulatory approval of a proposed tie-up between the world's two largest shipping lines, cargo owners and shippers have warned.
The US Federal Maritime Commission (FMC) voted four to one yesterday to approve a 10-year vessel-sharing agreement between Copenhagen-based Maersk Line and Geneva-based Mediterranean Shipping Company, clearing the only antitrust barrier before the partnership starts next year.
The consortium - known as 2M -involves a total of 185 vessels with a capacity of 2.1 million 20-foot equivalent units (teu), accounting for 35 per cent of market share on Asia-Europe trade lanes, 16 per cent on transpacific routes and 30 per cent on transatlantic routes.
"Can you imagine Apple and Samsung teaming up to produce generic smartphones, sharing production lines, sharing suppliers and sharing customers? That won't happen, of course, because in the real world there is product and price differentiation, unlike the surreal container shipping world where the smaller lines are so busy listening to the propaganda of the largest that they merely huddle into bigger and bigger alliances in a frightened attempt to defend themselves. The outcome of course is zero differentiation and reduced competition," said Alan Mctaggart, group vice-president for global logistics at Techtronic Industries, a Hong Kong-headquartered manufacturer of electrical and electronic products.
The 2M approval further cements the trend of increased concentration in global container shipping, with most of the top 20 players split into four big alliances. Shipping lines say the alliances only involve operational coordination, not commercial collusion.
Other than alliances, in which members typically share vessel space and operate on joint sailing schedules, looser cooperation such as vessel slot exchanges among competing carriers are also commonplace. The trend is largely driven by the pressure to slash costs and stay afloat amid a vessel glut and a fall off in trade growth.
Mctaggart, who oversees an annual flow of 60,000 teu of containers exported from the mainland, carried by 12 of the world's top 20 lines, scoffed at the carriers' no-collusion claims.
"[2M] is a formation to milk maximum profit by carriers that are already leaders in their class in terms of size and are the most profitable in the industry," he said. "This is not about saving costs or about improving services for the benefit of customers. This is borne out by the cavalier way in which Maersk shrugged off the capitulation of P3, which the Chinese Ministry of Commerce correctly stopped, when the FMC and the Europeans who purport to act in the interests of free trade … approved it unanimously."
2M was proposed after the mainland's Ministry of Commerce disallowed the P3 Network, which could have brought Maersk, MSC and CMA CGM, the world's top three container lines, together. The prohibition was based on the mainland's Anti-monopoly Law, which viewed P3 as a merger attempt.
2M and the other alliances do not need approval from mainland antitrust authorities. In Europe, the European Commission exempts container shipping consortiums that have a market share of up to 30 per cent from EU antitrust rules provided there is no evidence of price-fixing or collusion. Brussels raised no objection to P3, which would have had up to a 47 per cent market share of Asia-Europe trades.
The European Shippers' Council warned last month that 2M should not be seen as a downgrade of P3, but rather an upgrade to the individual member's position.
This article appeared in the South China Morning Post print edition as: Alliance seen stifling competition