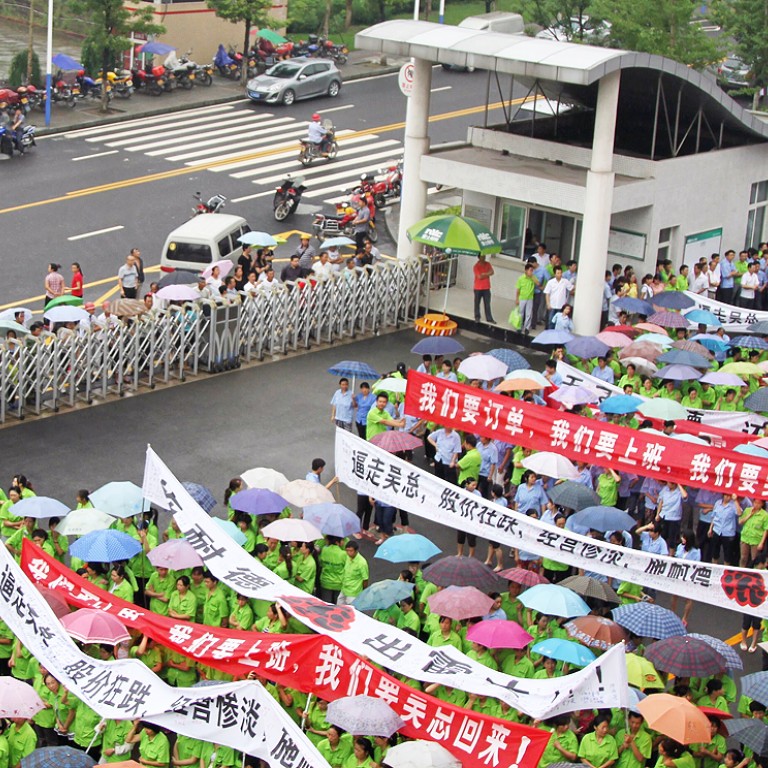 NVC chairman accuses top Chinese banks of collusion in founder's alleged embezzlement scheme
Mainland police investigating bank executives after claims they helped steal 573 million yuan from the country's biggest lighting producer
Mainland police are investigating executives of three major Hong Kong-listed banks over allegations they helped Wu Changjiang, the founder of NVC Lighting Holding, embezzle about 573 million yuan (HK$724.8 million) from the company, NVC chairman Wang Donglei told reporters yesterday.
Wu was under criminal investigation and had been barred from leaving the mainland, but his exact whereabouts were unknown, Wang said.
However, Wu's most recent posting on the Weibo microblog on November 8 apparently showed him to be in Bangkok, with two photographs of the Thai capital and a heading in Chinese, "Bangkok, Thailand".
"I haven't been here for a long time. Coming here, I'll take a good rest, relax and recover my morale. The road ahead is still long," Wu said in the posting.
He did not reply to questions sent by the through Weibo.
NVC's board dismissed Wu as chief executive on August 8 over the missing funds, and he was removed from the board at an extraordinary general meeting on August 29.
NVC is China's largest lighting manufacturer.
Wang alleged that Wu embezzled about 400 million yuan from NVC's bank accounts in the Chongqing branches of Industrial and Commercial Bank of China and China Minsheng Banking Corp, and an additional 173 million yuan from the Chongqing branch of Bank of China.
Wang also alleged unnamed executives at the banks colluded with Wu in embezzling the funds and misleading NVC with false information.
It was the first time Wang had publicly named the three banks.
In a Hong Kong stock exchange announcement on November 6, NVC had said Wu withdrew hundreds of millions of yuan from the Chongqing branches of three banks, but had named only Bank of China.
"These banks misled us with false information. They did illegal things. These are major banks listed in Hong Kong. The embezzlement is being investigated by Chinese police. The banks that co-operated with Wu are being investigated, but I can't give more details because the investigations are secret," Wang said.
Bank of China, ICBC and Minsheng did not reply to queries.
Wu, who refused to accept the company's dismissal of him, previously controlled NVC's headquarters and factory in Chongqing.
But NVC recovered its Chongqing headquarters last month and the Chongqing factory this month. Wang said operations were now back to normal at the Chongqing plant.
He said all of NVC's distributors supported the board.
In July 2012, some of NVC's distributors, suppliers and senior management had demanded that Wu, who had been dismissed as chairman, be reinstated as chairman and executive director. He returned as chief executive.
This article appeared in the South China Morning Post print edition as: NVC Lighting accuses banks of aiding fraud