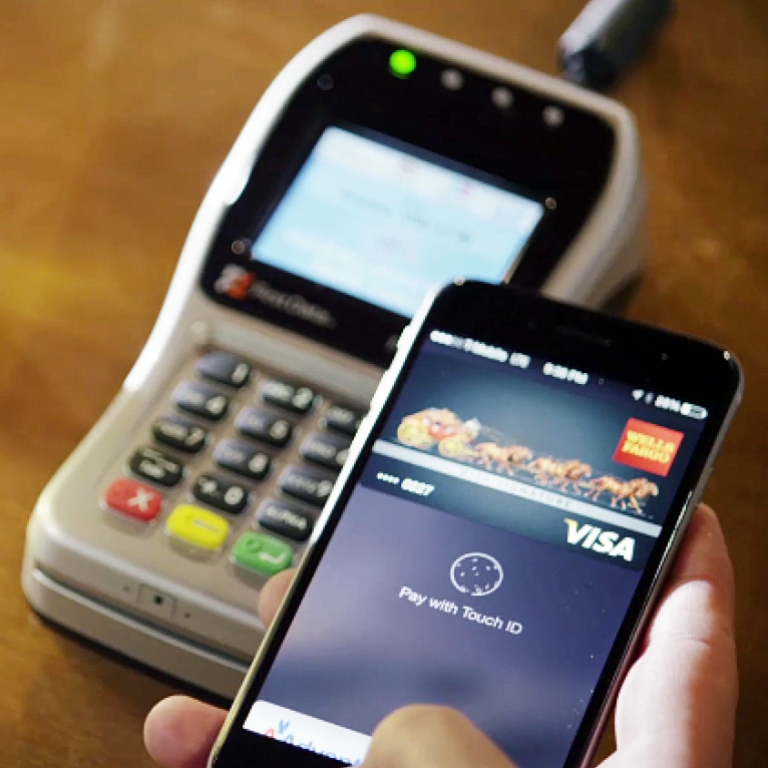 New

|
Apple launching mobile payment, digital wallet service in Hong Kong and Singapore in 2016
Apple partnering with American Express in venture
Technology giant Apple's mobile payment and digital wallet service, Apple Pay, is set to launch in Hong Kong and Singapore next year.
Apple chief executive Tim Cook revealed the expansion plan on Wednesday in the United States, following the company's release of its fiscal fourth-quarter results.
"We're partnering with American Express to bring Apple Pay to eligible customers in key global markets, so even more people can experience the easy, secure, and private way to pay," Cook said in a conference call with analysts.
"Apple Pay will be available to eligible American Express customers in Australia and Canada this year, and is expected to expand to Spain, Singapore, and Hong Kong in 2016."
The service, which was launched in October last year in the US, was made available in Britain in July this year.
In a statement, American Express said Apple Pay will allow American Express Card members to pay on the go with an iPhone, Apple Watch or iPad when the service enters those markets that Cook mentioned.
"With our global reach, we are able to bring Apple Pay to card members quickly in these important countries," said Tony Prentice, the vice-president for mobile products and payments at American Express.
Users of eligible American Express Card with Apple Pay will receive real-time notifications and details for purchases, as well as seamless connection to the Amex Mobile app for account monitoring, servicing and access to available rewards and offers.
Whether a card member swipes, clicks or taps to pay, American Express guarantees fraud and online protection.
When an American Express card member adds a card to Apple Pay, that account's numbers are not stored on the device. Instead, a unique "Device Account Number" is assigned, encrypted and securely stored in the so-called Secure Element on their Apple device. Each transaction is authorised with a one-time unique dynamic security code.
"Our customers love their experience with Apple Pay and we want to bring it to as many of our users worldwide as possible," said Jennifer Bailey, vice-president of Apple Pay.
The introduction of Apple Pay in Hong Kong could give a much-needed boost to the adoption of mobile phone payment systems in the city.
Hong Kong remains behind other markets, especially mainland China, in adopting mobile payment services.
Consumers in the city are used to more familiar payment options, such as bank credit cards or Octopus cards. Plenty of merchants are also wary of making new investments in contactless, point-of-sale readers.
HKT, the biggest telecommunications network operator in Hong Kong, has been the most active in its industry to promote mobile phone payment system adoption.
The company, which is part of billionaire Richard Li Tzar-kai's PCCW Group, introduced its "Tap & Go" app in July, but has been available only for Android smartphone users.
Mobile subscribers of HKT can make payments at more than three million MasterCard PayPass readers in stores around the world using their Android smartphones. Users simply tap their smartphones on the PayPass point-of-sale readers at the stores.
The payment system is embedded in the "all-in-one" subscriber identity module (SIM) cards provided by HKT for more than 40 different Android smartphone models with near-field communications (NFC) technology. Payment for online purchases are capped at HK$10,000 (US$1,289) per transaction.
Tap & Go marked the latest foray into the mobile payment arena for HKT, which runs Hong Kong's largest wireless network.
The company also ran mobile payment programmes under a series of partnerships, first announced in 2013, with Octopus Cards, HSBC and Joint Electronic Teller Services, operator of the Jetco network of automated teller machines.
Rival mobile operator 3 Hong Kong introduced its own tap-and-pay mobile payment system in 2013 called "3 Citi Wallet" with partner Citibank Hong Kong. This service, which is tailored for Citibank credit card holders, enables users to make payments at more than 9,000 Visa payWave contactless readers installed with merchants across the city.
The 3 Citi Wallet app is supported by NFC-equipped Android and iPhone smartphones.
SmarTone, the smallest of the city's mobile network operators, also offers tap-and-pay mobile payment programmes for Hang Seng Bank and HSBC credit card users with NFC-enabled Android smartphones.