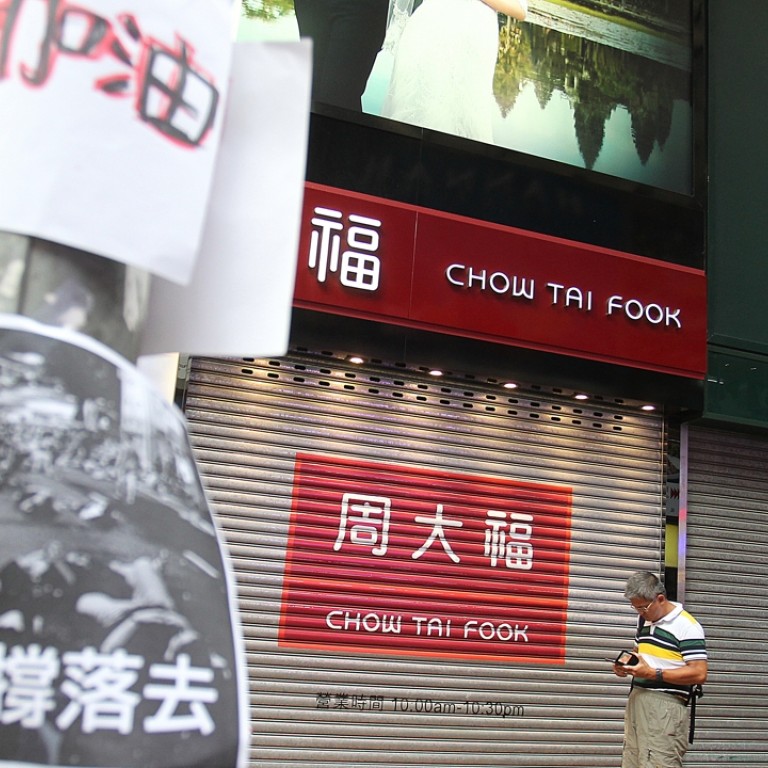 Crash of retail sector points to flaws within our culture of corporate greed
Hong Kong retailers seeded their own demise by focusing on short-term profits
Hong Kong's retail sector has wrought upon itself its own concentric circle of investment and business hell.
Poor planning, lack of vision and unsustainable business practises led to massive stock price declines in some cases, and few prospects for genuine brand building or diversification.
Share prices of Hong Kong retailers Tse Sui Luen, Chow Tai Fook, Chow Sang Sang, Sa Sa, Dickson Concepts, Sincere Watch, among others, have sailed over the market cliff falling from 35% to 60% this year according to data from S&P Capital IQ, with their foot flat down on the store over expansion accelerator. They have no other product, service or geographic market to fall back on. They share one major strategic mistake: a gamble on the complete dependency on mainland visitors to Hong Kong.
Diversification and long term planning is too much to ask of local retail businesses that are not international brand builders as much as they are trading companies. None of them have any discernible plans for a creative ecommerce strategy. Their business management has not significantly evolved since they were one-store operations. Although they are publicly listed, they are basically family or owner operated companies.
They've sold their soul to China's economic and political vicissitudes and it's too late to buy it back. No amount of advertising or promotion can save them in the current market. China's economy is heavily driven and influenced by Beijing's policies, which do not consider the prospects of Hong Kong retailers. Now these store operators find themselves pitted directly against Hong Kong citizens who oppose their practises with the voracity that environmental activists protest oil pipelines.
The business plans of Hong Kong's leading retailers depended upon ceaseless lines of mainland shoppers. They should have sought a more sustainable model of business.
Instead, by cramming visitors into Hong Kong and overloading our streets and transport networks, they set up a major backlash and reversal of fortune that they will not likely overcome. Corporate and social responsibility has never been so downtrodden and wilfully ignored.
Their volatile share prices and undiversified earnings will eventually suffer a lower valuation rating. Their cost of capital should be higher. Impaired ability to forecast earnings would logically lead these Hong Kong retailers to be privatised by private equity investors so they can work on a strategy that makes them more suitable for public investors. Valuations are not a reward for what you've done in the past. Instead, they are a bet on where a company will be in the future.
While all of them claim either a slowdown in China's economy or blame it on Occupy, what they don't understand is that there is a latent reserve of discretionary spending in mainland Chinese that is not accurately captured by economic figures. Certainly Alibaba has benefitted from that on its Singles Day.
But, rather than seek new sources, they are wholly dependent on Hong Kong government policy to let in or inflict as many mainland visitors on Hong Kong as possible. So their revenue model comes into direct conflict with Hong Kong society, who must directly suffer for their earnings to recover.
Hong Kong retailers now find themselves way over extended. Large focused bets on single customer groups can lead to huge returns for companies when they go well, but destroys years of gains when they go wrong. It is always a risky strategy.
The same "all in" high-risk strategy with no downside protection of political risks and the same blind dependency on mainland economic policies will result in more confrontation with an increasingly militant Hong Kong citizenry. The people will not heed the admonitions of Hong Kong establishment figures like Tung Chee Hwa who direct them and elected opposition politicians to be quiet and obey whatever pro-business, pro-tycoon policies are forced upon them.
The Hong Kong retail sector gambled big. And when gambling, luck is time. And time ran out.
Peter Guy is a financial writer and former international banker.