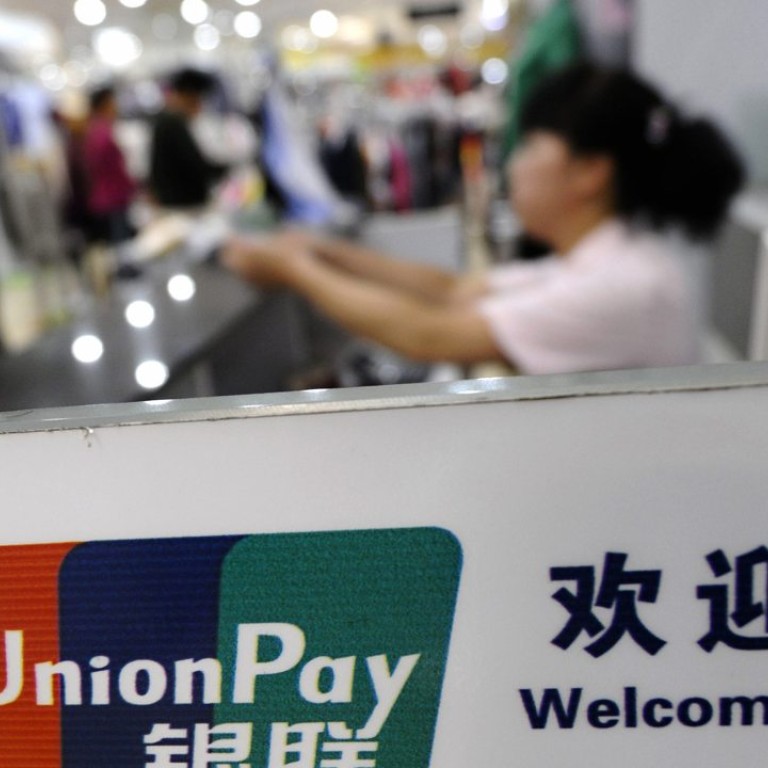 New
Can the state take China's mobile payments market in 2016? Experts think not
China UnionPay launched mobile payments app in December but it may be too late for the firm to grab solid stake in business that processes more than 2 trillion yuan per quarter
The state's reach into the mobile wallets of Chinese consumers is proving short.
The bank-card settlement monopoly China UnionPay in December made its first direct foray into mobile payment after years of struggling to secure a share of the industry's profits as a clearing house.
Industry watchers say the new payment application for smartphones, called Cloud Quick Pass, has arrived several years tardy to the bustling payments market dominated by China's technology and e-commerce firms.
The dim prospects for Cloud also augurs poorly for other new global entrants to China's mobile payments market in 2016.
"It's too late for anyone to enter this market right now," says Will Tao, senior research manager at iResearch. "No one is going to add another payment app to their phone – even if they are state backed."
Analysts may not be excited about the prospects but more than 20 large China banks have eagerly signed up. All five of China's national state commercial banks and most joint-stock banks announced partnerships in December with UnionPay.
Apple and Samsung have both announced plans to launch mobile payment services in 2016 in partnership with UnionPay, which is controlled by a consortium of banks and owns the payment terminals that the two foreign companies need to do the business.
A quick look at the market shows that – as state's firms traditionally guaranteed strong market shares in the finance sector – UnionPay and the banks have a lot to be jazzed about. The transaction volume of mobile payments in China hit 2.3 trillion yuan in the second quarter of the year, according to iResearch data. That's a 66 per cent leap from the year before.
But that growth will remain just out of reach for the state. Analysts say it is too late because the market is dominated by two payment platforms that are deeply ingrained in the mainland's shopping culture.
More than 70 per cent of the entire mobile payments market is ran by Alibaba Group Holding's AliPay and Tencent Technology's TenPay. AliPay takes upwards of 50 per cent of the market alone.
The platforms are linked to some of the world's biggest online shopping sites, namely AliPay to Alibaba's Taobao. Without a similar offering from UnionPay and the banks, internet shoppers will find few reasons to add Cloud to their phones.
"The successful internet payment platforms are connected to the big e-commerce sites," said Ricky Lai, an analyst at Guotai Junan International Securities. "No one is paying attention to [Cloud] because it doesn't have those kinds of incentives to attract customers."
It's not just the market. Cloud's overall model has analysts scratching their heads. UnionPay has not fashioned a single mobile app for banks to connect with. Instead, each bank must create its own app, something that will drag on mass adoption as tech-inclined banks design spiffy apps and others develop duds.
"The activation of [Cloud] relies on each banks' app and specific product development, hence it is more difficult to create momentum," Barclays Research said in a note in December.
Cloud will also miss out on a huge chuck of China's market: customers without bank accounts. The app is designed only for people that can connect a bank account to the card, which could turn away tens of millions of unbanked customers early on, Barclays noted.
That trend – getting pushed to the side by non-banks – is keeping China's lenders up at night.
The data companies can derive from mobile payments is a valuable asset and can be used to produce credit scores for customers. Developing strong applications that people want to add to their phones will help companies accumulate data. Currently, while banks still struggle with launching attractive products, the data and the cash is flowing out of the banks and into tech companies.
"That customer data is critical for the banks' further development and a key crack in what could be a large disintermediation," a flow of cash out of the banking system, said Zennon Kapron, founder of Shanghai-based market research firm Kapronasia.