Energy
Get more with myNEWS
A personalised news feed of stories that matter to you
Learn more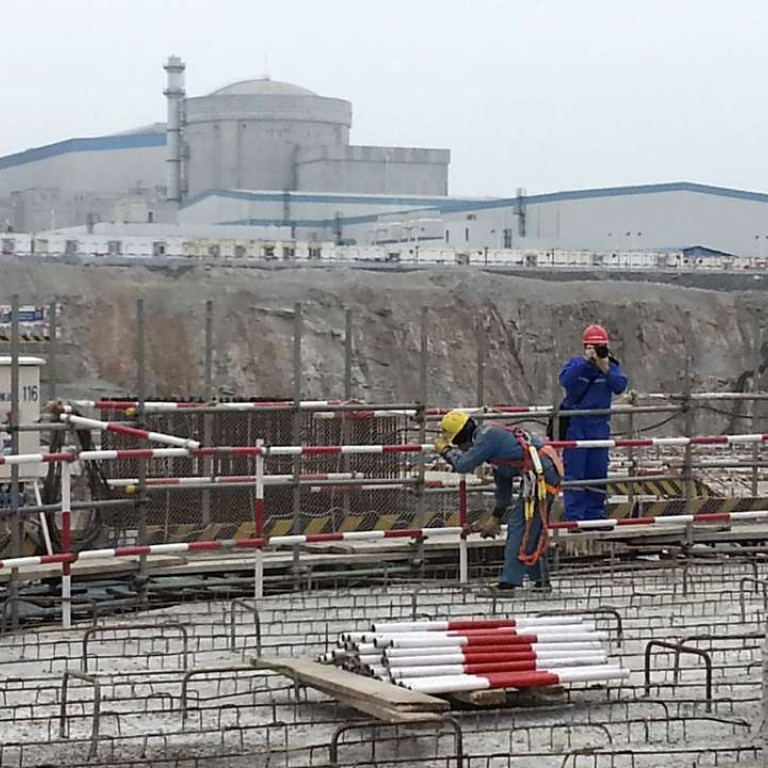 New

|
China promotes exports of next generation Hualong One reactor as 'competitive' with rival atomic technologies
Senior engineers overseeing the third-generation Hualong One nuclear reactor sought to reassure prospective global buyers of the technology.
They say that in spite of construction delays that have seen some maiden reactors years behind schedule, the next-generation atomic energy systems will prove to be competitive against rival technologies, thanks to the China's established supply chain.
The Hualong One has passed preliminary safety reviews and is now in the detailed design stage, according to officials at the nation's largest nuclear projects developer China General Nuclear Corp's (CGN). Basic design work on the reactor was completed in February 2014, according to the company.
Mao Qing, the deputy chief designer of the Hualong One reactor, said the reactor's estimated per GW construction cost of US$2.5 billion when production is scaled up will be "very competitive" against rival nuclear technologies from US-based Westinghouse's AP1000 and French firm Areva's EPR reactors.
Asked to compare the merits among AP1000, EPR and Hualong One, CGN vice-president Zheng Dongshan told reporters during a site visit of the Hualong One reactor under construction in Fangchenggang, Guangxi Zhuang autonomous region: "Each technology has its own specificity, its competitiveness depends on many factors [besides technology, including] the construction [contractor's] expertise and labour cost."
Ultimately, the technology that can meet all the safety requirements and is the most economic to build will have an edge, he said.
Westinghouse chief executive Daniel Roderick was quoted by Bloomberg as saying in December that its latest 3G reactor would "be able to compete against anybody or anything" when the next phase of plants is built in the next three years.
Zheng said Chinese firms have "unique advantages" since they can provide a "menu-style" comprehensive product offering to overseas customers, from equipment manufacturing and installation to project construction and management, as well as project financing.
"Some customers may also want us to transfer our technology to them so as to improve their capacity to operate [and maintain] the plants … we understand this desire very well since China have gone through the same process as our own nuclear industry was largely built up by absorbing foreign technology," he said.
Roger Cashmore, chairman of the United Kingdom Atomic Energy Authority, a government research organisation responsible for the development of nuclear fusion power, said China has the advantage of having recently built several reactors, including both the third-generation EPR and AP1000 reactors.
This means they have a well-established supply chain. On the contrary, the Europeans are struggling to re-establish their supply chain after a two decade hiatus on building reactors.
"Through working with Areva on building the EPR reactors, [the Chinese] would have found lots of issues and would have solved them. There is a lot to be gained by being able to build a first of a kind reactor, which is always difficult to build," he said.
However, China will need to meet the challenge of satisfying the requirements from regulatory regimes that could be different from the Chinese one, he noted.
For example, in Britain, the burden of proof of safety is on the builders rather than the regulators.
When going through the "general design assessment (GDR)" process, the builders need to demonstrate why their reactors are safe. This is different from the more prescriptive approach in nations like Japan, the US, France and China.
However, if the Hualong One design can pass the GDR process, it would be a major shot in the arm for Chinese companies seeking to export their know-how and build projects abroad. The UK's GDR, known to be vigorous and transparent, typically takes three to five years and results in what many perceive as an international "stamp of approval," he said.
It would also give regulators in other countries the confidence that Chinese companies can build and operate such projects safely.
Meanwhile, Zheng has hit back at criticism of construction delays of third-generation reactors.
"[The fact that] AP1000 is facing some delays in China does not mean the technology is not good," he said. "Worldwide, for a first-of-a-kind technology, some delay is normal."
Beijing-based state-owned nuclear power projects developer China National Nuclear Crop (CNNC) chairman Sun Qin was quoted by Reuters as saying that he expects to see the first AP1000 reactor, currently under construction in Sanmen, Zhejiang province, to begin operating in June next year. A second reaction using the same technology is due to come online six months later.
The project's completion timeline has slipped by over three years due to design shortcomings and supply problems with a key reactor coolant pump component.
The rival third-generation EPR technology developed by France's Areva and deployed in projects in Flamanville of northwest France, Olkiluoto in southwest Finland, and Taishan in Guangdong have also suffered major delays.
Asked about the Taishan project's delay, Zheng of CGN, which owns 70 per cent of the project, said its "overall safety, quality, progress and investment outlay have been under control," adding safety and quality precedes everything else.
He said of the three EPR projects, the one in Taishan is the first to complete the so-called "cold function test" trial and is now in the debugging stage.
The Flamanville project has been delayed after more stringent tests required by French regulators following Japan's Fukushima nuclear disaster. These tests found a flaw in a forged steel part, making it prone to cracks. Zheng said the project's developer EDF has informed CGN of the flaw and CGN has made "relevant required inspections" which showed the Taishan project did not have "a similar problem".
Still, CGN's Hong Kong-listed unit CGN Power said in November the first unit of the Taishan project has been further delayed. The project will be pushed back a year to enable a "comprehensive evaluation" on the project.
The Taishan project, whose construction began in 2009, was originally slated for completion by the end of 2013. Key parts of its first reactor were made in France.
The Flamanville project is now six years behind its original completion target, while that in Olkiluoto is eight years behind target. Both suffered cost blowouts of over 5 billion euros (HK$44.24 billion).
In December France's nuclear regulator said it has accepted a methodology proposed by Areva to conduct further tests on the flawed part to prove its suitability.