Yuan
Get more with myNEWS
A personalised news feed of stories that matter to you
Learn more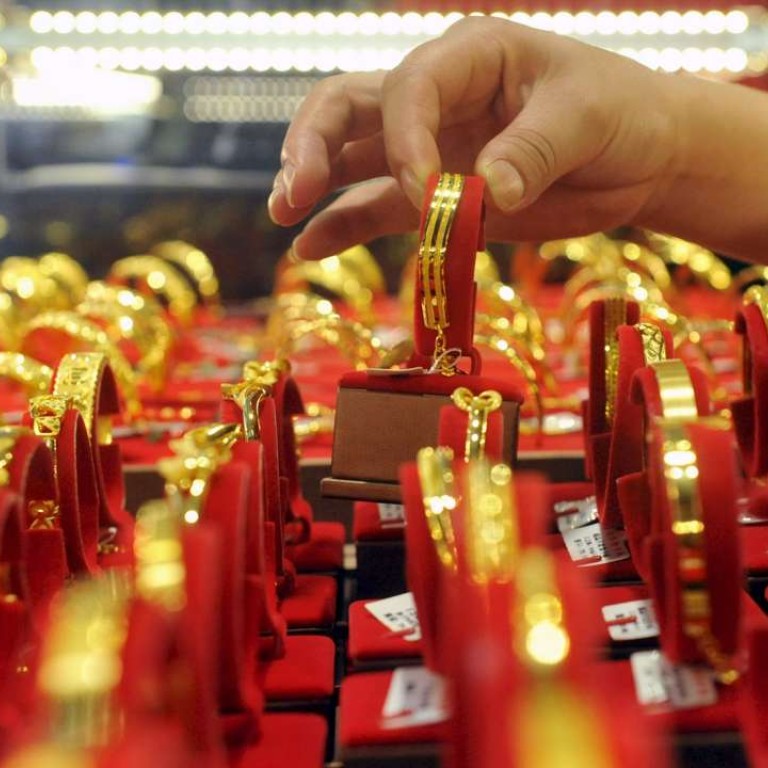 Hong Kong's local gold exchange to work with ICBC in launch of Shenzhen services
Warehousing and physical settlement service planned for Qianhai free trade zone
The Hong Kong gold exchange has teamed up with Industrial and Commercial Bank of China (ICBC) to launch gold trading services in the Qianhai free trade zone in September, providing custodial and physical settlement service targeted at commercial users and precious metals traders, according to the exchange head.
Haywood Cheung Tak-hay, the honorary permanent president of the 105-year-old Chinese Gold and Silver Exchange Society, said the exchange has teamed up with ICBC to use its gold vault in Qianhai as a temporary bonded warehouse for Hong Kong traders and manufacturers to store their gold. The service is considered useful for companies using gold to fashion decorative items, as the yellow metal can be stored before being fashioned into jewellery and other gold products at factories in Shenzhen.
The local gold bourse plans to build a HK$1 billion permanent gold vault facility, including a bonded warehouse, trading floor and related offices areas in Qianhai, however the project will take two years before completion, according to Cheung.
"ICBC is the largest of 15 gold importers authorised in mainland China. It is the largest bank in the mainland and has an international branch network which could provide bank clearing and settlement services," Cheung said.
"ICBC's Macau branch also handles gold import and export services. Teaming up with ICBC would connect Hong Kong, Macau, Qianhai and Shenzhen as a gold trading hub," he added.
The Chinese Gold and Silver Exchange Society partnered with the Shanghai international gold board last year to provide gold trading and custodial services. Twenty-one Hong Kong financial companies are authorised to trade gold in Shanghai.
The proposed Qianhai services is viewed as beneficial to Hongkongers, as it will enable trade in Shanghai and physical settlement in Qianhai. The service is believed to be particularly useful to jewellery manufacturers with operations in Shenzhen. It will also be possible for large dealers to ship their bullion from Shanghai to Qianhai,
"The development of the gold industry will speed up the physical delivery process of gold trading in Hong Kong, Shanghai and Qianhai. Of China's 3,000 gold-jewellery manufacturers, 70 per cent have factories in Shenzhen, The bonded warehouse in Qianhai, which is next to Shenzhen, would make it much easier for them to access gold when needed," he said.
Currently, jewellery manufacturers must transport gold from Hong Kong and Shanghai to their factories in Shenzhen, in what can be a lengthy process.
Meanwhile, Hong Kong Exchanges and Clearing is planning to relaunch gold futures trading, according to Chief Executive Charles Li Xiaojia, although a launch date has not been announced.
This comes only a year after the HKEx scrapped its gold contract last year owing to low trading volume.
Cheung said he was not worried about competition from HKEx.
"The Chinese Gold and Silver Exchange has knowledge and experience in trading and settlement of physical gold for 105 years. We have an electronic trading platform and we have the system to deliver physical gold for end users. If you look at the historical record, it shows we can compete with rivals," he said.