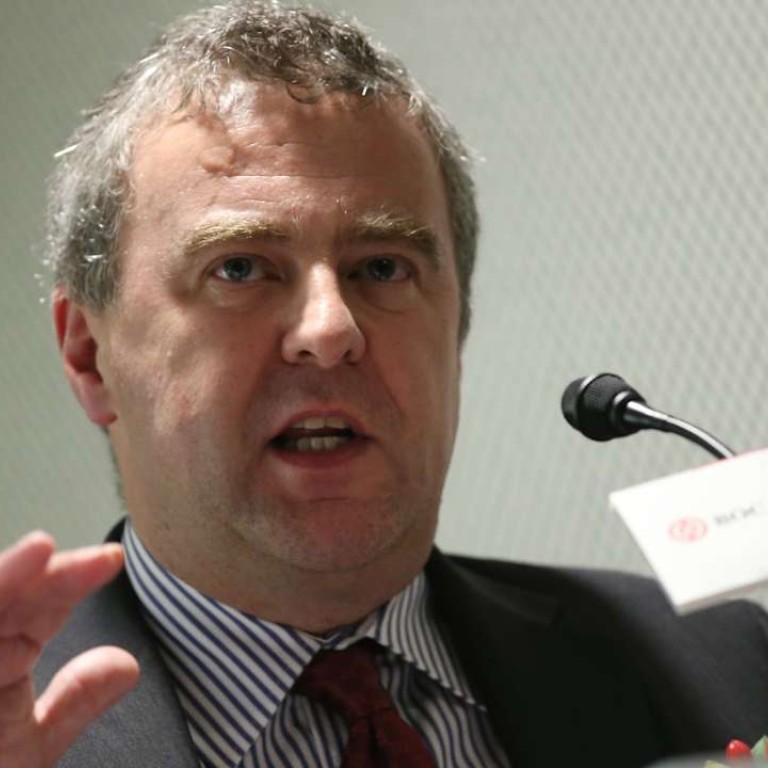 Aircraft leasing a US dollar game, says BOC Aviation boss ahead of Hong Kong IPO
Hong Kong public offering of BOC Aviation at HK$42 apiece runs from May 19 to noon May 24
The public offering (IPO) of shares in Asia's largest aircraft lessor BOC Aviation will start in Hong Kong on Thursday with an offer price 1.25 times the company's 2015 post-money price-to-book ratio.
Robert Martin, the company's chief executive, said in an interview that the firm is coming to the Hong Kong stock market because of an abundance of cash-rich investors, insurances companies and funds looking for a fixed return.
Aircraft leasing — where a company purchases planes at a price advantage from the manufacturers and monthly rents them out to airlines and often on decade-long contracts — is gaining popularity, with deep-pocketed Asian investors. That's because the business offers steady returns and a lower risk compared with airlines.
BOC Aviation's average return on equity from 2013 to 2015 was 15.1 per cent according to the company.
Despite recent trends that have seen airlines try to put their aircraft bills in local currencies in order to lower foreign exchange risks, Martin said he thinks aircraft leasing remains predominantly a US dollar business.
"We are a pure US dollar-based company and we don't intend to change that," he said, "Aircraft are bought and sold in US dollars. [With other currencies] you are just introducing additional risks and complexity to your business model that you don't need."
BOC Aviation has a portfolio of 270 owned and managed aircraft leased to 62 airlines in 30 countries.
Martin said the company tries to mitigate risks from US interest rate hikes by diversifying its financing sources with both floating rate loans from banks and fixed rate debt from the capital market.
On the revenue side, 60 per cent of its rental income is tied to a floating rate pegged to the benchmark interest rate.
Of the remaining 40 per cent, the company always hedges at least half of that, he said.
BOC Aviation's IPO could raise a total of US$1.1 billion, including US$583 from 11 investor cornerstones. It is being carried out a rare fixed-price one, instead of the usual practice when a company provides a price range.
"We want to do it in a way that is fair to all investors, from cornerstones to retail," Martin said. "Everyone knows they are getting it at the same price, and the feedback has been overwhelming."
The company has attracted a slew of companies and fundhouses as cornerstone investors including four sovereign wealth funds - China's Silk Road Fund and China Investment Corporation, Oman Investment Fund, Singapore's Temasek through Fullerton Fund, and US planemaker Boeing. Martin said he is delighted with their vote of confidence.
"Here in Asia-Pacific we need a focal point for people to invest in the region's aviation-industry growth potential, and I hope the retail investors see that" he said.
Martin added the cornerstone investors came on board with no strings attached. The Silk Road Fund — a US$40 billion fund Beijing set up to promote infrastructure projects as part of its One Belt One Road policy — has committed US$100 million to BOC Aviation. Martin said the company already has 40 per cent of its fleet deployed in countries involved with the policy, a ratio that may rise, given the region's importance.
The Bank of China, sole owner of BOC Aviation since 2006, is selling 30 per cent of the company via the IPO, with an over-allotment or "green shoe" option of another 4.5 per cent. It will remain a 65.5 per cent shareholder in BOC Aviation following the listing, if the option is exercised.
Aviation industry veteran Tony Tyler, outgoing International Air Transport Association chief and a former Cathay Pacific chief executive, will join the company in early June as a board director.
On June 1, BOC Aviation will join China Aircraft Leasing Group as the second aircraft lessor listed in Hong Kong, which has a price-to-book ratio of 2.18.