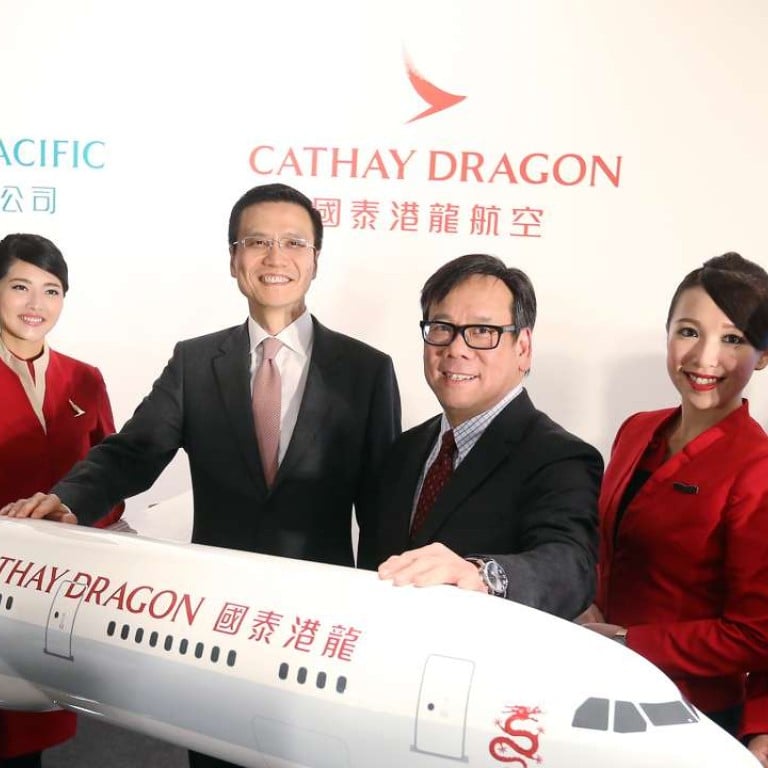 Update

|
Dragonair CEO Algernon Yau goes on indefinite leave
Unexpected announcement comes after carrier launches campaign to rebrand Dragonair as Cathay Dragon
Cathay Pacific Airways said on Thursday that Algernon Yau, chief executive of subsidiary Dragonair, will "take leave for personal reasons" from July 11, and Cathay's director of corporate affairs James Tong will become acting chief executive of Dragonair.
The announcement comes after Cathay in January launched a rebranding of Dragonair as Cathay Dragon, which will put an end to the more than three-decade-old brand.
Yau was appointed chief executive of Dragonair in July 2014. Tong had held that position before becoming director of corporate affairs in August 2014. While management rotations are common at Cathay, it is unusual for one to return to a previously held position.
Carolyn Leung, manager of corporate communication at Cathay, declined to elaborate on the reason for Yau's sudden leave. "We cannot divulge further as this is his personal matter," she said.
It is widely believed that Yau is taking leave in order to prepare for the Legislative Council election in September, in which he is running for the seat in the transport functional constituency.
Leung said Yau would take leave from Dragonair's top post until "he is available to resume his service" but he would remain functional as Cathay's board director. "We respect his decision to take leave of absence," she said.
A senior manager at Cathay said: "That came as a total surprise to me."
Cathay is in the process of a group-wide cost-cutting effort as revenue came under pressure. Chief executive Ivan Chu earlier this month called for a hiring freeze for all non-operationally critical staff and asked all departments to stop non-essential discretionary expenditure and review operational budgets.
Dragonair, which operates a fleet of 41 aircraft, compared with 146 at Cathay, flies to mainland China and nearby Asian cities, usually on lower fares.
Cathay in 1990 bought an 89 per cent stake in Dragonair, then Hong Kong's only other airline, and made it a wholly owned subsidiary in 2006. The unit has since been described by analysts as "basically a contract carrier" for its parent airline.
The campaign to rebrand it as Cathay Dragon was aimed at aligning the two airlines closer, the company said. The Dragonair name and logo would be replaced by Cathay's trademark visual identity in red.
Arnold Cheng, currently general manager of sales, Pearl River Delta and Hong Kong, will take up Tong's role, according to the same announcement. He previously served as Cathay's general manager, international affairs, from 2010 to 2015.