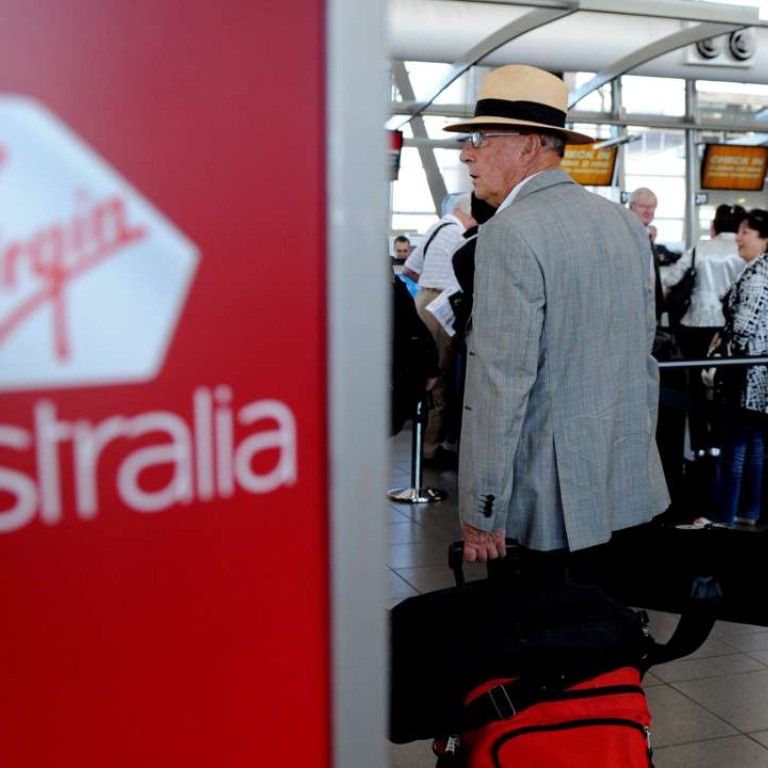 Finally, a deal that takes flight; HNA agreement for up to 20pc stake in Virgin Australia matches growth plan, analyst says
Deal seen as strategic for the acquisitive Chinese conglomerate
A newly forged alliance between HNA Group and Virgin Australia through a new share issue worth A$159 million (HK$894 million) may pave the way for more deals to come from the mainland's most acquisitive conglomerate.
Virgin Australia on Tuesday morning announced the equity investment by and partnership with the Chinese company holding a vast aviation portfolio including Hainan Airlines and Hong Kong Airlines. The deal, which will make HNA an initial 13 per cent and up to 19.9 per cent stakeholder in Australia's second-largest airline, comes after US$22 billion worth of deals from HNA since July, according to Bloomberg data.
HNA's investment in Virgin Australia seems logical, according to analysts who questioned recent outlays such as its US$6 billion takeover of California-based IT firm Ingram Micro in February.
The Virgin investment expands HNA's global footprint and is seen as a way to tap China's lucrative outbound travel market.
"Virgin Australia is HNA's most important acquisition to date," said Will Horton, a Hong Kong-based analyst with the Centre for Aviation.
"It's not the most expensive investment, but it is in one of the most relevant markets for China and the most relevant airline investment yet for HNA. The theoretical opportunity is for Virgin to fly routes HNA group airlines cannot, this includes points in Australia to Hong Kong, Beijing and Shanghai," Horton said.
The deal that will entail code-sharing and other cooperations between Virgin Australia and HNA Group's airlines give both parties greater access to the aviation market in China and Australia. It also gives HNA an advantage over other Chinese airlines to capitalise on commuter flights within Australia by Chinese tourists when visiting the sparsely-populated country.
However, Virgin Australia, which booked a loss of A$58.8 million in the March-ended quarter, is financially struggling, which is why its largest shareholder Air New Zealand is seeking exit. Virgin's direct new share placement with HNA at 30 Australian cents apiece, a 7.1 per cent price premium to the stock's last close on Monday, came as a surprise as HNA was reported to be interested in acquiring Air New Zealand's shareholding.
Michel Brekelmans, managing director of L.E.K. Consulting in China, said the deal looks like a good match for both parties.
However, he said HNA appears to have spread themselves thin after recent acquisitions.
"They are definitely extremely bold in pursuing aggressive growth through M&A," he said.
"There is a risk they are taking on too much hay on their stack given the size and volume of deals they are closing. So they probably have to take a backseat and refrain from too much operational involvement in the mid-term and work out exactly how they make all the parts work together," he said.
HNA is also in talks to acquire a 49.99 per cent stake in KLM-Air France's catering unit Servair, after making a US$1.5 billion takeover offer for airline caterer Gategroup.
"Virgin Australia could be a platform for HNA to follow in larger acquisitions- airlines that are bigger or are in a more significant market, like the US," Horton said. "It's difficult to financially quantify the value of what HNA learns from Virgin - including the management of a globally visible brand. Recognition and how to be better known is a big question for HNA."
This article appeared in the South China Morning Post print edition as: HNA expands footprint with Virgin Australia deal