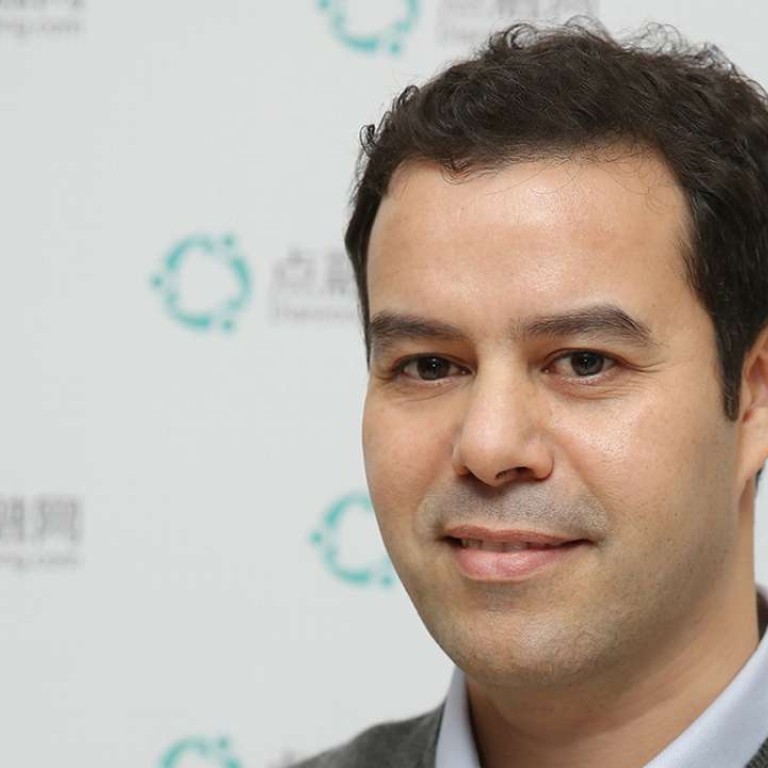 P2P has a bright future, insists Dianrong founder, as he plans IPO within two years
Soul Htite says despite a spate of recent high-profile scandals, the sector is weeding out the weak operators
Soul Htite, the founder and chief executive of China's peer-to-peer lending platform Dianrong.com, is looking to list the startup within two years.
But he is also warning that more platforms in the fledgling sector are expected to collapse in the near future.
Founded in 2012 by Htite and former lawyer Kevin Guo Yuhang, Dianrong landed China's largest P2P fundraising deal to date in August last year — US$207 million in a series-C round from investors including Standard Chartered.
The ambitious Htite, who was also the co-founder of the world's largest online lender Lending Club, is still in two minds about where to launch the listing.
"In New York you get a very good valuation," he says, before adding , "but the story of Dianrong is China, so it might be better to list in Hong Kong."
Analysts estimate the company could realistically raise between US$300 and US$500 million, based on the valuation of Yirendai's flotation, which became China's first New York listed P2P last year.
Dianrong is now the country's third ranked P2P company, according to a report by online lending portal Wangdaizhijia and consulting firm Yingcan, behind Yirendai and China Ping An Group's platform, Lufax.
The business has three million lenders, of which 500,000 are active, and Htite expects total lender numbers to grow to 10 million in the next two years.
But it's a sensitive time to be looking for financial backers.
The P2P sector has been rocked by scandal in recent months, which has done nothing to grow people's faith in the newly emerging internet finance industry.
In December, another of the mainland's biggest P2P platforms, Ezubao, was found to have defrauded 900,000 investors out of more than 50 billion yuan by offering high interest rates which it was unable to pay.
While the US-based Lending Club has been forced to cut its workforce after seeing its shares crash 41 per cent down since May, after it after it found an employee had sold more than US$20 million worth of loans that did not meet buyers' requirements.
In an effort to calm nerves, Dianrong ran a high-profile promotional campaign across mainland cities last month, with advertisements at bus stations and on office buildings proclaiming genuine P2P lenders never touch their capital and never runaway.
"I don't want the story of China's baby formula producers to be repeated by P2P firms," Htite said, referring to the series of food safety crimes involving domestically produced dairy products.
"What we need to do is to create a system that nobody will be able to do what Ezubao did."
One way, he says, is to ask every P2P platforms to have a custodian bank with which borrowers must have an account.
The existence of custodian banks also makes sure that capital actually exists and flows to the borrower so that any Ponzi Scheme could be avoided, he adds.
With that in mind, Htite says Dianrong is about to announce a cooperation with two Chinese commercial banks, which will become its own custodians.
The company has also started researching the use of blockchain rechnology, and has built its own network — the first Chinese P2P company to do so, he claimed.
Blockchain is essentially a platform for reliably clearing transactions without the need of a bank or other third-party, and uses the same technology behind the digital currency Bitcoin.
They allow users to share a decentralised ledger, and makes financial data more transparent.
"No one can cheat under the table," Htite said, adding regulators prefer companies that regulate themselves, especially in a newly emerging industry.
After the Ezubao case, he said he was worried the Chinese government "would close every P2P firm".
But now he believes the government continues to support the P2P industry, as it is a lot more transparent than other components of China's shadow banking system, and also helps the economy grow on domestic demand, rather than exports.
Despite the lingering doubts over China's internet finance market, Dianrong insists the growth of lenders' number is being maintained, but admits the number of individual borrowers is slowing.
"People feel confident they can get a P2P loan, when they might not get a traditional bank loan approved. But that's wrong — we are also becoming stricter in our lending practises," Htite said.
The real attraction of P2P lending, he adds, is that it bypasses intermediaries, so borrowers and lenders can offer each other more alluring interest rates than traditional banks.
Since 2011, just over 1,300 P2P platforms in China have gone out of business, taking huge amounts of lent and borrowed capital with them.
In May, China still had 4,080 active P2P platforms, according to a report from Wangdaizhijia.
Htite believes it is "very normal" to see market bubbles burst and is sure more Chinese P2P platforms will disappear, after failing to raise the money they need to survive.
But when the ongoing natural industry adjustment ends, only the winners will be left standing, he insists, just as they were when the country's "groupon-like" group-buying websites first mushroomed, then died away.
They peaked at over 5,000. But only two of those were left after the dust settled, and they merged last year to become just one, Meituan-Dianping.
This article appeared in the South China Morning Post print edition as: P2P lending start-up eyes flotation in two years