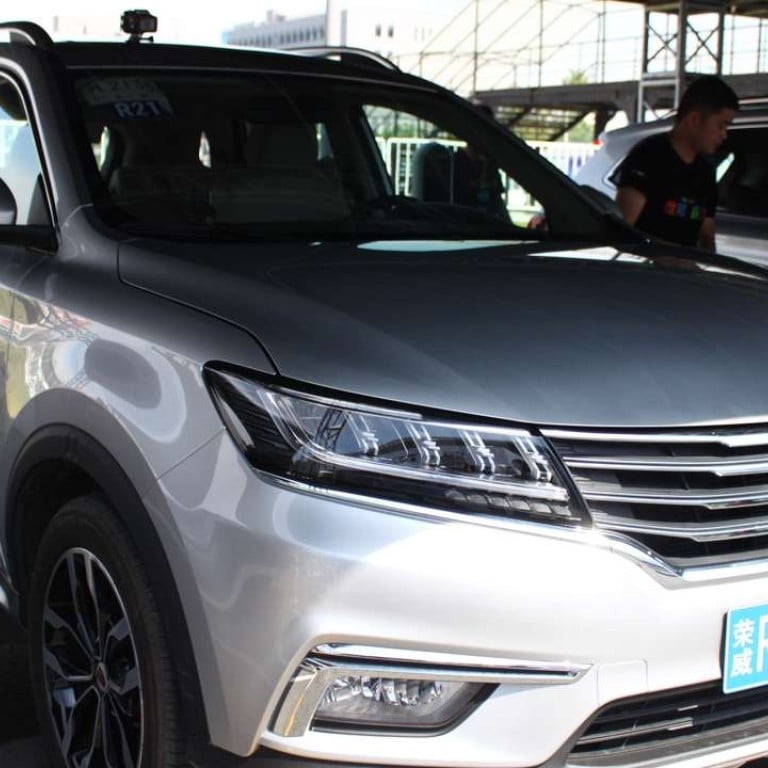 SAIC, Alibaba launch internet-connected car aimed at Chinese mass market
Chinese automaker SAIC Motor and e-commerce giant Alibaba Group on Wednesday launched their first internet-connected car with ambitions of making the vehicle even smarter in future.
The web-enabled car, a Roewe RX5 sports utility vehicle under SAIC's subsidiary brand, is priced from 148,800 yuan (HK$172,600), the Shanghai-based automaker announced in a ceremony in Hangzhou on Wednesday.
The model is the first internet-connected car powered by Alibaba's homegrown operating system YunOS. The two companies agreed in March last year to invest 1 billion yuan to develop an internet-connected car, marking Alibaba's first foray into the new battleground of the auto sector.
Alibaba is the owner of South China Morning Post.
Alibaba Chairman Jack Ma said connectivity will make the car not only a transportation vehicle in the future but a smart device closely linked to people's daily lives.
"Today, 80 per cent of your smartphone's functions are not relevant to making phone calls or conversation. I believe that in the future, a car will have 80 per cent of its functions not related to just transportation," Ma said in Hangzhou at the ceremony.
Smart cars connected to the internet will be the future of the auto sector, while autonomous driving will also be the trend, Ma said.
Presales of the Roewe RX5 began on Wednesday on Alibaba's e-commerce platform Tmall.
The Roewe RX5 can be connected with other smart devices to enable drivers to remotely unlock the car or control in-car air-conditioning with a smartphone. In-car entertainment and web-enabled navigation are also popular features of an internet-connected car.
With the YunOS operating system, drivers can also use voice commands to open and close windows, control navigation systems, as well as make mobile payments and restaurant bookings.
Wang Xiaoqiu, vice president of SAIC, said internet-connected car buyers are offered free data usage for basic functions such as navigation and operating system updates.
The prices are competitive considering the quality of the car, he said.
The internet-connected car, which is seen as the future of the global automotive industry, has become a battleground for automakers and internet companies.
Other than Alibaba's YunOS, Google's Android Auto and Apple's CarPlay are also among the operating systems used for cars.
Zhang Yu, an analyst with Shanghai-based consulting firm Automotive Foreign, said the pricing of the Roewe RX5 is attractive and it will be able to target the mass market.
"However, other car operating systems also provide similar features, [so] consumers may want to see what additional features the YunOS system can provide," Zhang said.
With the support of Alibaba's cloud computing technology, the YunOS operating system will likely have more advantages in the navigation function, he added.
This article appeared in the South China Morning Post print edition as: SAIC, Alibaba put internet-connected car on the road