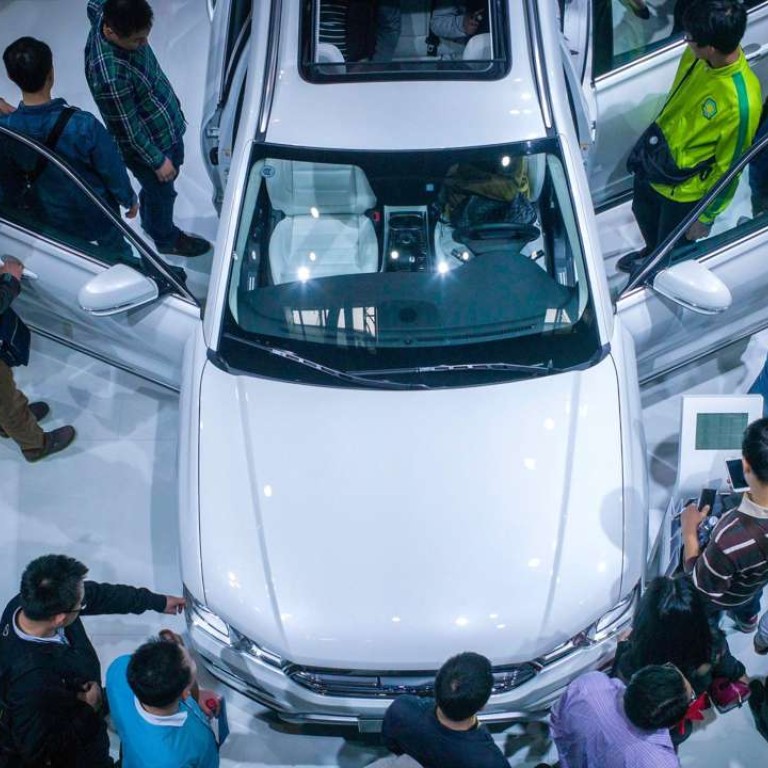 SUVs, electric cars to drive China's auto sales in second half
China's new car sales growth beats global average but online and used car sales lag behind other markets
Analysts predict the Chinese auto market will continue to do well in the second half of this year after strong sales in June, thanks to government policy support and a solid increase in sales of SUVs and growth in the electric car segment.
However, they said mainland Chinese used car sales and online auto sales still lag behind other countries.
Bank of America Merrill Lynch analysts expects overall July wholesale shipments in China to register 25 per cent year-on-year growth, while it forecasts further improvements in the second half in terms of automaker margins and earnings visibility.
Following a 20.6 per cent and 22.8 per cent year-on-year rise in June for wholesale and retail sale volumes of passenger vehicles respectively, BoAML research analysts Jeff Chung and Fujia Liu said they "expect strong replacement demand and consumption upgrade trends to continue into 2017".
The growth in SUV and electric cars sales, coupled with declining inventories for high-end luxury vehicles, led Chung and Liu to predict dealership inventories would stay low in the third quarter of this year which would further support pricing.
Strong car sales growth on the mainland has been driven by policy decisions after the Chinese government halved purchase taxes from 10 to 5 per cent on all cars with an engine displacement of 1.6L or less, according to Wei Feng, senior associate at China International Capital Corp (CICC).
The government purchase tax cut is scheduled to continue until the end of 2016, although industry experts are calling for the policy to extend into 2017.
"In particular, among domestic brand SUVs, sales volumes of models with 1.5T versions like Haval H6 and Trumpchi GS4 were much better than models without 1.5T versionslike Chang'an CS75 and Baojun 560," Feng said.
According to Macquarie equities research, SUVs continued to post strong growth in June, with monthly sales up 40.8 per cent year on year.
"SUV's share in the personal vehicle market in June expanded 5.7 percentage points year on year to 35.4 per cent and reached 34.9 per cent in the first half of 2016," the Macquarie report said.
Feng also expects electric vehicle sales to continue to grow, having already soared 126.6 per cent year on year in June, "implying that electric cars would gradually enter the A-class car market amid falling lithium-ion battery costs".
As a result, according to Macquarie Capital Securities Asia managing director Janet Lewis, "many buyers are front loading their demand into this year".
However, she suggested that even if the policy stimulus was removed, growth would be maintained.
"We think there is enough natural growth due to income growth and favourable demographics," she said.
While China's new car sales growth is better than many overseas markets, the country is lagging behind in terms of internet car sales and used car sales.
A Macquarie report on online auto sales showed that annual new car sales in China are expected to grow 6 per cent in 2016, in contrast with the global car market projection of 3.3 per cent.
Lewis said 80 per cent of China's market is taken up by first time buyers, with new car demand as a key growth factor. However, despite robust growth in new vehicles, the "shortage of used cars is a key problem in China", she said. "The used car market is under 30 per cent of the new car market in China, whereas in the US it is three times as big."
This was a problem for some dealers, who are faced with restrictions on older and used cars because of emission levels, so they can't be sold in major cities. Also, "first-time car buyers who have limited budgets can't buy used cars" due to limited supply, Lewis said.
The rapid growth of internet users has given rise to online Chinese automarketplaces such as 58.com, which connects 10 million local merchants and 400 million users, facilitating simultaneous online interactions or allowing manufacturers to bypass dealers and sell directly to buyers online.
However, the Macquarie research report stated that online auto market penetration rates in China, at 30 per cent, have yet to catch up with overseas – notably 72 per cent in Britain and 55 per cent in the US.
"[China's] auto marketplace will still benefit from automakers and dealers budgets shifting from print to online media, especially in developing markets where online penetration is low," the report said.
Lewis also pointed out that of the first-time Chinese buyers, "many wouldn't buy a car online, but go to dealerships and finalise the order at a dealer," because the overall online market is not yet developed enough.
Further, despite its potential benefits to the auto market at large, the emergence of online auto marketplaces "has faced significant push back from the strong existing dealer systems," according to Macquarie.
This article appeared in the South China Morning Post print edition as: Policy support, SUVs to boost mainland sales