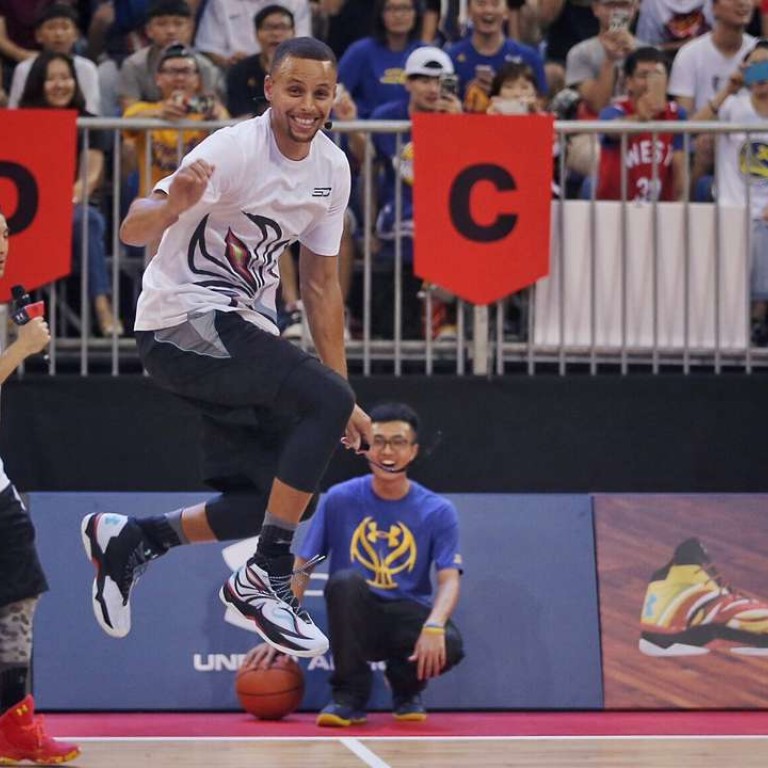 Under Armour ups its pace in China
Sportswear company's founder and CEO teams up with NBA star Stephen Curry for a whistle-stop, five-day nationwide push for more fans
Under Armour, the Baltimore-based US sports brand that has just completed a second promotional tour of China with one of basketball's biggest stars, says it is poised to become a billion-dollar-plus business in the country, with training and running gear at the forefront of its bid to catch rivals such as Nike.
The sportswear and accessory maker plans to open more than 200 new stores across the country over the next two years as part of its growth strategy, founder and CEO Kevin Plank told South China Morning Post in an exclusive interview during a visit to Hong Kong.
"In China, we have put in everything we have to make it great," he said.
The American football player-turned-entrepreneur, 44, was speaking in the presidential suite of The Peninsula hotel overlooking the city's spectacular Victoria Harbour, as he accompanied Stephen Curry, twice winner of the NBA's coveted Most Valuable Player award, on a whirlwind five-day China tour, sponsored by Under Armour.
The day before, hundreds of Chinese fans had gathered outside the Four Seasons hotel, where the Golden State Warriors point guard was staying in the southern Chinese city of Guangzhou, cheering "
CURRY! CURRY
!" and competing for his autograph as he made his way to his car . The crush prompted the deployment of security guards.
Plank spotted the potential of the Chinese obsession with Curry, poaching him from Nike as the face of Under Armour's sportswear in 2013 and last year extending the contract to 2024. The company has launched more than 60 versions of Curry's signature shoes since February 2015.
On the back of his phenomenal success, snatching an NBA championship and two consecutive MVP awards, sales of the company's basketball footwear have skyrocketed, both in the US and in China.
Under Armour, the second biggest athletics brand in the US, saw its second-quarter sales soar nearly 28 per cent, driven by a 58 per cent surge in footwear sales thanks to an uptick in demand for basketball shoes endorsed by Curry.
Starting out in 1996 selling sweat-wicking shirts – made from a special fabric that draws perspiration away from the body – the Maryland-based sportswear maker quickly became popular among sporty suburban types in the US.
Plank described Under Armour's seemingly "overnight" success in China, where sales nearly tripled in the
first quarter
led by footwear in particular, as "16 years in the making".
It started selling in China in 2010, but its truly exponential growth began even more recently. Revenue from the Chinese market shot up to around US$80 million in 2015 from roughly US$7 million two years earlier.
Plank sees China as a vital component of his vision for Under Armour to achieve US$7.5 billion in global revenue by 2018.Its total revenue reached US$3.96 billion last year.
"Without question we believe China alone is a billion-plus dollar market opportunity for the brand," he said. "While we do that we hope to grow the overall pie, but we are perfectly happy to take market share from our competitors too."
Basketball and running shoes are among the brand's top sellers in China, a market that is booming as urbanites in the world's second largest economy increasingly turn to a healthier lifestyle amid rising income levels.
Under Armour received an additional boost from the State Council, the Chinese cabinet, this year when it unveiled a blueprint to develop a
5 trillion yuan
domestic sports industry by 2025 – more than tripling the current size of the market – with ramped up sports facilities and looser industry regulation.
Plank's vow to take a bigger market share from its old rivals in China came at a time when Under Armour just got started there.
Despite staggering growth momentum in China – 68 per cent year on year versus overall global growth of 28 per cent for the second quarter – international sales comprised just 15 per cent of Under Armour's net revenue. That compares with the 52 per cent of Nike's total revenue raked in from international markets excluding North America.
Plank revealed that the company aims to open 115 new stores this year in China, with over 100 more planned for 2017, bringing the total number of outlets to more than 300 by 2017. That figure is still dwarfed by the 9,000 or so shops currently run in the mainland by German sportswear giant Adidas.
Last September, Under Armour launched a 15,000-sq ft "brand house" on Shanghai's busiest high street, Middle Huaihai Road. That outlet is its second largest flagship store in the world behind a similar one in Manhattan, New York.
"We prefer more of a flagship profile in China that allows you to showcase the brand in an appropriate way in important markets in important cities," Plank said.
"And it's important to have a very deliberate e-commerce strategy to cater for the rapidly changing habits of consumers."
He said the brand's e-commerce business in China had hit last year's total sales by May, and represented about 20 per cent of its total sales in the country, a proportion Plank called "a lot more than the competition".
China's two largest online marketplace operators Alibaba, which owns the South China Morning Post, and JD.com have both signed Under Armour to sell the brand's sports gear, including the latest colourways of the Curry 2.5 basketball shoe that draws inspirations from the classic Chinese novel Journey to the West.
Taking Curry as an "entry point" and basketball as a "gateway sport", Plank said he expected training and running sportswear to also "have a greater chance of doing some greater things there".
"The running business is booming, golf is gaining a good share, and of course the big price in China is football and training," Plank said.
President Xi Jinping has stated he plans to transform football-mad China into a "great sports superpower", hosting a World Cup and winning it, sparking a billion-dollar buying spree by Chinese conglomerates such as Wanda of leading football clubs in Europe.
Flooded with billions of dollars of investment to answer Beijing's call, China's professional sports industry could grow by a compound annual rate of over 20 per cent to hit 1.6 trillion yuan in annual revenue by 2025, a report by venture capital firm China eCapital Corp showed.
And Plank highlighted that Chinese consumers' perception of Under Armour as a "professional brand" was something he was "most proud of".
"We are the brand of the athlete, we are the brand of the trainer, while our competitors are very much more lifestyle brands with nice designs," he said.
That remark was made at an interesting time, when the performance brand's recent crossing over into casual fashion – essentially the staple that appears on city streets, and not only at gyms and basketball courts – raised market concerns over grave challenges to make it look "cool".
Rivals Nike, Adidas and New Balance have already cemented their reputation as sportswear labels with a heavy influence on fashion tastes in athletic gear, while Under Armour was still at the early stages of its push beyond sports and sweats.
In a latest bid to crack into the lifestyle market, Under Armour last year poached award-winning fashion designer
Tim Coppens
from Adidas to craft a new collection called UAS (Under Armour Sport) to debut this autumn.
Apart from milking the success of Curry and Olympic swimming champion Michael Phelps, Under Armour's positioning in China made Plank set his sights on "Olympic-level Chinese athletes" to have them "refer to us and appreciate us as a professional brand".
In tapping into the China market, domestic films are also what Under Armour intended to join hands with, following the attention its had drawn from product placements in the blockbuster Marvel Avengers series of films from Hollywood.
Big foreign brands such as Ford and Nike have splashed out on productions of some of China's most-watched television shows to have their goods featured before audiences in their millions.
"Ninety per cent of our product placements are not paid for, but are all aligned with partnerships," Plank said.
"So if we can, we like to have that kind of relationship with Chinese films, such as actions films, kung fu … we are valuing these opportunities."
This article appeared in the South China Morning Post print edition as: Professional armour