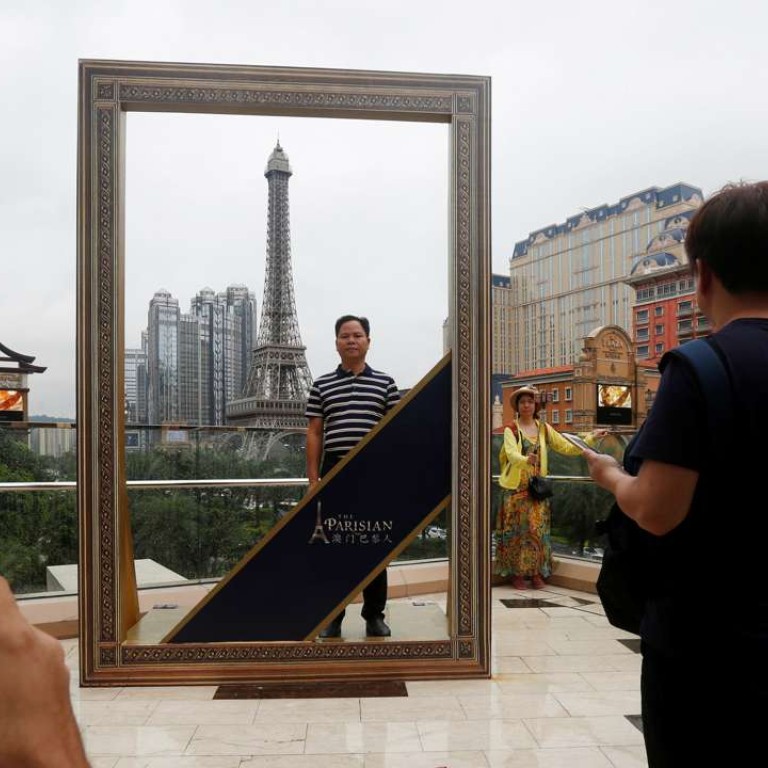 Wynn Palace and Parisian off to a winning start, but gambling shares likely to have hit their peak
Analysts give the thumbs up to Macau's two latest attractions, as gambling hub sees first signs of a return to its former glory
Macau casino stocks have had a good year so far, fuelled by the high hopes pinned on the openings of the much-anticipated Wynn Palace and the Parisian Macao hotel-casino resorts which have helped lift the sector by more than 50 per cent since January.
But analysts now suggest investors may be set to hold tight for a while before rushing to accumulate more gaming shares, as bargains become few and far between.
Macau's casinos are trading at about 26 times 2017 earnings, compared with 13 times for Genting Malaysia Berhad, which operates casinos in Malaysia and Singapore, according to Bloomberg data, a strong premium to the past five years' average valuations.
"Early indicators are that the two new venues are not going to materially grow the market, but instead largely eat up existing market share from incumbent properties," said CLSA analysts led by Aaron Fischer in a recent note.
They describe the quality of the market's latest additions, "unquestionable", and the "most-hotly anticipated properties in Macau's history".
Macau's gaming revenue for August rose 1.1 per cent from a year earlier, ending a 26-month losing streak triggered by the double whammy of a sputtering Chinese economy and President Xi Jinping's sweeping graft crackdown which combined managed to scare off mainland VIP gamblers in their thousands.
That welcome rise in business – suggesting the world's largest gambling hub could finally be finding its way out of the doldrums – surfaced just a week after Wynn Palace's opening and shortly before the Parisian started welcoming its first visitors, in mid September.
The former is being marketed for its "magnificent luxury", while the latter is catering more to travellers and recreational gamblers.
Regardless of any lingering regulatory uncertainties, Las Vegas casino moguls Steve Wynn and Sheldon Adelson have both placed bold multibillion dollar bets on the former Portuguese colony, which the government now hopes to re-engineer from being simply a hardcore haven for high-rolling punters, into a location which has mass-market tourist appeal.
"While there were few surprises at Wynn Palace and its non-gaming amenities were a disappointment, the property stands out to us as Macau's highest-quality product offering," Fischer said in his report.
Macau's most-expensive gaming and entertainment destination yet features air-conditioned gondolas circling an eight-acre performance lake, 1,706 rooms, suites, and villas, as well as a spa offering a US$450 facial treatment, using gold-leaf and crushed diamonds.
Other analysts too, have given Sands China's US$2.7 billion Parisian project the thumbs up, but rather that sheer opulence, it's being viewed as having huge "mass-market draw". The resort's signature Eiffel Tower replica, half the size of the real one, has already become a photo-taking hotspot.
Morningstar analysts Chelsey Tam, who attended the project's opening, said Sands China's "centralised effort" to promote the Parisian, together with the novelty effect, explained why its 3,000 hotel rooms were already fully reserved for the first four days of the Golden Week holiday in October.
"The decent connectivity and the eye-catching attraction of an Eiffel Tower replica will help drive the ramp-up rate at the Parisian," she said.
The resort has a frequent shuttle bus to other major Macau Cotai properties such as City of Dreams, Studio City and Galaxy Macau, while visitors can also get there easily from the ferry terminals, the airport and across the landmark Lotus Bridge via public transportation.
Tam expects the Parisian's accessibility to further improve in December, when a bridge linking it to Sands China's premium Four Seasons property should be ready.
"We saw many brands in the Parisian that do not already have a store in other Sands China properties, including Alexander McQueen, Maje and J. Lindeberg," said Tam.
The premium yet mass positioning of the Parisian's shopping complexes complement the Venetian's more affordable showcase and Four Seasons' high-end offering, she added.
Both the Venetian and Four Seasons are Cotai Strip resort properties operated by Sands China.
At Wynn Palace, meanwhile, shoppers are greeted by "world-renowned designer boutiques" including Hermes, which sells Birkin bags, and Swiss watchmakers Chopard and Franck Muller.
The floral-themed destination was "relatively well received" by promoters, according to China Merchants Securities analyst Angela Han, while she noted Wynn Palace's most profitable premium mass segment was still young, thus "not forming a threat to other properties" for the time being.
Wynn Palace's hotel occupancy is reported to be on the low side, ranging between 50-75 per cent, Han wrote in a note in mid September.
Holidaymakers with a check-in date on November 1 were able to reserve Wynn Macau's basic 68 square metre (sq m) Palace King Room on travel booking website Bookings.com for HK$1,690 a night, which the website said represented roughly a 25 per cent discount.
In comparison, a 33 sq m standard single bed Deluxe Room at the Parisian was offered at a 44 per cent discount off HK$1,049 for the same check-in date, according to Bookings.com.
Despite the Parisian's smaller rooms being widely viewed as "less impressive", with sizes ranging up to 72 sq m, or half the size of corresponding alternatives at Venetian, analysts still expect traffic to be diverted from Venetian in the near term.
"Our checks indicate that premium mass areas in the Venetian saw less customers than premium equivalents to the Parisian,"said Tam.
While acknowledging the encouraging signs that room rates remain steady, despite an uptick in supply, and also possibly more robust-than-expected September gaming revenue growth, China Merchants' Han suggests investors are now looking for a new entry point, given the current lofty valuations of Macau gaming stocks.
Following a 30 per cent leap in the market capitalisation of the Hong Kong-listed Macau concessionaires led by Sands China and Galaxy Entertainment over the past three months, "current valuations leave limited upside", she added.
CLSA's Fischer also considers it unlikely the two new resorts will stimulate "the level of demand needed to justify" their combined total cost of US$7 billion, adding returns as a result "though still high, will fall".
CLSA, which has downgraded Wynn Macau, still expects Macau's gross gaming revenue growth to shed 5 per cent this year despite hopes the inclusion of the Wynn Palace and the Parisian in the mix would lift the gloom hanging over the enclave, and even return it to its former glory.
"While Wynn Palace and the Parisian add a couple of draw-cards to Cotai, we see these properties as largely taking market share from the existing installed base, rather than growing the Macau pie," Fischer's team wrote in their report released in September.
The one certainty is that the ensuing high-stakes battle for market share among the handful of gaming operators controlled by local and Las Vegas billionaire tycoons is sure to be hard-fought.
This article appeared in the South China Morning Post print edition as: High valuations dim allure of Macau casino stocks