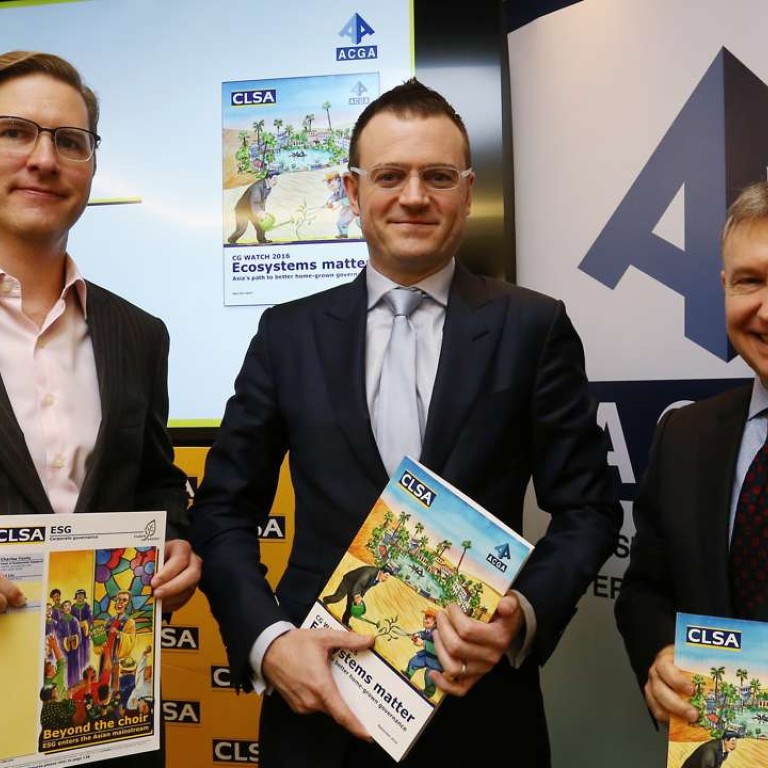 Hong Kong loses out to Singapore in corporate governance survey
Hong Kong's ranking in the Corporate Governance Watch 2016 suffered because it lacks an independent audits regulator
Hong Kong lost out to Singapore in a survey of regional corporate governance standards because it still does not have an independent audit regulator, according to a joint report by CLSA and the Asian Corporate Governance Association (ACGA).
Corporate Governance Watch 2016 is a biannual study that tracks the corporate governance of more than 1,000 companies across 12 Asia-Pacific markets.
Australia, which was included in the survey for the first time, was ranked top with a total score of 78.
Singapore grabbed the second spot with a score of 67, nudging ahead of Hong Kong on 65. Mainland China ranked 10th in the report on 43, ahead of the Philippines on 38 and Indonesia on 36.
Hong Kong topped the last survey, in 2014, and was also placed first in 2007. Singapore has come out on top in five of the last seven surveys, before Australia was included.
The results are based on a survey of fund managers and institutional investors to give scores that evaluate accounting and auditing, corporate governance culture, enforcement and regulatory environment, and corporate governance rules.
Speaking at the launch of the report on Thursday, Jamie Allen, secretary general of ACGA, said Hong Kong lost out mainly due to the lack of an independent body to handle the regulation of auditors. The Hong Kong Institute of Certified Public Accountants, an industry body, currently acts as the regulator.
The government wants to shift regulatory responsibility to the independent Financial Reporting Council, but this is unlikely to happen until 2018.
"Singapore's accounting and auditing standards are of a high quality and policed by an effective regulator in the Accounting and Corporate Regulatory Authority," according to the report.
Allen said: "Hong Kong, India and Philippines are the three last markets not yet to have independent audit regulators."
But Singapore's recent decision to consider allowing companies with dual-class shares to raise funds on the stock exchange may lead to a decline in its corporate governance standing, he said.
"Hong Kong got a high corporate governance rating as its securities regulator says a firm 'no' to dual class shares, which violate the 'one share, one vote' principle. Many institutional investors will discount a market if there is dual-share structure," Allen said.
Hong Kong lost out on the world's largest IPO two years ago when mainland e-commerce giant Alibaba opted to list on the New York stock exchange which allows dual-share structures. Hong Kong banned dual-class shares in the mid 1980s.
Alibaba, which owns the South China Morning Post, was denied an exemption in Hong Kong that would have allowed senior executives to nominate a majority of the board even though they only owned minority stakes.
"Hong Kong has a different legal system and regulation to the US. We cannot allow dual-share structure here just because the US is doing it," Allen said.
He said he supports the listing reforms proposed jointly by Hong Kong Exchanges and Clearing and the Securities and Futures Commission, which suggest setting up two new committees with equal representation from both sides. One committee would set listing policies while the other would approve complicated new listing applications.
Allen disagrees with opponents of the reform who say it would hand too much power to the SFC.
He said: "There are many new listings that have corporate governance problems, and the listing reform would help address the problem and enhance market quality.
"It would be better to let the SFC be the sole regulator for listing matters, but it would take a long-term debate for that to happen. The proposed reform would at least be the first step to allow the SFC to work closely with the HKEX to handle listing regulation."
Another corporate governance weakness in Hong Kong, he said, is the fact there are too few women on company boards. Only 11 per cent of directors are female in Hong Kong, well below the 17 per cent to 43 per cent seen in overseas markets.
"Hong Kong has a lot of smart women. It is a question of why so few women are on the board," Allen said.
CLSA's global head of thematic research, Shaun Cochran, said the firm's survey of 1,047 companies showed that those with good corporate governance tend to outperform the others.
"Our analysis shows that better governance is associated with better fundamentals," he said.
Separately, accounting firm PwC on Thursday released their own corporate governance report on
Hong Kong-listed companies. It showed that Hang Seng Index (HSI) constituents stocks - the largest 50 blue chips in Hong Kong - on average had adopted better disclosure practices and new corporate governance rules than H-share companies, which are constituent stocks of the Hang Seng Chinese Enterprise Index (HSCEI).
The PwC Hong Kong's Risk Assurance division collected and analysed the data of 230 listed companies in the HSI and HSCEI, across sectors including financial services, real estate, retail and technology.
The study found 86 per cent of HSI-listed companies were early adopters of new disclosure requirements relating to internal control and risk management systems, compared to 60 per cent of HSCEI-listed entities.
"One of the reasons that HSI constituents perform better is because substantial emphasis and resources are put into risk management and internal control areas to respond to market expectations and regulatory changes," said Kanus Yue, PwC Hong Kong Risk Assurance Partner. "The majority of HSI constituents have made an effort to increase their voluntary disclosure beyond the level of mere compliance.
"This greater transparency and the additional information disclosed helps investors to analyse the overall risk profiles of the companies and facilitates more informed investment decisions."
This article has been amended to correct China's score in the survey
.
This article appeared in the South China Morning Post print edition as: Singapore pips HK in corporate governance rankingsSingapore pips HK in corporate governance