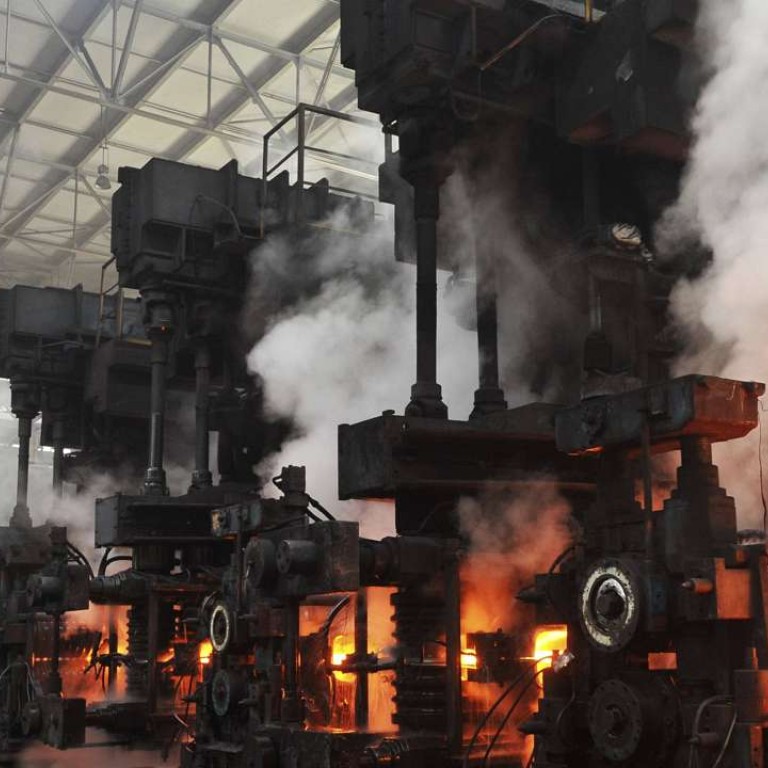 Debt-ridden SOEs can expect less support from Beijing, recent cases suggest
China's government appears to be adopting a more market-oriented approach to bond defaults, increasingly tolerating bankruptcies
After a long wait for a solution to surging defaults by Chinese state-owned enterprises (SOEs), some recent cases have started to shed light on the government's likely approach.
To the disappointment of those believing that Beijing would continue its long-held policy of stepping in to rescue debt-ridden companies on the brink of bankruptcy, it appears to be switching to a more market-oriented approach.
Dongbei Special Steel Group, a state-owned steel maker in China's northeastern Liaoning province, has been at the heart of the debt market's troubles this year, having defaulted on nine separate bonds since March. Its initial missed payment was a contributor to a widespread selloff in corporate debt in the mainland.
Dongbei's creditors have been stuck in round after round of negotiations with the company, and still there is no clear prospect of a solution on the table. The matter has raised questions about whether the government would accept bankruptcy as an option, given the significant impact that would have on local employment and, possibly, social stability.
On September 30, Fushun Special Steel, a subsidiary of Dongbei, said in a statement that a court is reviewing an application from creditors for a bankruptcy restructuring of its parent company. Before that, the local government had confirmed that Dongbei would enter bankruptcy proceedings, according to media reports that cited a summary of a creditors' meeting.
Also last month came the bankruptcy of state-owned Guangxi Nonferrous Metals Group, the country's first interbank bond issuer to fail.
The cases demonstrate that bankruptcy restructuring is now an option for distressed SOEs, according to Ivan Chung, associate managing director and head of China credit research at Moody's Investors Service.
Xiang Songzuo, the chief economist at Agricultural Bank of China, the country's third biggest bank by assets, said: "It [the bankruptcy] is obviously a good thing, as the debt problems faced by Chinese SOEs need a fundamental solution such as liquidation and bankruptcy."
The government's new-found tolerance of bankruptcy means the implicit guarantee for debt payment that Chinese investors have been used to for so long is not there any more.
The central government will only provide direct support to financially distressed SOEs that are engaged in activities closely aligned with national policy, or if the government is concerned a default could have wider systemic implications, according to the latest report from Moody's.
For the Chinese government, bankruptcies lower the direct contingent liability risks posed by high levels debt in the SOE sector. Bankruptcy is in line with the Beijing's objective to reduce overcapacity, deleverage SOEs and eliminate zombie firms, said the ratings agency.
The shift to a more market-oriented approach could also be seen clearly in the different fates of different SOEs.
Sinosteel, another stated-owned steel maker whose default made headlines, has been given the green light to go ahead with a debt-for-equity swap program, involving an exchange of 27 billion yuan of its debt for equity-convertible bonds.
In contrast, although Dongbei Special Steel had reportedly proposed a debt-to-equity swap as a partial solution to its debt problem, the speculated bankruptcy restructuring of the company suggests this is an unlikely outcome.
It was reported last month by the China Securities Journal, a newspaper run by the official Xinhua News Agency, that the country's top economic planner, the National Development and Reform Commission (NDRC), was likely to introduce detailed guidelines on debt-for-equity swap before the end of September. So far, no details have been released.
"Market-oriented principle is the most important factor in applying a debt-for-equity swap program," said Huang Yiping, an advisor to the People's Bank of China.
Jia Kang, director of the Research Institute for Fiscal Science, said: "The debt problem should be solved on a case-by-case basis."
Debt-for-equity swap is not suitable for every company as a solution for debt overload. Only those with significant growth potential and relatively strong prospects of make profit should be selected as targets for the program, said Zeng Gang, head of the Banking Research Office at the Chinese Academy of Social Science's Institute of Finance and Banking.
This article appeared in the South China Morning Post print edition as: China takes new tack on defaults at SOEs