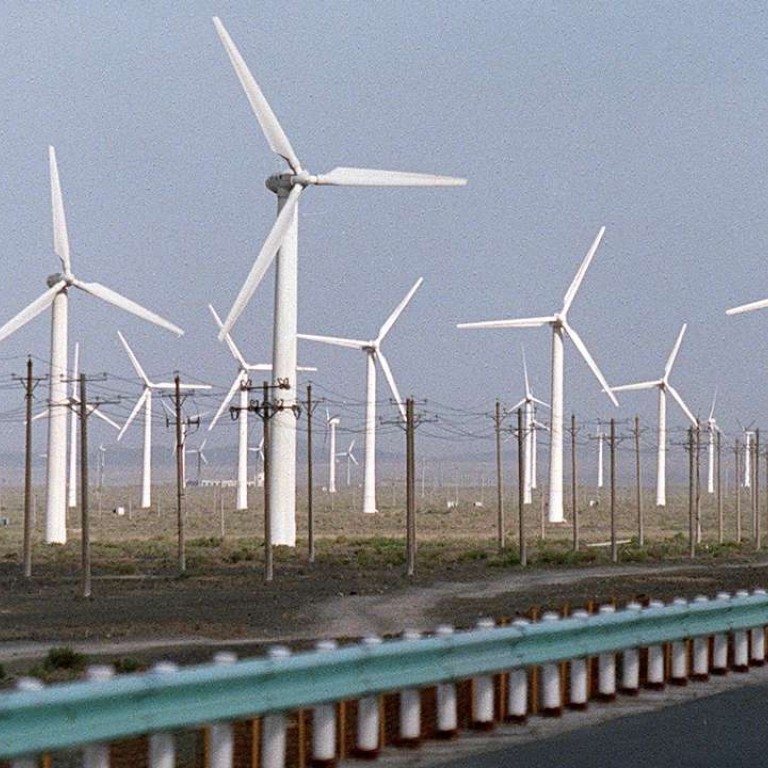 Wind power propelling China into cleaner energy era
Wind power related firms predicted to see profits soar over the rest of the year, says Bank of China International study
China's wind energy developers are flying high, according to a new report, as the country continues its efforts to clean up air quality and environmental conditions by investing in alternative sources of power.
The study by Bank of China International (BOCI) is predicting wind power related companies to see profits soar between 25 and 64 per cent in the rest of this year, on the heels of eight newly commissioned ultra-high-voltage (UHV) power lines across the country.
Shares in the sector have picked up 67 per cent in price since February, outperforming the Hang Seng China Enterprises index by 9 per cent.
Those linked to the wind energy sector are also likely to continue benefitting from government targets to increase national non-fossil fuel energy sources to 15 per cent by 2020, BOCI analysts Karl Liu and Justin Xu said in the report.
Non-fossil fuel sources currently account for less than 10 per cent of China's total energy use.
The country's National Development and Reform Commission established minimum utilisation hours for wind and solar power across eight provinces and three autonomous regions earlier this year.
"Given the Chinese government's commitment to change its energy mix ... we believe wind power will remain the key beneficiary, thanks to its shorter construction periods, zero emissions, and in particular, the building of more UHV lines," Liu and Xu wrote.
Renewable sources of energy have become a top priority for China.
After widespread criticism and condemnation by those living in its most-polluted cities, and commentators around the world, the country has pledged to invest heavily in creating what it targets to become the globe's highest capacity for wind, solar, and hydropower in future years.
A new survey by Ipsos shows 96 per cent of Chinese urbanites believe "greener" forms of power will help solve the national pollution problem.
A growing issue for the domestic renewables industry, however, has been the under-use of its existing facilities, especially wind-driven generators, thousands of which stand idle.
A recent Moody's report claimed under-utilisation in the sector rose from 8 per cent in 2014, to 15 per cent in 2015, to 26 per cent in the first quarter of the year.
But BOCI now predicts utilisation of wind will recover by 2 to 9 per cent in the second half, helped by the heavy investment in the more-efficient use of UHV lines, and increased subsidy payments.
Longyuan has 23 per cent of its power capacity located near UHV lines.
Colder weather and greater wind speeds from La Niña – a climate phenomenon where oceans have cooler temperatures – will also boost efficiency and use, Liu said.
As a result, the country's largest wind power company, China Longyuan Power, is now predicted to deliver a 64 per cent rise in year-on-year profit in the second half, which in turn will "fuel momentum in its share price".
While wind energy will make strong headway, the report warns the country's huge number of solar power producers will still be under considerable pressure, with losses mounting as demand globally weakens.
BOCI says the domestic solar industry has gone through a prolonged "downtrend", with global demand forecasted to drop in 2017 and 2018 by 4 per cent and 2 per cent, respectively.
Solar product prices fell over 20 per cent from August to September, declining at a faster rate than it has over the past year.
But there is light at the end of the tunnel, the analysts add.
"We believe the slump is close to an end. Industry consolidation will ramp up before we see any rise in demand, possibly in 2017," the BOCI report said.
China's nuclear power sector can also expect mixed fortunes, despite its continued confidence, especially after landing valuable contracts overseas including the recent agreement to start development of Britain's new generation of nuclear power plants.
Companies including as state-owned China General Nuclear Power, the BOCI report adds, should start to benefit from higher utilisation hours, potentially boosting 2017 profits by 7 to 12 per cent.
But stricter industry reforms and higher tariffs could lower support for the sector in general.
Investors, it said, will be watching out for the launch of the company's third-generation nuclear units next year.
This article appeared in the South China Morning Post print edition as: Renewable thrust to aid wind power companies