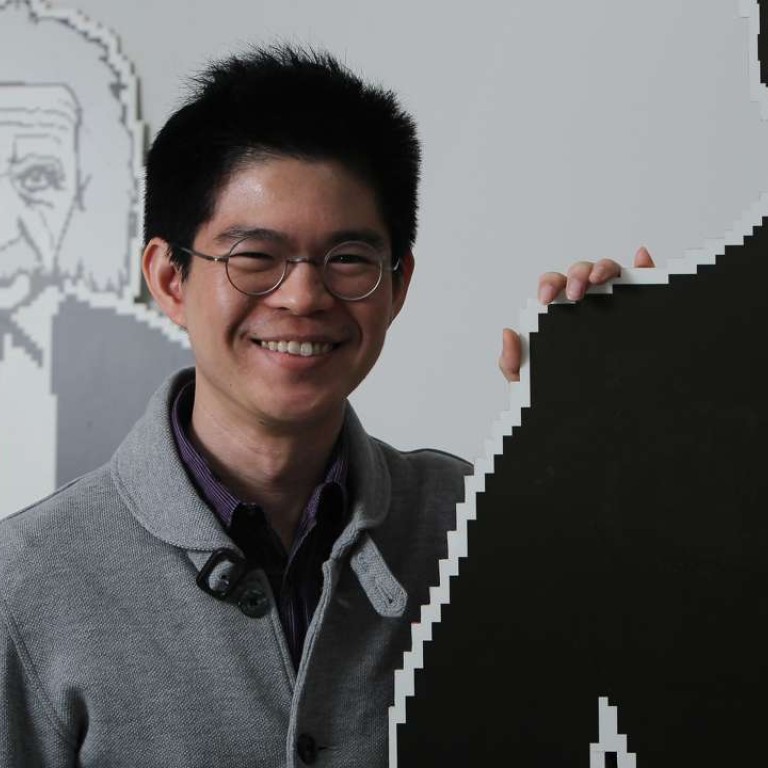 Silicon Valley import hopes to lead Hong Kong's charge in mobile innovation
MotherApp's founder Ken Law is the 2016 winner of the DHL/SCMP Young Entrepreneur Award
Ken Law Kin-lun, 40, never wanted to be a businessman.
A computer engineer by training with a long-standing love for physics and computer science, Law grew up in Hong Kong believing business was an unsavoury field centred on making money.
But after a stint at Google, Law realised he could create a business rooted in his passions, and have a positive impact on the world. In 2008, he became the brainchild behind MotherApp – a company that creates and develops mobile applications, literally the mother of mobile apps.
In the beginning, there were only three staff members including himself as the founder and CEO, providing companies with mobile technical expertise.
But over the years, MotherApp grew into a mobile strategy consultancy with over 60 employees in Hong Kong and the US, and a list of clients including The Financial Times, Standard Chartered, and most recently, Hong Kong's Ocean Park.
The apps and mobile solutions spearheaded by MotherApp aim to solve problems for end-users. For example, the Ocean Park app helps with crowd control for the millions of people who visit the theme park every year.
A typical project for MotherApp costs around HK$1 million to HK$2 million, and usually requires a team of six to eight people – designers, engineers, quality assurance staff, project managers, and hardware specialists, Law said.
While projects vary, they can take six to nine months to complete.
"We may not be the biggest [company], but I think in Hong Kong, we are one of the best in terms of the quality and the things that we do," Law said.
The unlikely path into business for Law began after he graduated from the Hong Kong University of Science and Technologywith a bachelor's in computer science. He then headed to Stanford University to for post-graduate studies.
At Stanford, Law took a class with Google founders Larry Page and Sergey Brin.
The Google duo recruited Law into the first batch of Google interns, which then led to a full-time job as a software engineer.
While at Google, then still a startup, Law saw firsthand how a business could make money and contribute to society at the same time.
A few years later, after patenting an algorithm for finding related web pages on the internet, Law decided to move back to Hong Kong.
Back at home, he began talking to his friends about the potential of mobile applications. At the time, iPhones weren't widely used and Google had not yet launched its first Android device.
But Law saw potential in the mobile industry.
"We are really the earliest people to do modern mobile programming," Law said.
Things were challenging at first, since the market did not yet understand mobile devices and apps. .
"The biggest pain for starting any company is, you're working really hard but then you're not sure if that will actually turn into results," Law said. "Trying to bear with the uncertainty is the hardest part."
Part of MotherApp's success was getting into the mobile app market early.
"You don't want to get into the market late," Law said. "Right now, if you want to Uber anything, someone has already thought of that, so it's already too late. So you want to do Uber when my mom hasn't heard of Uber before."
As the company weathered the winds of the growing industry, its team built up its user experience and app design capabilities, growing into a true facilitator for mobile innovation.
Today, MotherApp's Hong Kong office is still a reminder of Law's Silicon Valley roots, located in a sleek glass building in Hong Kong Science Park.
Tucked at the end of an unremarkable hallway, theopen office features rows of computers and bookshelves, with a creamy couch on one side and a communal shelf stocked with snacks on the other.
On one of the computers, a Post-it note declares: "don't trust engineers".
"It's kind of like the Google culture here," Law said in the office's lone conference room, where a life-size cardboard cutout of Albert Einstein resides. "I think the culture is more bottom-up and hopefully open."
But Law has never forgotten to ensure MotherApp does more than just make profits.
"The reason that made me think of starting my own company [is realising] you can actually do good, but also make money," he said. "And by making money, you can do more good."
This included creating the app FamLoop to help families bond through reading, and an app coordinated with the non-profit MeKong Club to help combat modern slavery in Asia.
"We want to contribute to society as well," Law said. "So we want to make our contribution based on the unique skills that we have."
For those who want to follow in his footsteps, Law says entrepreneurship is about avoiding blind risks, and minimising uncertainties.
He adds that there are multiple paths to entrepreneurship beyond the textbook example of starting a lemonade stand as a kid.
"Even if I [went] back in time and told the 12-year old Ken that you should sell lemonade, I don't think that he would buy into that idea," he said. "Just do what you like."
Going forward, MotherApp is focused on expanding in the US market, where it competes with local mobile consultancy companies and vendors in India. In Hong Kong, the company faces off against local players such as Green Tomato and Cherrypicks, as well as tech giants IBM and Accenture.
MotherApp is also investing in what Law sees as the next big wave of technology — the Internet of Things (IoT), or connectivity of physical devices.
"IoT is trying to make things smart," he said. "For me, from a computer scientist perspective, the world is really dumb."
Law uses the analogy of a car park to explain the concept. If someone was trying to find a parking space, they would have to physically check various parking lots for space, but digitisation could make that process as easy as checking if a hard drive was full, he says.
The company is already incorporating the IoT into its work. For their Ocean Park project, they launched a product called PowerArena, which employs this new technology to provide real-time data about theme park visitor traffic, in part via counting algorithms on CCTV security cameras.
IoT is a growing new field, and MotherApp hopes to be a pioneer.
"Maybe we'll fail, I don't know," he shrugged. "But that's how you run a technology company."
This article appeared in the South China Morning Post print edition as: finding the algorithm for a perfect business application