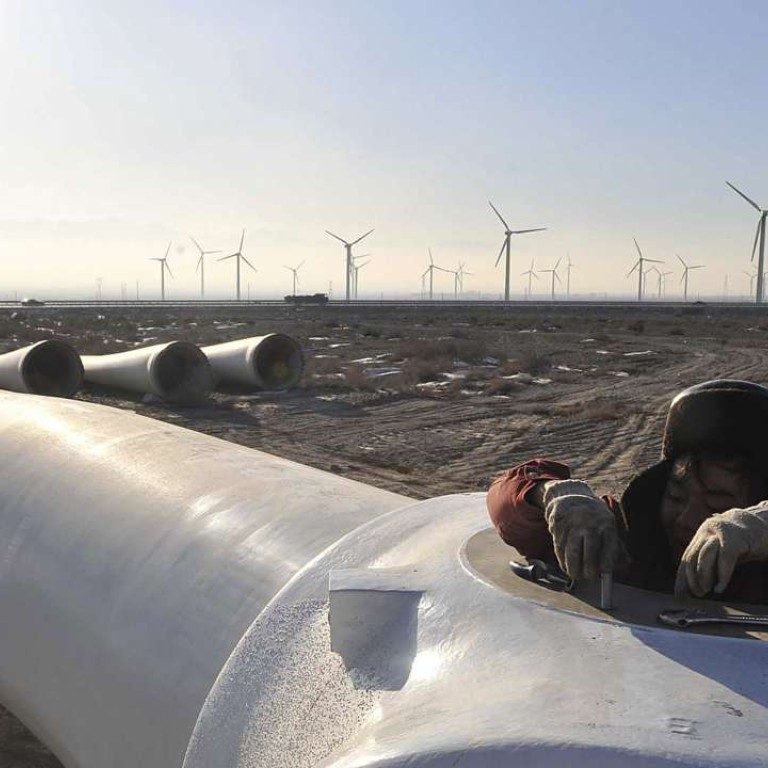 Wind turbine giant Goldwind in power joint venture with Apple
Wholly-owned subsidiary Beijing Tianrun New Energy Investment agrees to transfer its 30pc stakes in four project companies to US tech firm
Xinjiang Goldwind Science & Technology, the world's largest wind power turbine maker, has struck a joint venture agreement with Apple to supply clean energy to the American technology giant's production partners in China.
The Urumqi, Xinjiang Uygur autonomous region-based firm's wholly-owned subsidiary Beijing Tianrun New Energy Investment has agreed to transfer its 30 per cent stakes in four project companies to Apple, Goldwind said in a filing to Hong Kong's stock exchange after the stock market closed on Wednesday.
The firms are located in Henan, Shandong, Shanxi and Yunnan provinces.
"Apple is committed to powering all of its facilities around the world with 100 per cent renewable energy, and is now working with its suppliers to power Apple's product manufacturing with renewable energy," Goldwind said.
The filing did not reveal how much capital or assets will be contributed by Apple, but did say the project firms will become "cooperative joint ventures" that will no longer be consolidated in Goldwind's financial statements, since important matters will require unanimous approval by their directors.
They will, however, remain subsidiaries of Goldwind under Hong Kong's listing rules.
Goldwind added the "aggregate consideration payable" by Apple was not significant enough to trigger any disclosure obligation.
The cooperation, it said, will help realise its "direct supply and sales of green power", enhance its brand awareness, and increase utilisation of its wind power facilities.
Goldwind had a backlog of 14.4 giga-watts (GW) of turbine orders at the end of September.
China is the world's largest wind power market with 145 GW of wind farms installed by the end of last year, according to the Global Wind Energy Council.
Wind farm development accounted for 25.6 per cent of Goldwind's pre-tax profit of 1.71 billion yuan in the year's first six months.
By the end of June, it had installed wind farms with 2.9 GW of annual generation capacity cumulatively, calculated based on its equity stakes.
American technology giants are known for their investment in renewable energy projects.
Apple's web site claims 93 per cent of its energy usage came from renewable sources last year, and it is seeking to raise it to 100 per cent.
"In China, we are adding 170 megawatts of solar [farms] to begin offsetting the energy used to make our products," it said.
Search engine giant Google said on Tuesday it expects to purchase enough clean power in 2017 to meet or exceed all of its consumption at its offices and 13 data centres.