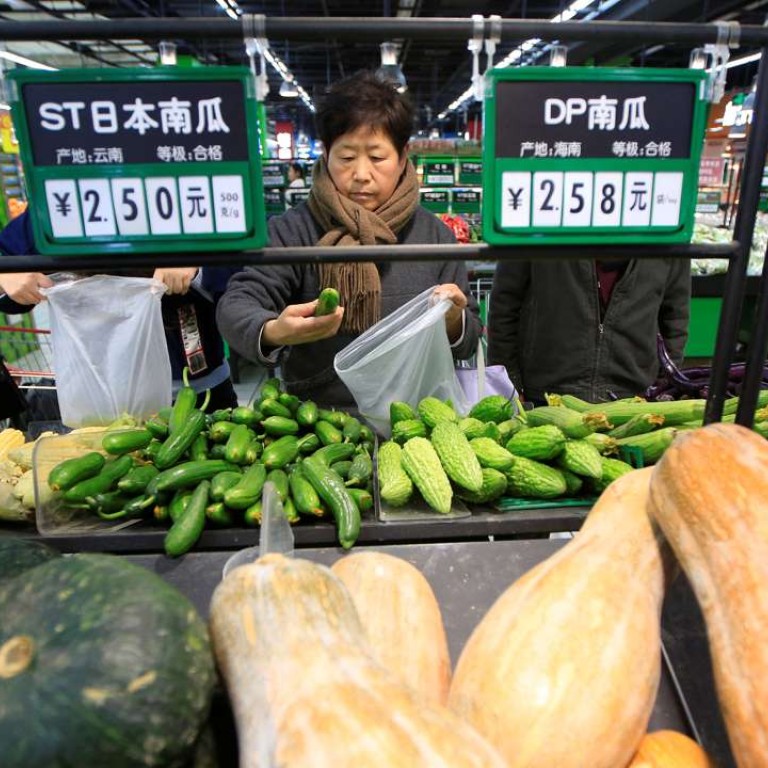 Opinion
Across The Border
by Laura He
Across The Border
by Laura He
China's brick-and-mortar retailers likely to bottom out in 2017 as consumer sentiment improves
China's traditional retailers had a difficult 2016, with major retailers reporting a third straight year of sales declines, but the slide should bottom out this year as consumer sentiment shows signs of improving. Traditional retailers have also deepened the integration of shoppers' online and offline experience, and rising reflation expectations should boost sales of supermarket operators in particular, say analysts.
Overall sales for the top 50 Chinese retailers decreased 0.5 per cent in 2016, down for a third year in a row, according to recent statistics from the China National Commercial Information Centre. In 2014 and 2015, retail sales dropped 0.7 per cent and 0.2 per cent respectively.
Nonetheless, positive signs emerged in December as sales for the top 50 retailers jumped 5.1 per cent year on year, reversing a 5.6 per cent year-on-year decline in the same month in 2015. December also marked the biggest monthly increase in 2016.
"It seems obvious that brick-and-mortar stores have seen sales stabilise near the bottom," said Fan Junhao and Guo Haiyan, analysts for China International Capital Corp (CICC), in a recent research note. "Continued recovery should be expected in 2017."
Nomura analysts Emily Lee and Scott Hong agreed on the positive outlook.
"We believe [fiscal 2017] is likely to be a year of stabilisation for China and Hong Kong retailers, due to easier [comparable same-store sales] and lower pressure from operating expenses," they wrote in a report.
Positive updates from different sub-sectors have implied a pick-up in consumer sentiment, they added.
The Westpac MNI China Consumer Sentiment Indicator increased to 116.6 in December, up 1.5 per cent from November's reading. The pick-up leaves sentiment above the 12-month average of 115.1 and up 2.5 per cent in 2016.
"The main theme for the Chinese consumer in 2016 has been one of gradual improvement. While there have been several setbacks along the way and progress has at times been disappointing, the picture at year end is of a more comfortable consumer," said Matthew Hassan, a senior economist for Westpac.
Besides the improvement in consumer sentiment, the integration of online and offline retail shopping experience should also boost mutual growth, said Fan and Guo.
"The retail sector is entering a new era of online-offline integration," they said.
E-commerce giants such as Alibaba and JD.com have acquired stakes in a number of offline retailers in recent years.
Last week, Alibaba announced it would join the founder of Intime Retail, Shen Guojun, to pay as much as HK$19.8 billion to privatise Intime in a bid to expand further into bricks and mortar stores. Alibaba owns the South China Morning Post.
CICC analysts also said rising reflation expectations are beneficial for supermarket operators in particular.
In December, the Consumer Price Index rose 2.1 per cent from a year earlier, roughly within market expectations. The Producer Price Index jumped 5.5 per cent from a year ago, the fastest pace in five years.
"While in January 2016, the common fear was deflation and hard landing, now the concerns are inflation and financial risks," said Larry Hu and Jerry Peng, economists for Macquarie Capital.
They predicted the CPI to average 2.4 per cent in 2017, up from 2 per cent in 2016.
Nomura expects the CPI to increase to 2.4 per cent, while Bank of China anticipates it will remain at 2 per cent.
"As CPI and supermarket [same-store sales growth] are correlated, we expect supermarkets focusing on the food business to benefit," said the CICC analysts.
They also suggested special attention be given to gold and jewellery-related stocks.
According to the China National Commercial Information Centre, December's jewellery sales growth turned positive for the first time in 2016.
"Given weak gold prices, major uncertainty about the global growth in 2017, and the upcoming peak season during the Lunar New Year, we expect gold sales to rebound further in the January-February period," Fan and Guo said.
Their top A-share picks include Suning Commerce Group, Yonghui Superstores, Wuhan Department Store, Happigo Home Shopping and Zhongbai Holdings Group.
Nomura recommended Hong Kong-listed stocks, such as Anta Sports Products and jewellery brand Chow Tai Fook.
Separately, Citic Securities maintainted its "outperform" rating on China's retail sector, highlighting state-owned department store operators like Zhongbai and Rainbow Department Store.
Citic analysts Zhou Yu and Xu Xiaofang said state-owned department stores will benefit from the so-called "mixed-ownership reform" in 2017, which should improve their business efficiency through partial privatisation.
This article appeared in the South China Morning Post print edition as: Brighter days tipped for offline retailers