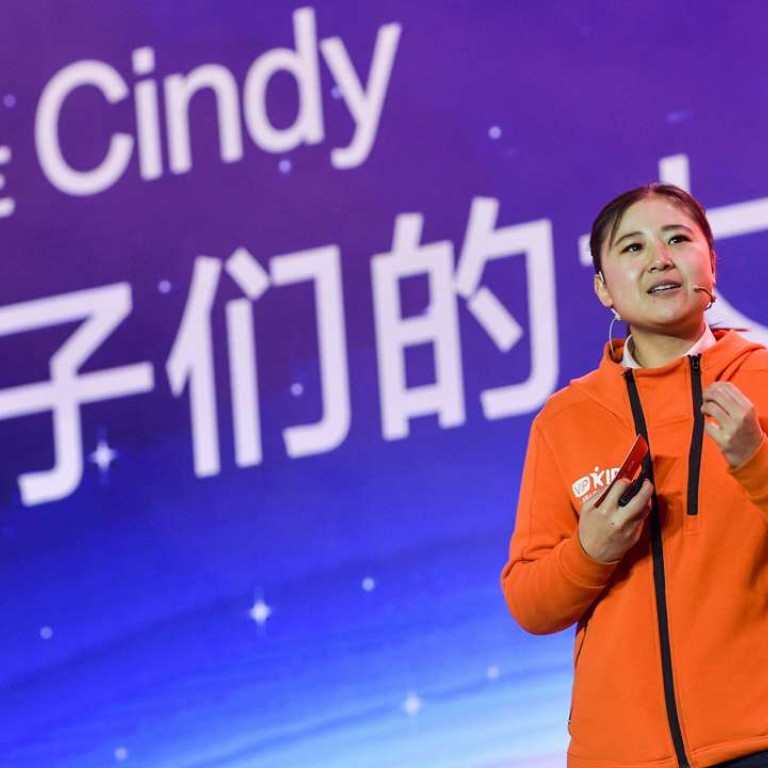 New

|
VIPKid links China's English students with American teachers
Entrepreneur Cindy Mi's office sits in a building that used to be a Taoist temple in one of Beijing's oldest hutong areas, but there is nothing traditional about her start-up.
Founded in 2013 and formally known as Future VIPKid, the company has built a rapidly growing business by allowing Chinese children to learn English at home through videoconferencing with North America-based instructors.
The service is tapping into the demand among Chinese middle-class parents to have their children learn English in the most authentic way and the desire of underpaid North American teachers to make more money during their spare time – a model envisioned by Mi as using "on-demand economy to connect teachers and children across the world".
The online one-on-one sessions target children aged between five and 12. Each session lasts 25 minutes and costs 130 yuan (US$18.90). More than half of the money goes to the pockets of overseas teachers, who can typically make US$3,000 to US$4,000 a month, equal to their monthly salary in North America.
The model has led to explosive growth in VIPKid's business. The company started last year with fewer than 1,000 registered teachers and nearly 10,000 paid users. Now the numbers have jumped to more than 6,000 teachers with over 60,000 paid users. About 1 per cent of the users are outside China but Mi said the company was in no hurry to expand its user base overseas.
She is aiming high though, with plans to attract more than 20,000 North American teachers to serve an estimated 200,000 students by the end of this year.
"Chinese parents are becoming more and more picky. They no longer want their children to be taught by those who merely have foreign looks," said Mi, 33, who sees "the quality of education" as the top priority along every step of VIPKid's development.
VIPKid gets between 20,000 and 30,000 teaching applications every month, rejecting 90 per cent of them. All successful applicants must be North American citizens with at least college degrees and a minimum of one-year experience in teaching children or English.
All the chosen teachers have to stick to the teaching curriculum developed by VIPKid's 100-strong research and development team, a measure Mi uses to provide standardised and high-quality education.
Competition is inevitable in China's online English education market, which is estimated to grow at more than 50 per cent year on year to 160 billion yuan by 2020.
For example, offline English training giant New Oriental Education & Technology Group has taken action to offer online courses. Online firms such as 51Talk, which went public in the United States last year and offers similar service to adult English learners, have started to target children.
With its 2016 revenue target at one billion yuan, Mi claims VIPKid has far exceeded its competitors in English training for children.
This has also been given a boost by the Chinese government's encouragement for a second child and the rising trend to send younger children abroad for education.
VIPKid raised US$100 million in investments in August from Sinovation Ventures, Sequoia Capital China and Jack Ma Yun's Yunfeng Capital. Ma's Alibaba Group Holding owns the South China Morning Post.
Even NBA star Kobe Bryant said it took him a mere five minutes to agree to invest in a stake, without revealing the specific amount. "It's a no-brainer for me. We have to look for companies adding value to society, helping [children] learn and grow," Bryan said in an interview with the Los Angeles Times in August.
Mi said there was a line of investors waiting to chip in but the company had no need for more funding.
"The US$100 million cash we raised last year still sits in our bank account untouched," she said without disclosing whether the firm had broken even.
There is ongoing discussion across the world about whether online education can replace face-to-face education. For Mi, who had taught English in brick-and-mortar schools for about 10 years, the line of online and offline education will become blurred.
"They complement each other rather than compete against each other just like the relationship between e-commerce and brick-and-mortar retail. Shopping online never means one has to quit shopping in malls," she said.
Born and raised in Hebei province, Mi had a strong interest in English when she was young. By the time she turned 17, she was good enough to teach fellow students. She then joined her uncle's English training school business right after high school and stayed as a teacher and chairman of the family business for 10 years.
"When I taught offline, there were usually 40 children in a class but only one teacher. You can never find enough qualified foreign teachers in China to teach in one-on-one sessions. Online session is the only way. Plus internet-enabled artificial intelligence can help provide more tailor-made curricula after online assessment," she said.
This article appeared in the South China Morning Post print edition as: Online educator CHARTS BIG China MOVE