Baidu
Get more with myNEWS
A personalised news feed of stories that matter to you
Learn more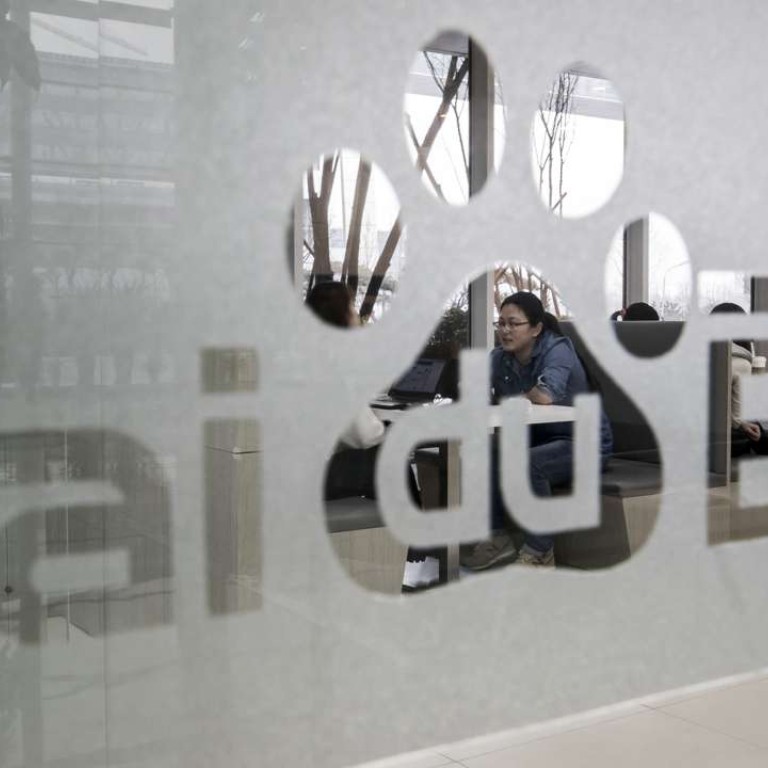 Baidu says 'revenue impact' from 2016 medical advertising scandal is 'largely behind' it
Online search operator's sales dipped 2.6 per cent to 18.21 billion yuan (US$2.65 billion) in the fourth quarter
Baidu, China's largest online search operator, reported a second straight quarter of sales declines as it struggles to regain traction after last year's public backlash from the death of a medical student linked to an advertising fiasco.
Sales dipped 2.6 per cent to 18.21 billion yuan (US$2.65 billion) in the fourth quarter, better than the 18.17 billion yuan consensus estimate of 16 analysts polled by Bloomberg.
Net profit in the quarter was 4.61 billion yuan, Baidu said. The previous year's fourth-quarter net income was non-comparable because of a one-off gain when Baidu exchanged Qunar shares with Ctrip, bolstering the figure to 25.05 billion yuan.
Baidu, the dominant search engine for China's 731 million internet users, had a turbulent 2016 after the backlash from the May advertising fiasco forced the company to stop selling medical and health care-related ads. The company's stock price plunged 13 per cent last year, wiping US$6.9 billion off its market value.
"We have largely completed our initiative to ensure that new and existing customers meet our stringent quality requirements," Jennifer Li, chief financial officer of Baidu, said in a conference call following the release of the earnings report.
"We believe that the most significant revenue impact is largely behind us. Revenue in the fourth quarter resets our revenue base and we look forward to 2017 as a time of gradual recovery and growth. The advertising business is affected by clean up efforts in the short term, but Baidu's value proposition to our customers remains strong," she said.
Competition for online advertising is intensifying in China, driven by two of the country's largest providers of internet-related services. Alibaba Group Holdings, which operates the world's largest online shopping platforms, is increasingly receiving revenue from advertisements on its Tmall and Taobao platforms. Tencent Holdings, operator of China's largest mobile social network, is also selling advertising to more than 800 million users of its WeChat service.
Alibaba, which owns the South China Morning Post, already surpassed Baidu in the fourth quarter as China's largest digital advertising platform, with a 26.5 per cent market share, according to Beijing-based internet consultancy Analysys.
Tencent is catching up, holding 11.4 per cent of the market behind Baidu's 23.3 per cent.
Baidu's shares fell for the first time in six days on Thursday, dropping 0.7 per cent to US$184.64 in New York trading before its results were announced.
Starting this year, Baidu begun restructuring itself as a company focused on artificial intelligence, expanding its business beyond online search. The company recently acquired a Beijing tech start-up and set up a dedicated Duer Business Unit to further develop a voice-activated human machine interface and is looking to improve its online content, especially news feed products, to expand its adverting customer base.
Baidu, which had already been developing AI for years, maintains advantages in AI talent and technologies compared with Alibaba and Tencent.
In January it appointed Lu Qi, a leading AI expert and former Microsoft Corp executive, as its chief operating officer, part of a string of management changes and talent acquisitions to reinforce its efforts in AI.
However, analysts still have concerns over Baidu's ability to monetise the technology.
" We have been somewhat bearish on Baidu recently and nothing we heard in the conference call [on Thursday] changes that," said Kirk Boodry, research analyst at New Street Research, which maintained its "neutral" rating on Baidu shares after the earnings report.
"Management is very optimistic on the potential for AI and its impact on the industry but this will take some time. It is certainly not a 2017 event and whilst it has invested heavily, this does not mean it will be the only player when AI-driven businesses gain traction," he said.
Separately, Taiwanese news site Bowen Press reported on Wednesday that Baidu's chief executive Robin Li had been banned from travelling outside China. A crackdown on corruption in China, spearheaded by President Xi Jinping , has ensnared a number of high profile executives and sparked media speculation about others. Last month, Chinese billionaire Xiao Jianhua went missing after leaving his hotel in Hong Kong.
Baidu said in a statement on Thursday that the report is a complete smear and will take legal action to protect its interests. Bowen Press was not available for immediate comment.
This article appeared in the South China Morning Post print edition as: Baidu sees sales hit further by ad scandal