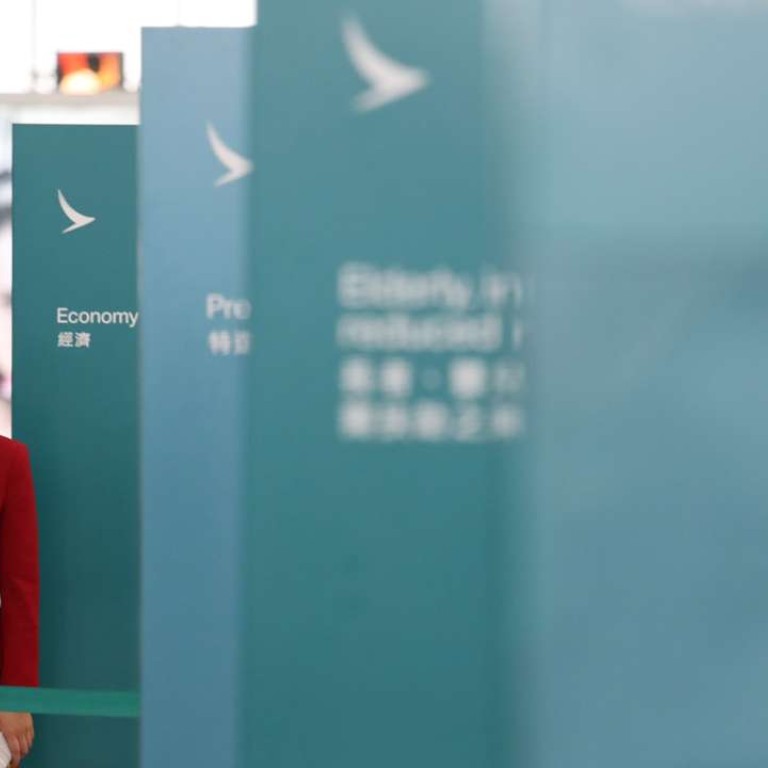 Cathay Pacific reports first loss since 2008 as rivals' cheaper fares erode margins
The downward trend will continue in 2017, and the airline is likely to incur a hedging loss this year, airline executives say
Cathay Pacific Airways, which unexpectedly swung into its second loss in nine years, said the passenger yield on major routes will remain under pressure in 2017, amid a slump in business travel, increasing competition with cheaper Chinese carriers serving mainland routes and dwindling visitor numbers flying into Hong Kong.
This year "is going to be a difficult year and current trends won't stop," chief operating officer Rupert Hogg said in an interview after the carrier's 2016 loss of HK$575 million, a shocking contrast to the HK$369 million profit expected in a Bloomberg survey of 18 analysts. Revenue fell 9 per cent to HK$92.75 billion.
Passenger yield, the money earned from flying a passenger for one kilometre and a key measure of profitability, was down 9.2 per cent to 54.1 HK cents from 59.6 HK cents.
The unexpected loss puts pressure on Hogg and chief executive Ivan Chu Kwok-leung to execute their turnaround plan to return Hong Kong's premier carrier to financial health. Cathay Pacific unveiled a three-year transformation plan in January to revive its business, investing in technology and a fuel-efficient fleet to save costs, and redeploy its staff.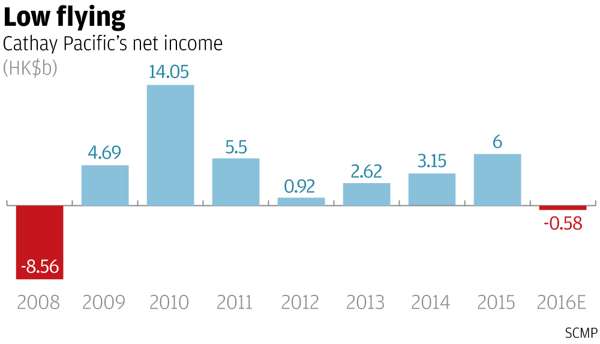 "Mainland Chinese airlines increased their global reach," said chairman John Slosar. "We have to find ways to attract customers to fly with Cathay Pacific. We can operate in lower cost, be more agile and provide better service to our customers."
Chinese airlines are expected to expand their passenger capacity by 8.2 per cent in 2017, according to industry data. Much of the expansion will be on international routes, said HSBC analyst Jack Xu. Even Shenzhen's airport has started to record higher international flight traffic.
Part of the solution for Cathay Pacific is to increase the crew on hand to serve travellers, with the airline aiming to hire another 1,300 staff this year including pilots and attendants, Chu said without saying if any staff will be laid off.
"In the short term, we are implementing measures designed to improve revenues and reduce costs," said Slosar, dismissing speculation that Air China, which owns a 29.9 per cent stake in Cathay Pacific, may be interested to take control of the Hong Kong carrier. "The subject has never come up and I don't think it ever will," he said.
Total fuel costs for Cathay Pacific and its unit Cathay Dragon – minus the effects of fuel hedging – fell by HK$4.9 billion from 2015. Fuel is still Cathay Pacific's biggest bill, accounting for 29.6 per cent of total operating costs in 2016, a smaller proportion than the 34 per cent in 2015.
Fuel hedging losses reduced the benefit of low fuel costs. After taking them into account, the group's fuel costs decreased by HK$5.01 billion compared to 2015.
"We expect to incur further fuel hedging losses in 2017, but these should be less than 2016," Slosar said, adding that the airline will shorten its hedging period to two years, from four.
Cathay Pacific's shares fell as much as 6.9 per cent after its results were announced, in their biggest intraday plunge since August 17 last year. The stock closed at HK$11.44, a decline of 1.4 per cent.
This article appeared in the South China Morning Post print edition as: Cathay Pacific posts first loss since 2008