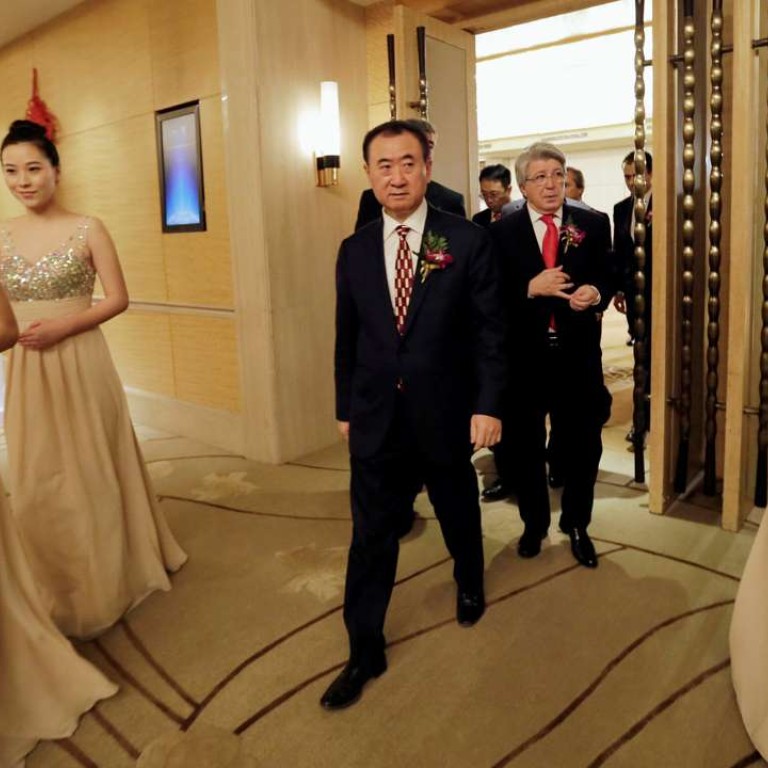 Analysis

|
Is ruined Dick Clark deal the beginning of the end of China's Hollywood buying binge?
Wanda's latest plan for big-screen glory is in tatters. Some suggest a lack of cash, or Trump's anti-Chinese rhetoric, while others insist it's more to do with Chinese government pressure to cut back on excessive foreign buying
China's tightening capital controls and the increasingly protectionist tone of Donald Trump's administration may have combined to deal a blow to the shopping spree among Chinese companies for Hollywood assets.
Even Asia's wealthiest man, Dalian Wanda's Wang Jianlin, has not been spared, as his US$1 billion planned takeover of Dick Clark Productions (DCP) was abandoned last week, reported by many in the industry because of a simple inability to come up with the money to fund the transaction.
Anhui Xinke New Materials' also failed to take over Voltage Pictures, the Hollywood studio behind blockbuster Dallas Buyers Club, for $350 million, while Shanghai Film Co and Huahua Media are said to be running into trouble sealing their US$1 billion joint deal with Paramount.
"If the purchaser is a high profile figure in China then the transaction is likely to attract a greater level of public scrutiny," said Charles Butcher, partner with law firm Eversheds and an international M&A expert.
But even if the successful bidders are fortunate enough to get Beijing's green light, they can then find it equally hard to get around roadblocks set up by Washington – particularly such prominent names as Wanda.
Last week, DCP said it had killed the deal, as Wanda "failed to honour its contractual obligations," and is now claiming a whopping US$25 million termination fee in a lawsuit filed against the Chinese conglomerate. A spokesperson for Wanda declined to comment on the matter.
The sudden termination of the deal, which was given wide publicity when first announced in October, marks an abrupt halt to the 62-year-old Chinese billionaire's worldwide ambitions to expand, even dominate, the global entertainment industry, from film to football.
"There has always been talk about whether Wanda would buy a Hollywood studio," said Roger Garcia, executive director of Hong Kong International Film Festival Society.
"If Wanda is unable to pay US$1 billion for DCP, then Chinese acquisitions of Hollywood studios look like becoming a little more complicated now," the film veteran added.
During one trip to the global entertainment capital, Wang made no secret to the US media that his next step would be to splash out billions on one of the "Big Six" Hollywood studios, which include Universal Studio and Paramount.
"We used to have a sense that Wang could do anything he wants to – but it seems his magic is not always there," said Lub Bun-chong, director with L Consultancy, which specialises in mergers and acquisitions in media industry.
But Wang is at the forefront of an army of cash-rich Chinese tycoons scrambling to pour money into the American entertainment capital, hunting for Hollywood content that remains immensely popular among Chinese filmgoers.
Internet giants such as Tencent and Jack Ma's Alibaba, which owns the South China Morning Post, have either snapped up stakes in film companies or inked a flurry of deals with Hollywood heavyweights to co-finance blockbuster features such as Transformers.
"Normally, you get a project and then look for money; but today in Hollywood it is Chinese money that is chasing the projects," Andrew Hevia, a co-producer of Oscar-winner Moonlight, told the Post in Hong Kong.
Last year had been a particularly frenetic one for Wang. The property billionaire also added Jurassic World producer Legendary Entertainment and Carmike Cinemas, valued at a combined US$4.6 billion, to his stable of companies.
"They want to have a seat at the table, and to learn by directly accessing the best talent and storytelling techniques," said Los Angeles-based entertainment lawyer Lindsay Conner at Manatt, Phelps & Phillips, who advised on a $500 million financing deal between China's Perfect World Pictures and Universal Pictures last year.
Last year alone the volume of entertainment-related deals skyrocketed thirty-fold to US$4.8 billion from 2014, according to Rhodium Group, which tracks Chinese direct investment in the US.
Industry pundits, however, had already started to worry the purchasing binge was more to do with Beijing's backing of domestic companies buying their way into influencing global culture.
And with the governments on both sides of the Pacific altering their paths, many now expect a halt or certainly sharp slowdown in attempted takeover deals.
The spending spree has been put under pressure, particularly, as Beijing struggles to stem record capital outflows and subsequent downward pressure on the yuan, with regulators tightening their scrutiny of overseas mergers and acquisitions.
Entertainment and real estate transactions, especially, have been singled out as "chief target sectors".
Copper firm Anhui Xinke New Materials' recent failed takeover of Voltage Pictures, the Hollywood studio behind blockbuster Dallas Buyers Club, for $350 million, highlighted the growing problem for Chinese buyers.
"It might revolve around whether the deal makes sense, or if it is only intended to get money out of the country," said Jonathan Yunger, vice president of international sales with Millennium Films/Nu Image.
In February, Yunger's company agreed to sell a 51 per cent stake to conglomerate Recon Group, the Chinese owner of British football club Aston Villa, for $100 million, and he considers the US$350 million Voltage deal "may be overvalued".
What has become clear is that Beijing is cracking down on transactions they perceive as being vehicles solely used to offload cash offshore, though many remain in the dark as to exactly which sort of deals fall into that category.
China's new capital control measures include a stricter checking process for overseas payments of more than US$5 million, and a ban on deals valued at over US$1 billion "outside the investor's core business", according to regulatory documents seen by the Post.
The alliance, which expected to see the Chinese partners finance the Transformers producer's theatrical output over three years, is also now at risk of collapse, according to industry sources, because the regulators have firmly put their feet in the way.
A representative from Huahua Media said the company "would not comment on speculation", while Paramount did not reply the Post's email seeking comment.
A couple of other investors, including Millennium buyer Recon Group, are believed to be facing similar difficulties in transferring their capital from China to the US, stalling their planned Hollywood tied-ups, the Post has learnt.
That is in spite of both individual transactions pegged at below the US$5 million threshold, and one of those concerned counting entertainment very much as their core business.
Under the current sensitive regulatory climate, China's major state-owned lenders have shown they are not shy of pulling the plug on cross-border money transfers, regardless of their nature or scale, Hong Kong-based bankings sources have told the Post.
In the case of Wanda, however, industry insiders suggest it wasn't to do with China's notoriously "vast and vague" regulatory hurdles, but escalating uncertainties in the US under the Trump administration which prompted one of Asia's most powerful conglomerates to back away.
"It will be extremely hard for the Dick Clark deal to go ahead in America, because first of all, it is a 100 per cent buyout, and secondly Wang already controls aplenty of entertainment assets there, "said Lub from L Consultancy.
The tycoon, who served in the army and later in government before jumping into property business and catapulting himself into the country's business elite, is seen as one of the best politically connected businessmen in China, a country where all land belongs to the state.
Wang's growing portfolio has unnerved multiple American politicians. Last September, 16 congressmen urged Washington in a letter to impose tougher scrutiny of Chinese investments in the entertainment industry, singling out Wanda's buyout of Legendary.
It is no secret that the world's second largest economy is using its enormous market size to influence Hollywood's way of thinking, and how American film studios make movies.
On the flipside, "Hollywood is relying on China's box office, and it is not uncommon for us to see films featuring content that pleases Chinese audiences," said Millennium Films' Yunger, who travels to China many times a year to meet buyers and investors.
"In US films nowadays you rarely see Chinese characters as bad guys... Chinese don't like it, of course," China's top media mogul Li Ruigang, whose company has co-produced Kung Fu Panda 3, told World Economic Forum in January.
Coincidentally, in another panel of the forum, Wanda's Wang stressed his primary interests lie in making money, with no intention to interfere with content.
He also gave a warning to Trump that the US would bear the cost of a heavier scrutiny over Chinese-Hollywood deals.
In a series of attacks against China, the US president has threatened to label Beijing a currency manipulator and impose tariffs of as much as 45 per cent on Chinese goods, triggering fears of a trade war.
"Recent appointments by President-elect Trump suggest a more confrontational approach to trade and investment policy toward China," Rhodium Group said in a report.
While there are escalating signs the US politicians are going to take a hard line on Chinese investors, the country's entertainment industry – hungry for cash and market access – is still embracing the Middle Kingdom financiers in a big way.
"In Hollywood, we love them," Yunger said.
With additional reporting by Xie Yu
This article appeared in the South China Morning Post print edition as: Studio deal breakers