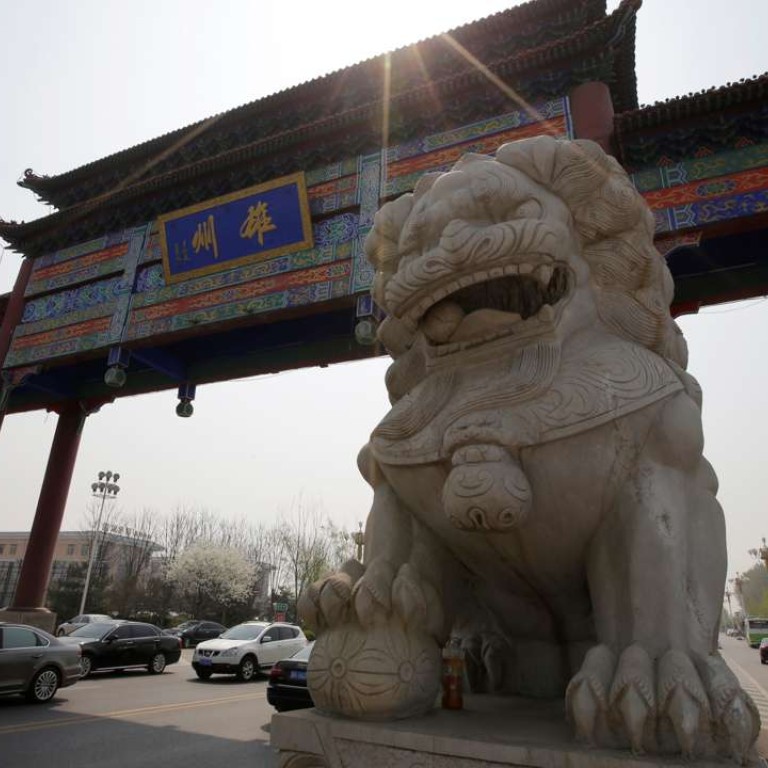 China stocks buoyed by Xiongan economic zone optimism
Hong Kong and Shanghai stocks traded higher on Wednesday in a post-holiday rally as market sentiment was boosted after China announced a "historic" plan to set up a special economic zone near Beijing to reduce pollution and alleviate traffic congestion.
Investors shook off earlier caution ahead of a closely-watched summit between Chinese President Xi Jinping and his US counterpart Donald Trump due to begin on Thursday.
The Hang Seng Index briefly dipped into negative territory but turned higher in late afternoon trading to close up 0.6 per cent or 139.32 points at 24,400.8.
The Hang Seng China Enterprises Index, known as the H-shares index, rose 0.5 per cent or 50.8 points to 10,365.32.
Turnover spiked more than 60 per cent to HK$102.5 billion from the previous session.
"Market sentiment was buoyed by the establishment of Xiongan new district," said Ken Cheung Kin Tai, a strategist for Mizuho Bank.
Beijing announced on Saturday it plans to set up a special economic zone in Xiongan, Hebei,about 100km southwest of Beijing, in order to "take over Beijing's noncapital roles" and "serve as another economic engine and advance the coordinated development of the Beijing-Tianjin-Hebei region (BTH)".
The Xiongan New Area has the same "national significance" as the Shenzhen Special Economic Zone and the Shanghai Pudong New Area, the State Council said in a statement.
On the Chinese mainland, the Shanghai Composite Index advanced 1.5 per cent to end at 3,270.31.
The large-cap CSI300 gained 1.4 per cent to 3,503.89. The Shenzhen Composite and the ChiNext start-up board index jumped 1.9 per cent and 1.8 per cent respectively, closing at 2,023.2 and 1,943.16.
Turnover also increased sharply, up 24 per cent to 576 billion yuan (US$83.6 billion).
About 40 Hebei-based stocks jumped by their 10 per cent allowable limit on the mainland.
"This [Xiongan New Area establishment] is a long-term stimulus for the related stocks. But so far investors haven't found a clear focus and just speculated on any stock that seems to have a story with Xiongan," said Linus Yip Sheung-chi, chief strategist at First Shanghai Securities.
Developers with land holdings should be the "most certain" beneficiaries despite recent government intervention, yet peer competition will be much higher for cement and construction sectors, he added.
Shanghai-listed property developer China Fortune Land Development, which has land holdings in Xiongan, rose by its 10 per cent limit to close at 29.99 yuan. Hebei-based Xuanhua Construction Machinery and Hesteel Group both gained 10 per cent, finishing at 27.5 yuan and 3.97 yuan respectively.
Beijing-based cement maker BBMG Corp saw its Hong Kong-listed shares end up 11 per cent at HK$4.81. The company's Shanghai-listed shares rose 10 per cent to 5.13 yuan.
Tianjin Port was limit-up 10 per cent to 12.9 yuan at the opening of trade in Shanghai.
Gao Ting, an equity analyst for UBS Securities, expected cement, steel, eco-friendly water supplies and clean energy companies to benefit greatly from the plan in the longer term.
Markets in Hong Kong and mainland China were also looking ahead to the first official summit meeting between Xi and Trump, scheduled to take place in Florida on Thursday and Friday.
"It's crucial whether the two leaders will be friendly to each other during the talks, which will signal the future relationship between the two countries," Yip said.
Among other market movers, FIH Mobile shares tumbled 13 per cent to HK$2.73 after the company expected to post a net loss of less than US$110 million for the first half of this year, due to the cost of acquiring Nokia assets from Microsoft.
China Unicom's shares were suspended on Wednesday pending an announcement,
sparking speculation
it may unveil a plan about mixed ownership reform.