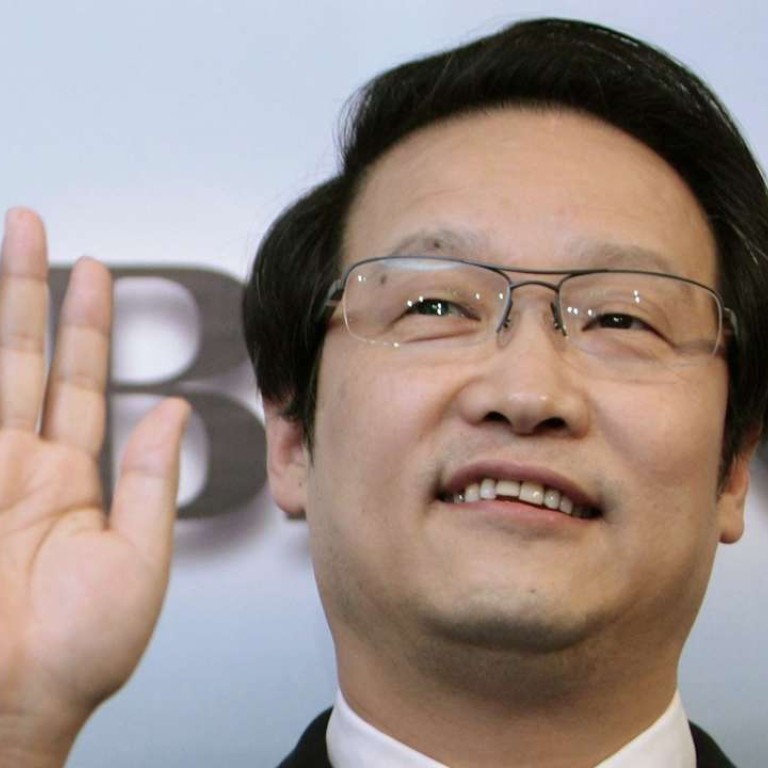 China takes down insurance regulator, capping a year-long industry shake-out
The Chinese Communist Party's corruption watchdog has put insurance regulator Xiang Junbo under investigation for violating party discipline, in a takedown that caps a year-long shake-out of the country's financial services industry.
Xiang, a former auditor and central banker who is among China's top finance officials, has "severely violated party discipline" and is currently under investigations,
according to a statement on the agency's
website. A member of the Communist Party's central committee, Xiang would be the highest-ranking cadre in the financial industry to be caught up in the government's crackdown on financial malfeasance.
His fall from grace follows the government's intervention last year into madcap corporate raids financed through insurers' high-yielding products, an aspect of financial liberalisation that went awry and roiled corporate China under Xiang's watch.
"Insurance should be a dull and boring business: take in premiums to pay claims," said Fraser Howie, director of Newedge Financial in Singapore. "The assets under management need to be stable and grow steadily over time. Yet some insurers seem to act like super-aggressive venture capital firms. That seems a high-risk strategy."
Xiang, 60, holds a doctorate in law. A discharged soldier, he saw battlefield action and was wounded during China's 1979 military invasion of Vietnam.
He began his career as an auditor, rising eventually to a deputy governor in the central bank. He was president of Agricultural Bank of China, at one point operator of the country's biggest banking network.
It was as the chairman of the China Insurance Regulatory Commission that Xiang left his legacy. He pushed for policy reforms that gave insurers leeway to invest their funds for more returns. These included lifting the cap on equity investments to 40 per cent of an insurer's assets, unlike global norms where insurers typically allocate 80 per cent to long-term investments like bonds and 10 per cent to equities.
By the first quarter of 2016, premium collected from universal life products – a form of high-yielding products with guaranteed returns – had more than tripled to 596.9 billion yuan (US$86.4 billion) in China, or 38 per cent of total life premium in the industry.
By November, much of that premium was invested in the stock market, with 1.89 trillion yuan, or 12 per cent of total assets, stuck in one of the world's worst-performing stock markets of last year.
Much of that fund wound up in corporate raids and acquisitions. Baoneng Group and China Evergrande Group redirected funds from their insurance units to finance their high-profile hostile takeover last year of China Vanke, the country's biggest developer.
Amid a 7 per cent slump in the yuan's value, the Chinese government stepped in to put a stop to the financing. The game was up in December 2016, when newly appointed securities regulator Liu Shiyu – Xiang's peer among China's top financial officials – lambasted corporate raiders as "goblins and ghouls".
By February and after weeks of scrutiny, Xiang finally chimed in with his fellow regulator and said during a Beijing press conference that the watchdog he headed would never become the sanctuary or war chest of corporate raiders, buyout artists and so-called "financial crocs".
The dominoes fell quickly after that. Wang Yincheng, president of People's Insurance Co (Group) of China, was put under investigation for possible corruption.
Evergrande Life Insurance, Foresea Life Insurance, Sino Life Insurance and Huaxia Life Insurance were investigated and penalised.
Huaxia Life was controlled by Xiao Jianhua, the businessman who went missing from Hong Kong's Four Seasons Hotel in January. He is believed to be assisting authorities in investigations, including those covering bribery and stock market manipulation. Sino Life's founder Zhang Jun was taken away for investigation in February.
Both Foresea Life and Evergrande Life were investigated, reprimanded and ordered to halt their online businesses after their capital adequacy and solvency ratios fell close to the regulator's allowable minimum, raising concerns about the security of policyholders' life savings.
The ripples of Xiang's downfall might spread, analysts said.
"Investors will take a wait-and-see attitude towards whether the investigation will lead to any policy change," said Louis Tse Ming-kwong, managing director of VC Asset Management.
If the investigation focused on Xiang's personal behaviour or corruption, then it would not have a big impact on the regulator's overall policy direction, he added.
This article appeared in the South China Morning Post print edition as: Insurance industry regulator latest to face investigation Insurance regulator under investigation