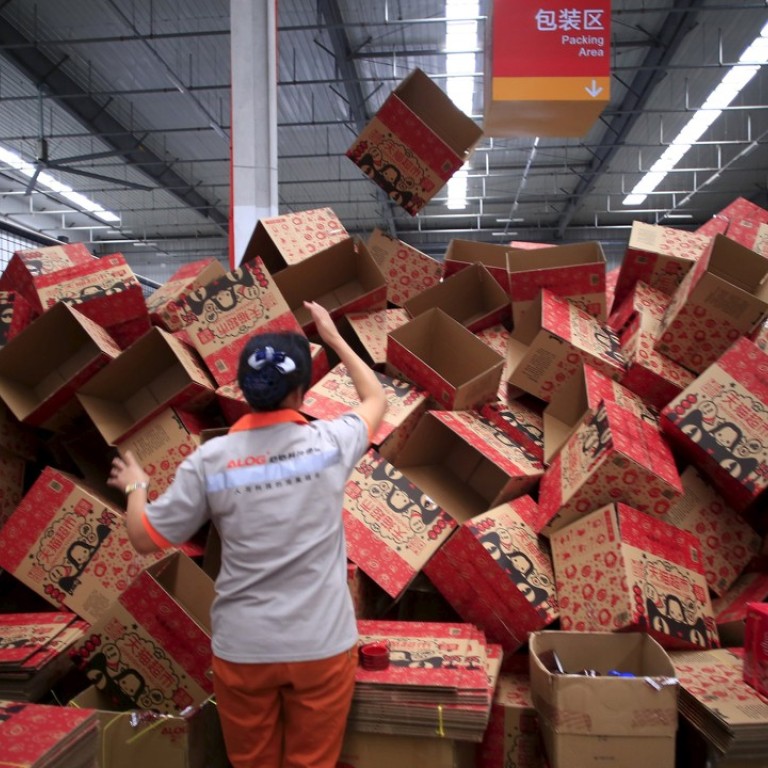 Alibaba to deploy 1 million smart delivery vehicles to improve logistics efficiency
Cainiao Network, the logistics arm of Alibaba, said it will strengthen the deployment of artificial intelligent (AI) technology in its courier network by putting 1 million smart logistics vehicles into the market to cope with exploding delivery volumes in the future – expected to reach 1 billion a day within a decade.
The smart logistics vehicles, co-manufactured with other automobile companies including SAIC Motor Corp and Dongfeng Motor Corp, will optimise the delivery route for the couriers based on Cainiao's advanced big data and algorithms, Cainiao Network's president Wan Lin said at a logistics forum in Hangzhou on Monday.
According to Cainiao, the new smart vehicles have been introduced in Shenzhen and Chengdu as part of a trial programme, where they reduced travel distance and air travel rates. The logistics industry could see savings of as much as 10 billion yuan (US$1.4 billion) annually after all the vehicles are put in services within the next decade, the company estimates.
Cainiao is pushing forward with its smart logistics initiative because a "consumption upgrade" in China will drive the evolution of new logistics systems which will require the entire logistics industry to optimise its efficiency to the fullest, according to Wan.
Logistics firms in China need further investments in talent and technology to cope with an expected 10 fold increase in delivery volumes from the current 100 million a day, Alibaba Group founder and executive chairman Jack Ma Yun said at the same event.
"The nature of smart logistics is the flow of data," said Ma. In 2016, the total number of parcel deliveries in China grew to around 31.3 billion.
"In the next 5 to 8 years, the number of parcels in China may surge to 1 billion per day. That will bring with it huge challenges to every logistics company. The only solution to this challenge is to invest in cutting-edge technology and cultivate young talent, and all of us need to work together collaboratively," Ma added.
Cainiao claims to operate the biggest retail consumer database in the world. According to Alibaba's annual results for the period ended March 31, 81 per cent of all items sold through Alibaba-owned sites were delivered through Cainiao network. This figure was up from the 60 per cent in the previous fiscal year.
Cainiao's same day and next day delivery now covers more than 1,000 districts and counties in China. Similar to residents living in the eastern part of the country, who have already enjoyed the 24-hour delivery services within Cainiao's networks, a majority of those in the western part of China will soon be covered by its one-day fast delivery service, according to Wan.
The Chinese company also intends to provide smart supply-chain solutions to 10,000 small and medium brands.
Alibaba owns the South China Morning Post.