A-shares
Get more with myNEWS
A personalised news feed of stories that matter to you
Learn more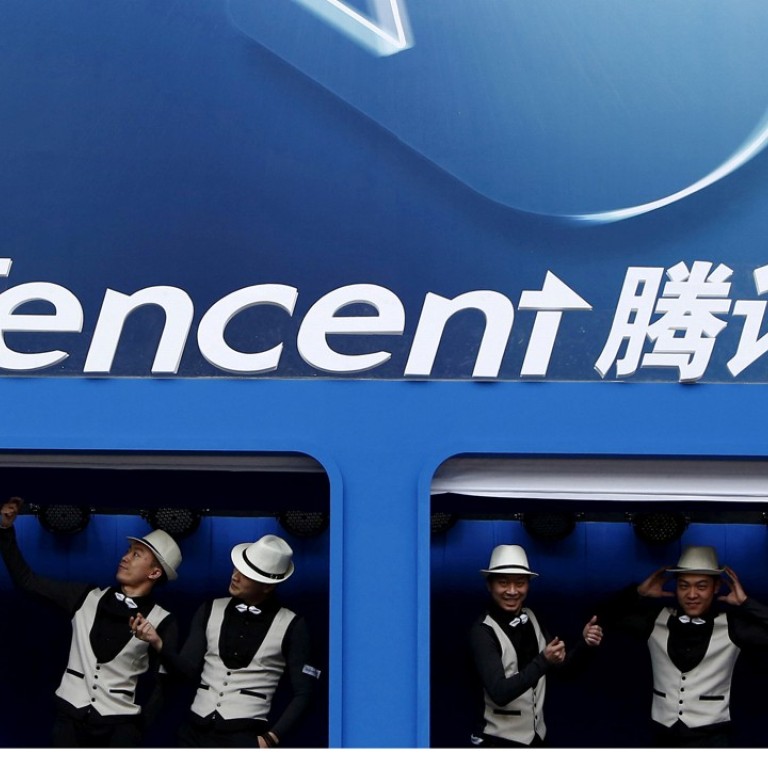 Update
Hong Kong benchmark index hits 22-month high as Tencent retreats on technical correction
Casino operators advance, as investment banks upbeat on Macau's gaming outlook
Tencent Holdings retreated from a record high on Tuesday, signalling a technical correction in the broader Hong Kong equity market.
Tencent slipped 0.1 per cent to HK$275.2 after touching a record high of HK$280.60 for a market cap of HK$2.64 trillion, and snapping a four-day winning streak. The stock price of the Chinese internet giant has risen nearly 50 per cent this year, with several investment banks, including Goldman Sachs and Credit Suisse, raising their forecasts for the company's earnings outlook and upping price targets for the stock.
Software developer Kingsoft fell 0.5 per cent to HK$22 on Tuesday even though the company said its unaudited profits attributable to shareholders rose 78 per cent to 238.5 million yuan (US$34.6 million) in the first-quarter from a year earlier.
"People sold Tencent and other IT companies because they are technically overbought," said Stanley Chan, director of research at Emperor Securities. "However, selling pressure isn't that strong and the Hang Seng Index is likely to consolidate in a range of 25,000 and 25,600 in coming days."
The benchmark Hang Seng Index edged up 0.1 per cent, or 11.81 points, to 25,403.15, its highest level since July 2015 though the pace of increases has slowed. The Hang Seng China Enterprises Index, known as the H-shares index, rose a modest 0.2 per cent, or 20.96 points, to 10,395.28.
Casino shares advanced amid analysts' upbeat outlook on gaming revenues. Macquarie predicted Macau to post a 25 per cent year-on-year increase in May and was optimistic that the entertainment hub will be transformed into a world centre for tourism and leisure under the ongoing government support.
Citibank maintained its estimate that Macau's gaming revenues will increase 20 per cent year on year in May, according to a research report on Tuesday.
Melco International Development led gains, climbing 8.9 per cent to HK$18.60. Galaxy Entertainment rose 4.1 per cent to HK$42.8 and Wynn Macau was 3.2 per cent higher to HK$17.06.
Hong Kong asset management company Value Partners resumed trading on Tuesday, falling 4.3 per cent to HK$7.51 after being suspended on Monday. Bloomberg cited unnamed sources saying that Chinese conglomerate HNA Group is in talks to purchase an unspecified stake in Value Partners. A deal could value the Hong Kong asset management company at more than US$2 billion, Bloomberg reported, citing another source.
On the mainland, the Shanghai Composite Index dropped 0.4 per cent, or 13.73 points, to 3,061.95.
The Shenzhen Composite Index slid 2.1 per cent, or 38.75 points to 1,789.47 and the start-up board ChiNext index fell 1.7 per cent, or 29.85 points at 1,758.23. The large-cap CSI300 rose 0.4 per cent, or 12.95 points, to 3,424.19.
Sentiment is unlikely to be hurt sharply by the news of the latest terrorist attack in the UK and the markets' focus may turn to the upcoming release of the US FOMC minutes, Emperor Securities' Chan said.
FY Financial (Shenzhen) Co, which provides financial leasing services, opened at HK$1.34 when its shares began trading in Hong Kong and ended the day at HK$1.37, up 4.6 per cent from its IPO price of HK$1.31.
In Shenzhen, Suzhou Crystal Clear Chemical Co, which produces hydrogen peroxide and other industrial chemicals, soared by its daily-rise limit of 44 per cent to 9.96 yuan, versus an IPO price of 6.92 yuan.
Xiamen Hongxin Electron-Tech Co, a designer and producer of circuit boards, also jumped 44 per cent to 11.19 yuan from an IPO price of 7.77 yuan on the Shenzhen exchange.
Overnight in US markets, stocks closed higher for a third straight session, boosted by tech and defence companies, after the US and Saudi Arabia signed a weapons deal worth nearly US$110 billion.
The Dow Jones Industrial Average ended up 0.4 per cent at 20,894.83. The S&P 500 rose 0.5 per cent to close at 2,394.02, while the Nasdaq Composite finished higher by 0.8 per cent at 6,133.62.
This article appeared in the South China Morning Post print edition as: Tencent snaps rising streak as Hang Seng sees marginal gains