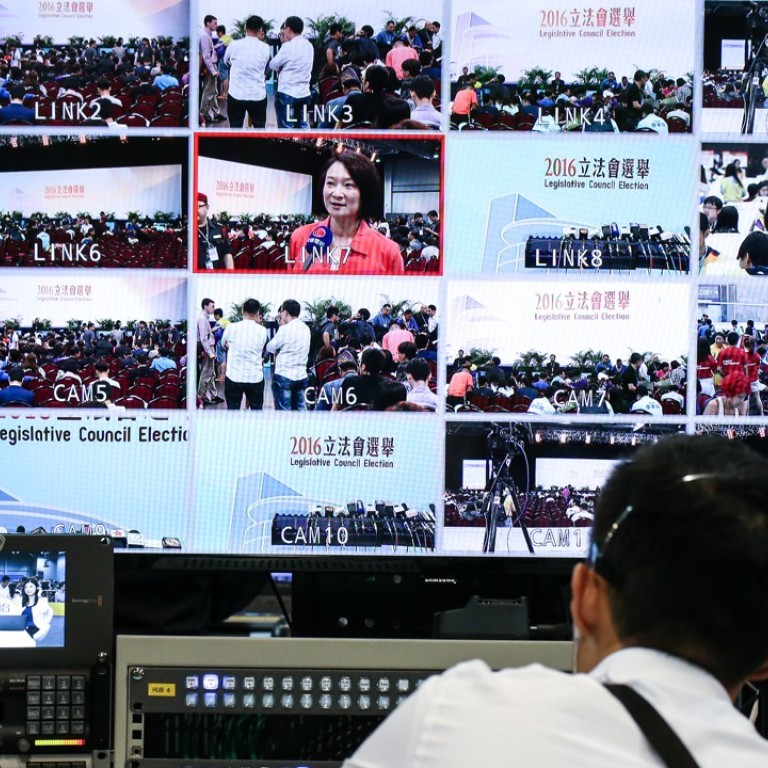 Fast death or a slow rot? i-Cable shareholders call the shot
In quitting i-Cable Communications, Wharf Holdings has handed over to minority shareholders to decide whether they will accept a white knight rescue
Minority shareholders of i-Cable Communications have been handed the unenviable task to decide on Monday the fate of Cable TV Hong Kong, the city's first cable television broadcaster, amid the cloud of uncertainty over an industry struggling to transition.
They will be asked in an extraordinary shareholders meeting to approve or reject the execution of various agreements to pave for the exit of current majority shareholder Wharf Holdings and the entrance of a white-knight consortium, along with a shares subscription offer to raise net proceeds of HK$669 million.
Wharf, which owns 73.8 per cent of
i-Cable
, has decided to throw in the towel after nine years of bleeding at the broadcaster, which includes Cable TV's nascent sister free-to-air Fantastic Television station. Last year's net loss amounted to HK$313 million, steepened from HK$233 million in 2015.
Wharf, which announced in March it will no longer pump in more money into the company, will not be allowed to vote on the funding-raising proposal at the EGM under securities regulation as it is an interested party to some of the agreements.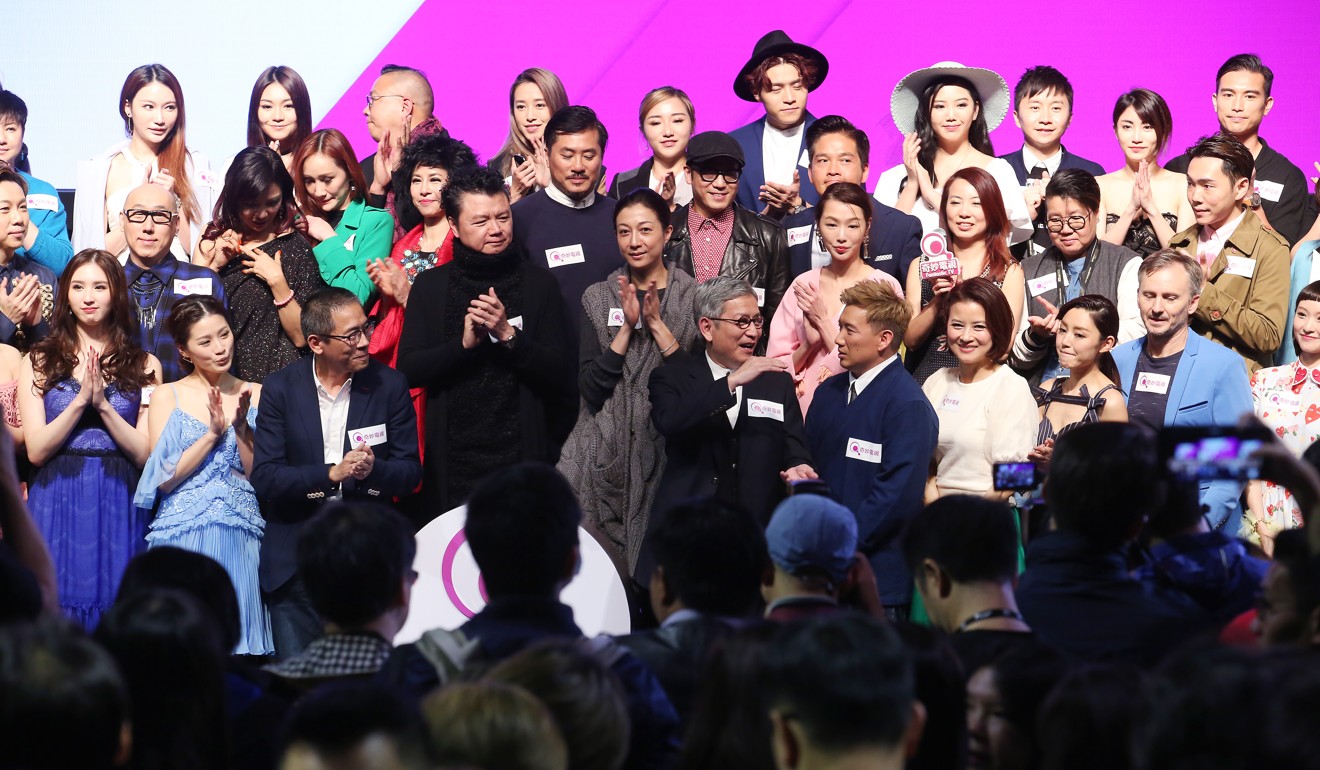 Small shareholders are left to decide on the company's future. It does not look like they have much choice than to approve the plan that comes with a rights issue at a 66 per cent discount to the closing price right before the plan was unveiled.
"There isn't any viable alternative on the table," said Kenny Tang Sing-hing, chief executive of Junyang Securities. "If they say no to the funding plan, the pay TV business may not be able to continue and the company will not be able to fund the development of the free TV business.
"The share price consequence of saying no is clearly worse than saying yes, even though the future remains uncertain after the plan is approved given the industry environment."
The pay TV operation contributed HK$1.03 billion, or 73 per cent of i-Cable's total revenue last year, with the rest primarily from high-speed Internet access services.
Pay TV revenue has been on a gradual decline since 2012 when it peaked at HK$1.74 billion.
It has been falling at an average annual rate of around 12.5 per cent, while subscribers fell at an average 3.7 per cent to 909,000 at the end of last year, representing declining per customer revenue.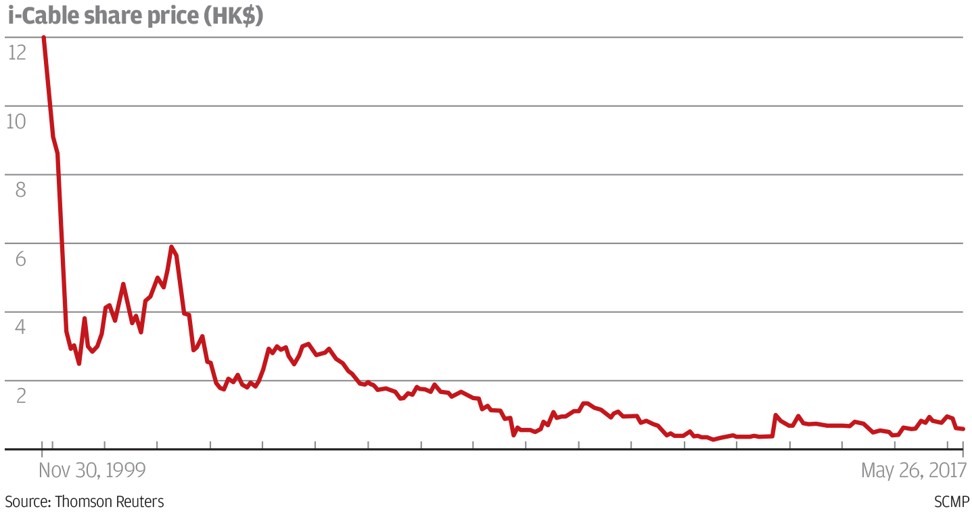 Broader trends are at play for the declines, according to i-Cable. They included falling advertising spending amid weak local retail sales, and intensifying competition from a wide range of content in new and mobile platforms available to be consumed any time and anywhere.
To amplify the gravity of the company's state, i-Cable sent a stark warning to shareholders in the circular on the deal released earlier this month.
"There is significant risk that if the proposed investment is not executed, the company would not have any basis to renew its pay TV licence, which will lead to cessation of pay TV service immediately after May 31, 2017," the circular said.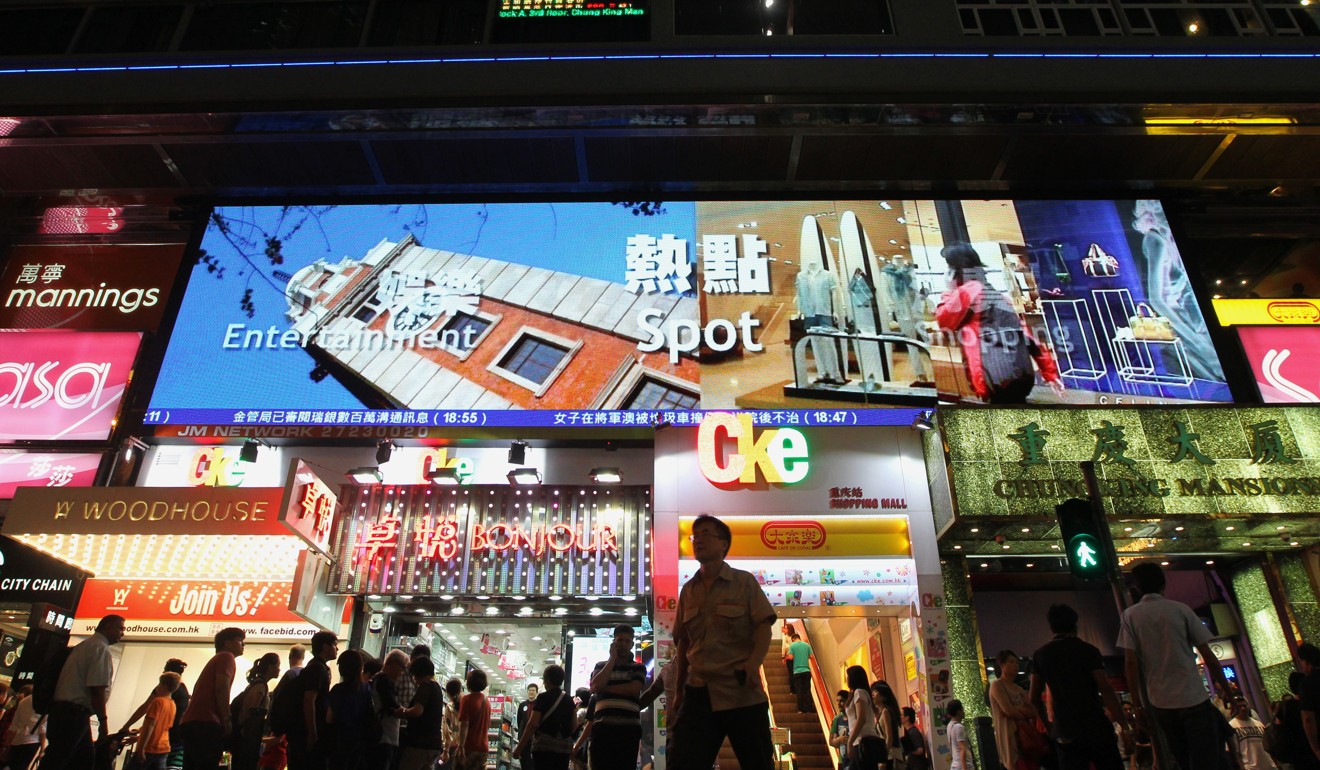 As no minority shareholder holds a significant stake, an i-Cable spokesman said the board hoped to see a high turnout at the EGM, which will likely increase the chance of approval.
i-Cable has long been under financial stress.
The company generated only HK$84 million of net cash from operations last year, down 38 per cent from 2015.
In each of the past two years, it had to increase its borrowing by HK$200 million to HK$290 million in order to meet its outlay on equipment and programming of HK$320 million to HK$350 million.
The proposed plan includes a rights share offer to sell five new shares for every three existing shares owned, which will meet i-Cable's funding needs for the next 12 months, the circular said.
However, given the huge investment commitment it has to deliver in the coming years, further fund-raising will be inevitable unless the new management finds a magic formula to boost operating cash flows in the short term.
To meet the renewal terms of its pay TV licence expiring on May 31, it will need to invest HK$3.45 billion in the next six years.
It is also obliged to plough in at least HK$336 million in the 30 months after it won the free TV licence a year ago. It launched the Fantastic TV station earlier this month.
How both the pay and free TV stations will be funded beyond the next 12 months remains unclear.
i-Cable said its board, through an unnamed financial consultant, had received seven investment proposals from over 50 parties solicited over three weeks after Wharf's announced withdrawal in March, and considered the proposal from Forever Top (Asia) to be the best available option.
The white knight consortium is backed by deep-pocketed investors, including property-to-transportation conglomerate Chow Tai Fook Enterprises and its chairman Henry Cheng Kar-shun. Together they hold 45.5 per cent of Forever Top.
David Chiu Tat-cheong, chairman and chief executive of major property developer and hotelier Far East Consortium International and the second son of the late Deacon Chiu Te-ken, has a 24.5 per cent stake.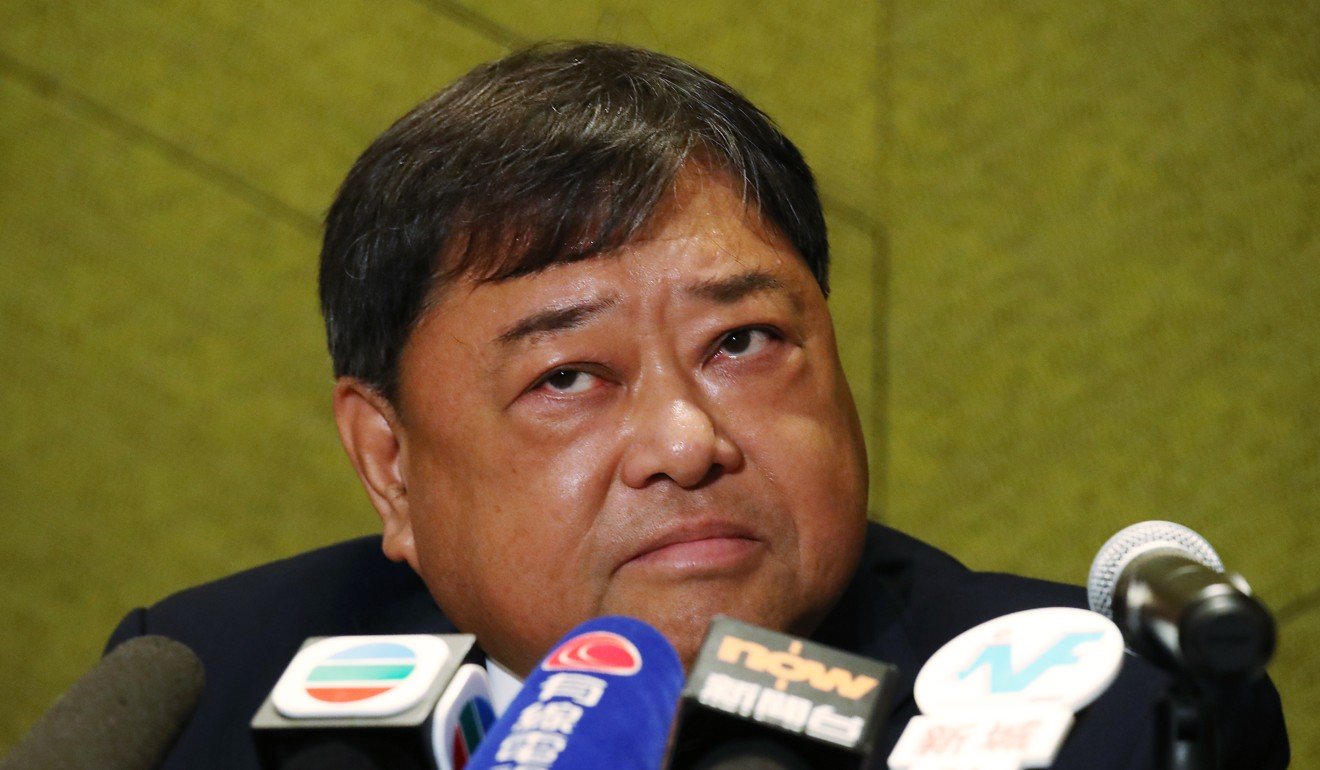 Both Deacon Chiu and Cheng are former investors of free TV broadcaster ATV during its heydays in the 1980s and 90s. ATV was forced to go off-air in April last year after 59 years, as funding dried up after numerous years of losses.
Forever Top said it planned to strengthen the scope of Cable TV's financial news to cover regional markets outside of Hong Kong, bolster its so-called "over-the-top" service where content is distributed over internet-enabled devices, and roll out faster high-speed internet access services.
With Wharf determined to close its books on i-Cable, Forever Top, which acts as the underwriter of the shares sale, may own up to 54 per cent of i-Cable if all minority shareholders also choose to give the rights issue a pass.
Wharf will convert loans that i-Cable owed into shares, and then distribute all of the shares it owns to its parent Wheelock and other Wharf shareholders. Wheelock will then also hand out some of its i-Cable shares to its own shareholders.
As a result, some 28.5 per cent of i-Cable will be in public hands, with Wheelock and its controlling shareholder, Peter Woo Kwong-ching and his family, owning 17.5 per cent.
"Both free and pay TV operators in Hong Kong have been under revenue pressure for some time," DBS Vickers analyst Tam Tsz-wang said. "I have yet to see any apparent sustainable competitive edge on the plan from the rescuing consortium."
To boost revenue, TV broadcasters will increasingly need to invest in unconventional content that creates talking points for word-of-mouth marketing over social media, according to Derek Yip, general manager of buying at media agency OMD.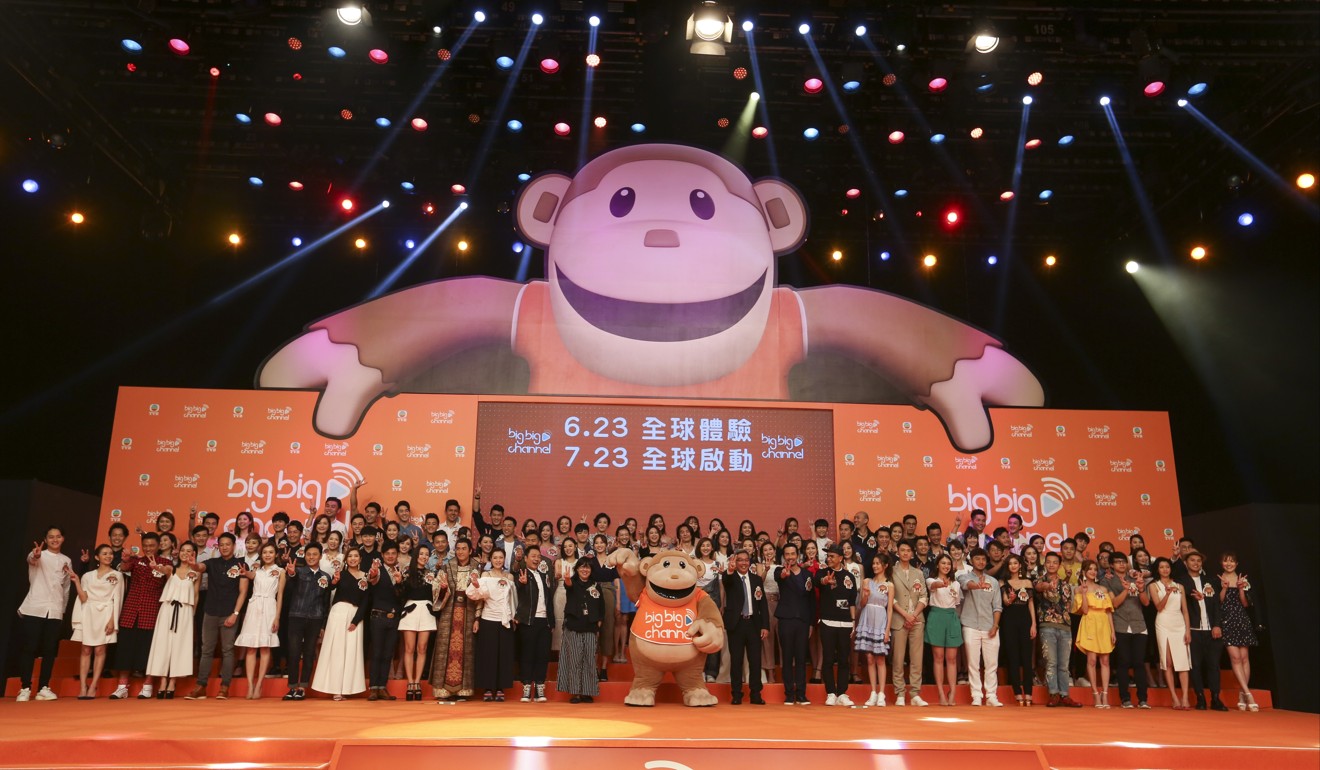 "This requires a thorough understanding of the tastes and viewing habits of the target audience, with a lot of data analysis support," he said.
"Once the content has proven its viewership drawing power, the provider can seek advertisers' sponsorship."
He cited an example in the launch of a multimedia initiative called "Big Big Channel" by
Television Broadcasts
– i-Cable's rival – on Wednesday, which allows viewers to interact with the station's artists on social media platforms.
Some of the artists are acting as "key opinion leaders" on matters such as parenting, travel, beauty and grooming , while viewers can send gifts to them via online stores and play online games with the artists.
"The content created is not conventional television programming," Yip said. "This is the new way to capture today's audience, who have access to a sea of content that can be consumed through ever increasing channels."