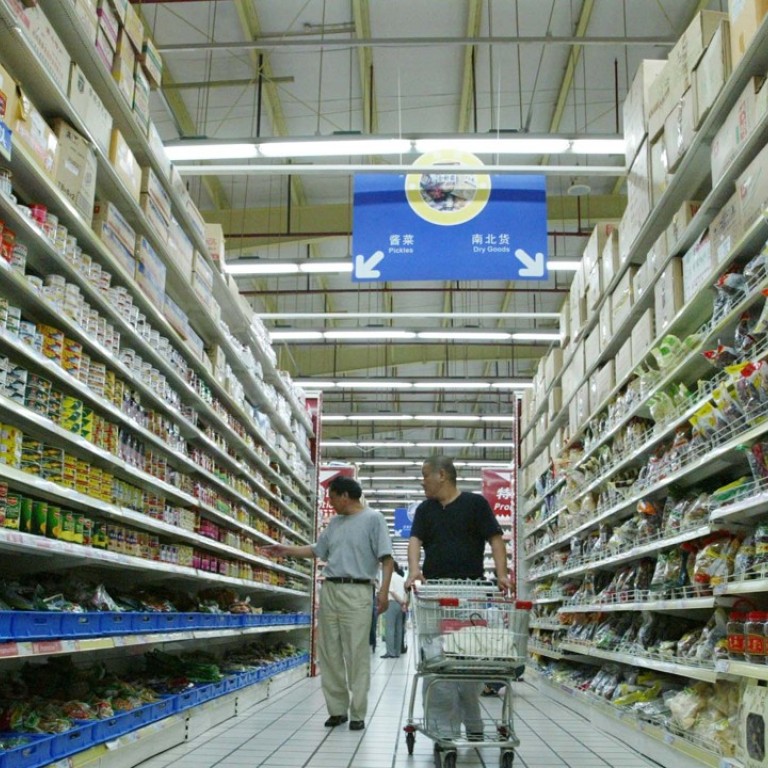 New
Alibaba buys 201.5 million shares in Lianhua Supermarket to become second-largest shareholder
Lianhua Supermarket shares halted from trade in Hong Kong after surging 22 pc to HK$3.83 on Alibaba tie up
Lianhua Supermarket Holdings' shares were halted in Hong Kong after the retailer's stock jumped by almost 22 per cent following the announcement that Alibaba Group Holding has emerged as its second-largest shareholder.
The stake purchase is the latest in a long line of Alibaba investment in brick and mortar shopping malls, part of a strategy adopted by the e-commerce giant since 2015 to broaden its exposure to markets where online and offline retailers are converging.
Lianhua shares rose to a two-month high of HK$3.83 before trading was halted on the Hong Kong stock exchange.
Alibaba, operator of the world's largest online shopping platform, said it would buy 201.5 million shares of Lianhua, giving it 18 per cent of the supermarket operator and becoming its second-largest shareholder, according to a filing to the Shanghai Stock Exchange issued by the retailer's parent Bailian Group.
The investment by Alibaba, owner of the South China Morning Post, follows a February announcement of a strategic tie up with Bailian to use big data to improve sales at its physical stores, the largest retailer by store numbers in China.
Lianhua operates more than 3,600 outlets throughout China.
As online sales growth slows, Alibaba has been rapidly expanding into traditional retailing in recent months.
Alibaba announced in August 2015 that it would invest US$4.6 billion for a minority stake in Chinese electronics retailer Suning Commerce Group Co, while in January its announced it is leading a US$2.6 billion bid to privatise mainland department store and shopping mall operator Intime Retail Group Co.
In November it bought a stake in supermarket chain Sanjiang Shopping Club Co for US$305 million.
Zhu Danpeng, a researcher on China's retail industry, said the online and offline retailing business are converging as they start to realise that they are more complementary than mutually exclusive.
"Offline shopping fulfils an emotional need of a consumer, which is irreplaceable by the online shopping experience," he said. "So it is natural for mature e-commerce businesses to want to capture that part of the business."
He also said the retailing industry will stratify into different levels of services.
High-end products such as luxury goods will retail in brick-and-mortar shops where consumers look for a higher level of personal service, while standard grocery and household items are better suited for the online environment.
Brett McGonegal, chief executive of Capital Link International, said that the trend towards brick-and-mortar shops will allow e-commerce businesses such as Alibaba and Amazon to learn more about the shopping habits of consumers.
"It closes the gap between warehouse distribution and consumers," he said, "[With better understanding of consumers' habits] retailers can put items right where and when you need them."
He also said Alipay will be an important component to the convergence of online and offline shopping. He added that Alibaba ultimately wants to allow its users to finish all their shopping and transactions exclusively on its network.
A JLL market report highlighted that an increasing number of brick-and-mortar shops on the mainland are pushing for online shopping services, which include online voucher schemes, automated check-out and order-online-pickup-offline services.
JD.com has also been expanding into offline retailing in recent years after it invested 4.3 billion yuan (US$627.3 million) in Yonghui Supermarket and forged a partnership with Walmart.
JD.com said that it plans to establish more than 1 million convenience stores, with half located in rural China, in five years.
This article appeared in the South China Morning Post print edition as: Alibaba buys 18pc stake in lianhua