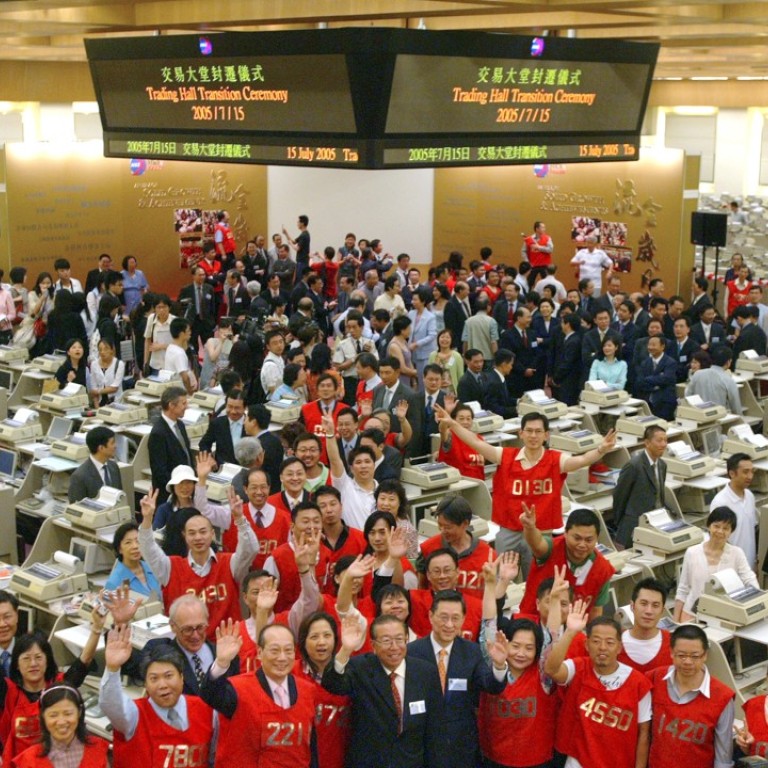 Two decades on, Hong Kong's stock market sees China everywhere
Twenty years ago, when Hong Kong waved farewell to Britain's 156 years of colonial rule, the city's stock market was still in a bubble fuelled by rising household wealth and inflows of hot money.
The Asian financial crisis of 1997 was just around the corner, but nobody could foresee the subsequent bursting of the dotcom bubble in 2000, the 2002 penny stock collapse, the 2003 SARS epidemic, the euphoric boom and bust of 2007, the 2008 global financial crisis, the 2011 European debt crisis, and China's 2015 A-shares market crash.
Yet despite all these seismic financial events, Hong Kong's stock market today is as strong as ever.
Total market value has ballooned more than eightfold to HK$27.9 trillion (US$3.58 trillion) as of the second week of May, from HK$3.2 trillion at the end of June 1997, advancing the city's capitalisation to the world's seventh-largest, from 10th place over two decades.
The Hang Seng Index, the key indicator of the city's bourse, has risen more than 60 per cent to cross 25,000, from 15,196 over the same period.
"Over the past 20 years, the Hong Kong stock market has become increasingly reflective of the Chinese economy," said Mervyn Chow, chief executive officer for China at Credit Suisse, who has been working in Hong Kong's financial industry since 1995.
Before 1997, Hong Kong was an international hub, with the stock market comprising mainly of British colonial firms and local conglomerates.
There were 27 traditional Hong Kong firms in utilities, finance, real estate and trading. Citic and Guangdong Investment were the only mainland Chinese companies in the index.
Today, more than half of the 50 constituents of the index are owned by mainland Chinese, and include H shares, red chips and private Chinese enterprises. H shares are state-owned Chinese companies incorporated on the mainland and listed in Hong Kong, while the red chips are state-owned companies incorporated outside the mainland and listed in Hong Kong.
Hong Kong "is still an international hub, but with the increasingly important role of being a gateway to China," Chow said. "It's a more valuable market and closer proxy to China growth."
Today, the most valuable company on the Hong Kong bourse is Tencent Holdings, the operator of China's dominant social network, whose market value places it as Asia's biggest company, and the 10th largest in the world.
The top 10 list is now dominated by Chinese companies, including China Mobile, China Construction Bank, ICBC, and Cnooc.
"Hong Kong's success today is largely attributed to how it has harnessed the opportunities presented by China while also assisting the country as it develops, every step of the way," said HKEX chief executive Charles Li Xiaojia.
With China's rise to a world power from a largely isolated economy, Hong Kong's stock market has undoubtedly grown stronger. But the excitement is tempered with uncertainty and angst, as the financial community tries to foresee what the future holds.
For better or for worse, the future of Hong Kong and China are intertwined. Some are wary that Hong Kong may be too closely tied to the mainland economically and financially, while others fear the city may lose out to competitors as an international financial centre.
They have good reasons to doubt.
In March 2016, S&P Ratings cut its credit rating outlooks for China and Hong Kong from "stable" to "negative," citing increasing risks to the mainland government's creditworthiness and Hong Kong's high degree of economic and financial linkage with China.
In the same month, Singapore surpassed Hong Kong as the world's No 3 financial centre in a survey by London-based research firm Z/Yen Group, with the rankings remaining the same for 2017. The survey gauged key competitive areas for 86 cities around the world, including business environment, financial sector development and infrastructure.
Hong Kong faces many challenges, including the slowdown in China's GDP growth, the recovery in the US market which has caused capital outflows, China's currency controls, and the country's "rising leverage in the economic system," Credit Suisse's Chow said.
More importantly, China is evolving quickly and Hong Kong needs to adapt to the changes to remain competitive.
"The key is how Hong Kong can better serve China and Hong Kong companies to capture new opportunities, given the rise of disruptive industries [in China] and changes in the behaviour of younger generations that's taking place there at a greater pace than in any other part of the world," he said.
The Hong Kong market needs diversified asset classes and must offer a multiple layer of investment products beyond just equities, such as bonds, structured products, and alternative investments, said Wan.
Hong Kong will remain important – and not only because it is a window to China for international investors to capture opportunities and a bridge that links Chinese companies to the world. The city is also unique in that it is a free international city within China – so far the only one.
"Hong Kong needs China to prosper, but China also needs a unique Hong Kong," Wan said. "It's in the fundamental interests of both sides for Hong Kong to remain competitive as a major financial centre."
The city's competitive advantage still looks unmatched elsewhere in the world, including its close proximity to China, a strong rule of law, low tax rates, open markets, transparent regulatory systems, and a vibrant global investor community.
To continue achieving prosperity, Hong Kong needs the "holistic effort" of all relevant parties, including regulators, the stock exchange, and the government, to work together to build on the advantages the city has, Chow said.
"The next 30 years will be marked by the two-way flow of Chinese capital, so it is imperative that Hong Kong adjusts, as we've always done, in order to continue to provide value to the mainland while cementing Hong Kong's position as a global financial centre," HKEX chief Li said.
As he sees it, Hong Kong can develop into an offshore wealth management centre for China,help Chinese investors properly hedge or manage investment risks, and become China's global asset pricing centre.
Regardless, Hong Kong is at crossroads 20 years after its return to "the motherland".
"Twenty years ago, Hong Kong was unique and irreplaceable in facilitating China's development," Wan said.
But its economic contribution to mainland China has declined sharply. In 1997 Hong Kong's GDP accounted for nearly 20 per cent of the mainland's. Now it is less than 3 per cent.
"It needs to settle the true challenge before it moves on," Wan said. "Hong Kong and China are not just competitors. They complement each other. As China is set to become a bigger and more powerful economy, what Hong Kong can do is to continue to innovate and remain uniquely competitive."
With additional reporting by Enoch Yiu