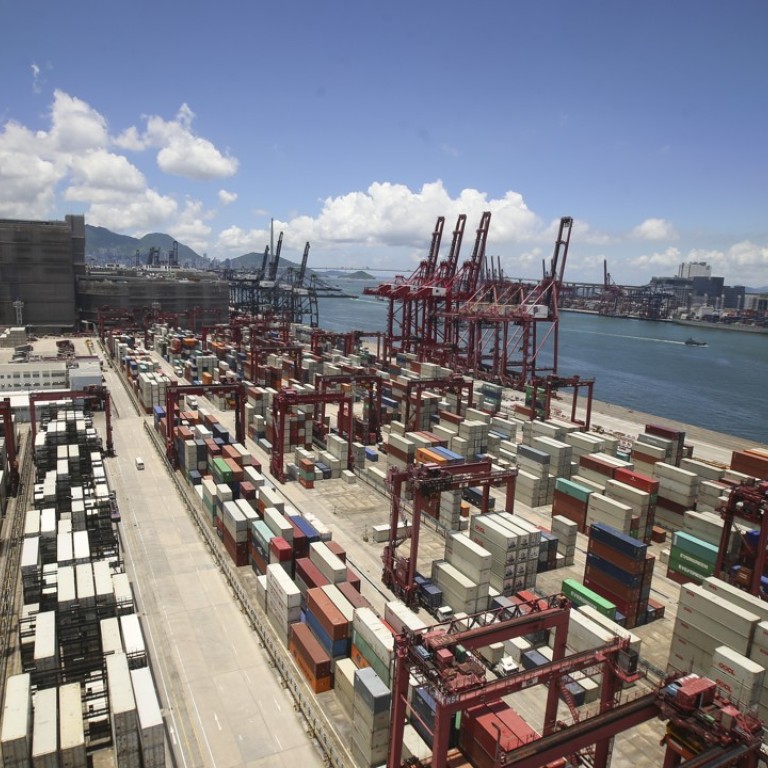 Why Hong Kong port has little chance of regaining top spot
Container throughput has declined for the past five years, dropping to 19.8 million TEUs in 2016, or 20 per cent less the volume in 2011
Hong Kong has lived with loosing the crown of the world's busiest port since 2005. And there is little hope of ever regaining that top spot as rivals in China become bigger and better.
Ranked as the fifth busiest for port throughput, the city trails behind Shanghai, Singapore, Shenzhen and Ningbo.
Its throughput has been falling in the past five years, dipping to 19.8 million twenty-foot equivalent units (TEUs) last year, or 20 per cent less the volume in 2011 when the decline began.
Since the first container berth opened in the 1970s, the port has grown rapidly to become the world's largest by the 1990s.
While the changing macro-economic environment and policies in th recent years have worked against Hong Kong's favour, the port's declining competitiveness is also due to its own shortcomings.
Container shippers agree.
"Automation level in China's major ports is higher than Hong Kong and I believe the quick development of technology helps further automation in mainland ports," said Lothair Lam, vice president of Parakou Shipping Ltd, who has used both the Hong Kong and mainland ports.
"However, the automation is in an initial stage... and I do expect big cost reduction with high automation in the mainland. But in Hong Kong, the cranes are generally operated manually," Lam added.
Among its closest competitors, Hong Kong charges the highest terminal handling fees due to labour costs, according to a legislative council paper citing data from the Hong Kong Shippers' Association.
Hong Kong charges HK$2,140 per TEU for Transpacific eastbound shipments, much more than No 1 Shanghai's HK$974, and Singapore and Shenzhen's HK$1,003 and HK$1,188 respectively.
From being the gateway for foreign firms to enter China, the city has now become a centre channelling Chinese investments abroad. Its changing role underscores the port's development.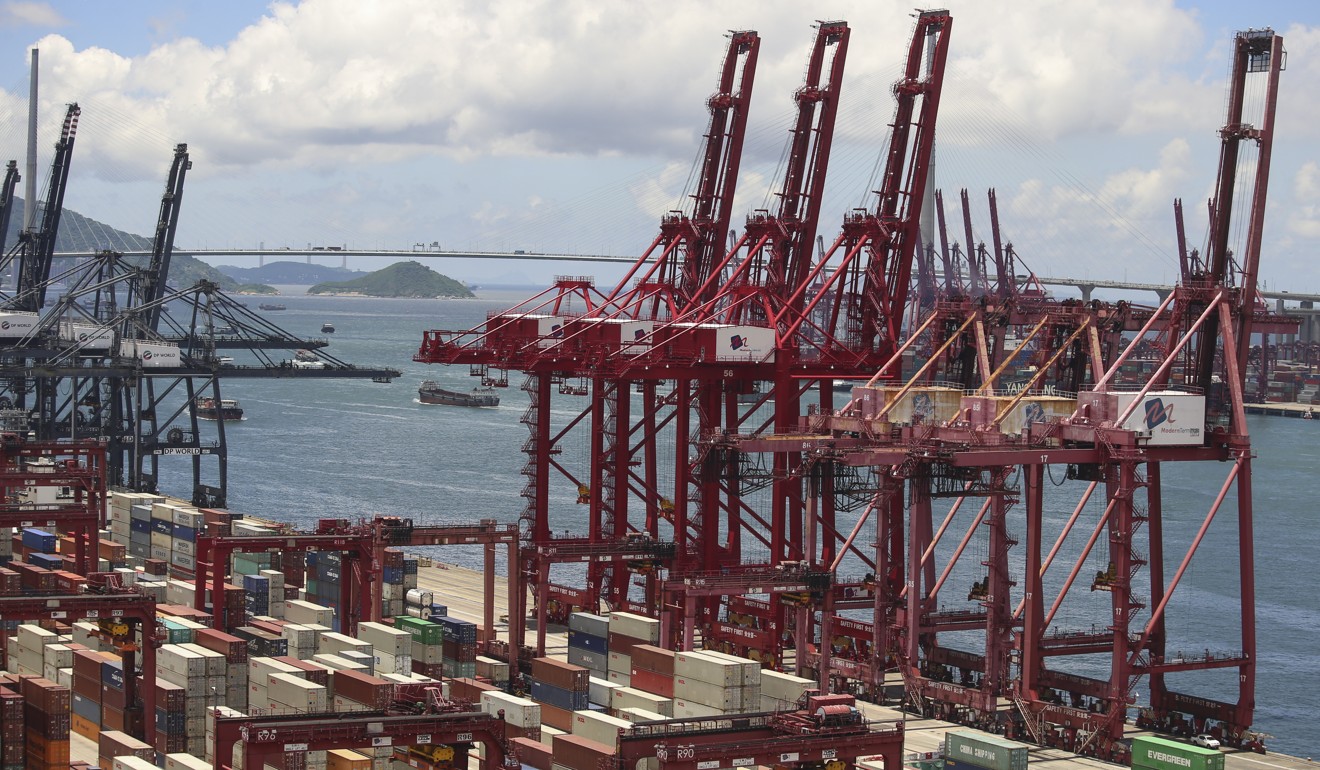 One of the biggest blows that further weighed on its decline would have been the relaxation of China's laws prohibiting foreign-flagged vessels from moving cargos from one mainland port to another, a previous restriction that Hong Kong had benefited from as China's economy rapidly grew.
A report by the Hang Seng Management College last year illustrated a worst-case scenario for Hong Kong's port.
In it, Hong Kong could lose all transshipment rights in the non-Pearl River Delta region, translating into a loss of 2.4 million container TEUs, which would mean a 14 per cent loss of the city's annual total container throughput.
China's rules – commonly called cabotage in the industry – were waived for Hong Kong until the gradual relaxation that began in 2013 with Shanghai.
"With no doubts, the port business in Hong Kong has been partially taken over by Chinese competitors especially with the country's further opening up ," said Kelvin Wong Tin-yau, deputy managing director of Cosco Shipping Ports in an interview with the South China Morning Post. "Surging exports and imports have stimulated the port industry's development in the world most populous country."
That's a damper for a free trade port city like Hong Kong, where its port has been the bedrock of its prosperity.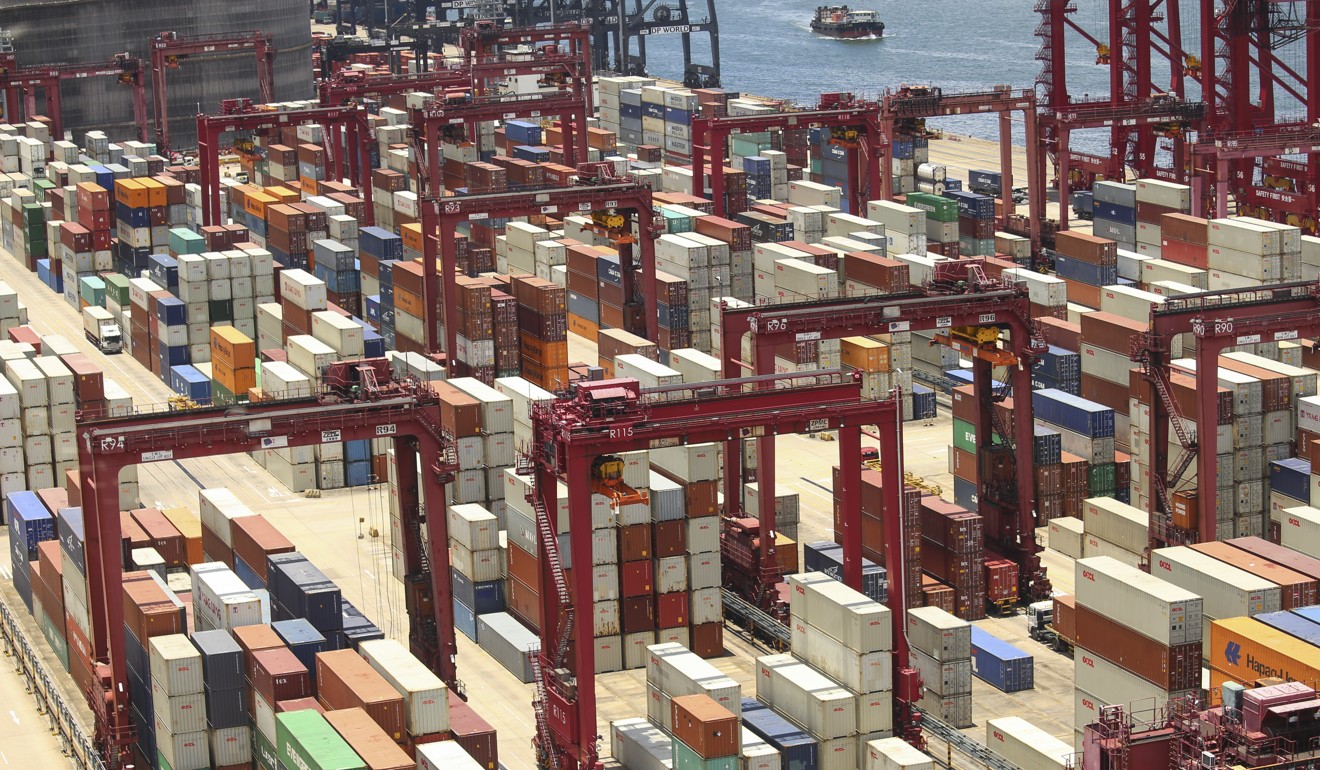 In 2014 port and logistics activities contributed HK$75 billion to the Hong Kong economy, representing 3.4 per cent of its GDP and supporting 9,500 companies and 190,000 jobs – 5 per cent of total employment in the city.
Indirectly, the contribution goes beyond the port into the maritime service cluster based around the Hong Kong Shipping Register, which is the world's fourth largest. As of April 2017, more than 2,500 vessels with more than 107 million tonnes are registered in Hong Kong, according to the Hong Kong Maritime and Port Board.
Threats to the industry go beyond the general drop in global trade and rates, as well as that Chinese ports are closer to the factories, to those that are Hong Kong-specific.
Land and labour shortages are two factors most frequently raised by container terminal operators.
"We have problems in attracting young people to join the industry," said Peter Levesque, managing director of Modern Terminals Group (MTL) in an interview with South China Morning Post. "We need to figure out a way to solve the problem."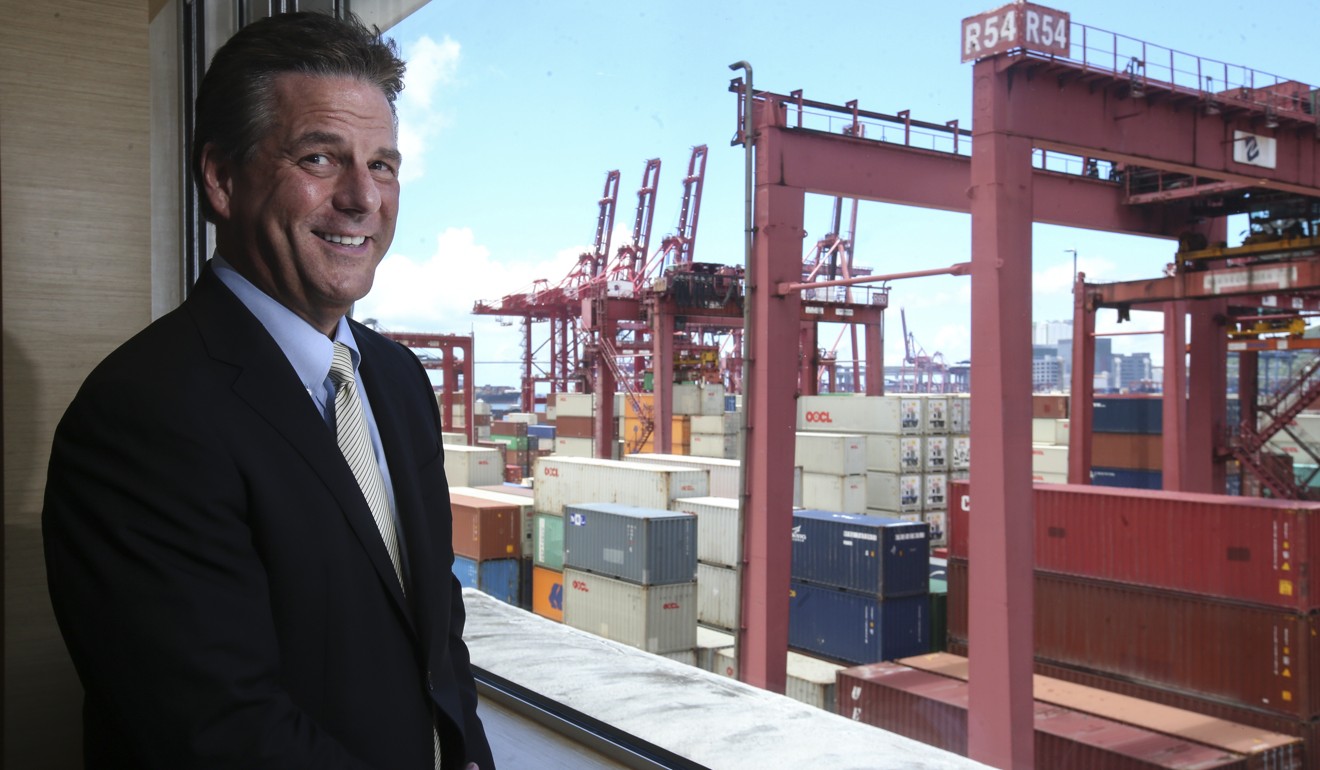 The problem is not even an issue in the mainland.
"Even with high automation, manpower is rich for mainland ports but not the same case in Hong Kong," said shipper Parakou's Lam.
"When you walk around in Hong Kong Kwai Tsing Container Terminals (KTCTs), you find most are male elders are there with average age over 50 and young generation is unwilling to join the industry."
Land shortage
Hong Kong operators also said the lack of land resource limited the port's development.
KTCTs has nine container terminals with 24 berths and a total yard area of 279 hectares, according to government data.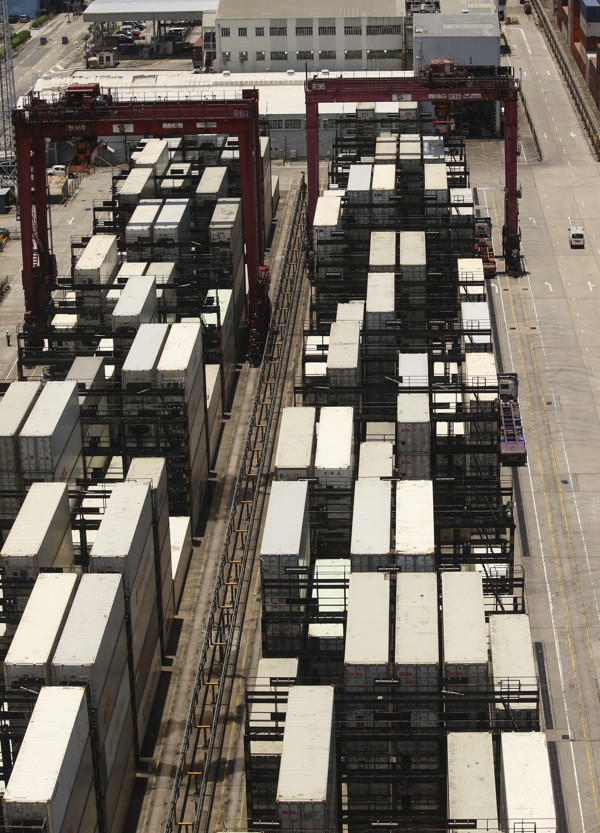 Even the government conceded in a proposal release in 2015 that "land available for port-related uses around KTCTs is limited and can hardly be increased".
"The existing KTCTs and port-related sites are already surrounded by infrastructure and developments and there is no longer any scope for landward expansion," it said.
But the reality is port operators need more space in order to compete better.
"We've been trying to educate the government about how important for us to get back-up land and additional barge berth services for many years," said Levesque.
The latest generation of container ships are bigger, up to 400 metres in length and able to carry up to 19,000 TEUs. Transshipment of bigger cargos requires more storage space and more containers arriving by barge, which is cheaper than road transport.
"Shipping lines would have difficulty getting enough space for berthing when containers become bigger and bigger," said Parakou's Lam.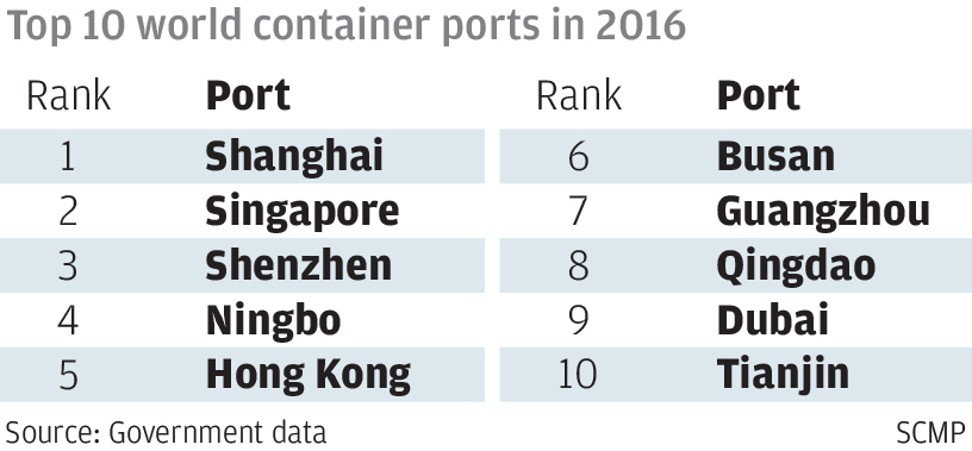 All said, industry players remain upbeat that it is not difficult for Hong Kong to stay within the world's top 10 ports, thanks to the longstanding high efficiency.
"I believe the law and regulation system, transparency, IP protection, easy-doing business… will make the city very attractive for global carriers," said Levesque from MTL. "And we have seen Hong Kong government efforts [to boost the industry] and its progress such as the establishment of Hong Kong Maritime and Port Board [for ideas collection]."
"Finance service in Hong Kong is incomparable and will support port industry," said Wong from Cosco. "Some exporters and importers would like to choose Hong Kong to do business for its convenience of finance service… and definitely port industry will directly benefit from the export-and-import trading."