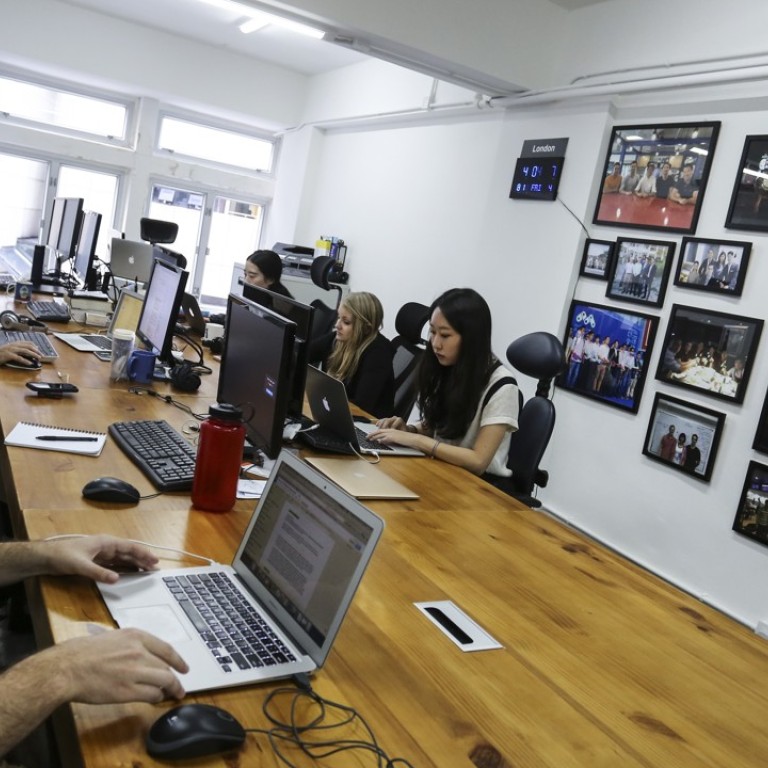 Opinion
Across The Border
by Yujing Liu
Across The Border
by Yujing Liu
China's online education market to grow 20pc annually, bolstered by new technologies
Analysts believe the best is yet to come for the US$24 billion market, with innovations such as live-streamed lessons enabling teachers to reach out to students in remote areas and smaller cities
China's online education industry has grown rapidly in the past few years, but analysts believe more business opportunities will surface as technology advances and capital pours in.
The country could become one of the world's most vibrant online education markets in the future thanks to growing household spending power, an undersupply of education resources, and the introduction of the two-child policy, analysts said.
The market is likely to grow 20 per cent annually, reaching 270 billion yuan (US$41 billion) in 2019, up from 156 billion yuan in 2016. Globally the online education market will rise to US$190 billion by 2019, statistics from iResearch and Decebo showed.
This means big opportunities for online education companies in China, which had attracted 144 million users by June this year, according to data from China Internet Network Information Centre.
"The advancement of technology is the foundation of the growing online education industry," said Du Miaomiao, an analyst at iResearch.
Differing from traditional teaching, new technology allows companies to broaden the student base, save on classrooms, and even provide smarter services.
Live-streamed classes, for example, have enabled educators to reach out to students who would face long commutes. Demand in third- and fourth-tier cities in China will be a significant growth area, an iResearch report said.
"What the online education firms are trying to capture at this stage is a new market instead of the existing one," said Zhang Dongdong, marketing director of EEO, a developer of online classroom software.
Videoconferencing technology has also lowered the cost of running an education business, said Alex Lee, chief executive of MAST Education, a provider of individual online tutoring for the Advanced Placement programme in the US and the International Baccalaureate curriculum.
"Full-time tutors nowadays are paid more than HK$800 for an hour. The tutors on our platforms are anywhere from HK$200 to HK$600," said Lee.
New technologies can also help take education services to a new level by using big data and artificial intelligence.
Other technologies include automatic grading of handwritten essays, and online search tools to help uncover answers to problems. Innovators are also exploring the use of virtual reality and augmented reality in education.
Chinese online education start-ups attracted more than 50 billion yuan of investments in the first half of 2017, an iResearch report said.
After a wave of investments in online education in 2015, investors are becoming more rational now, said iResearch's Du. "It is not a shrinking market, but is developing healthily," she said.
Among the biggest players, VIPKid, which provides live-streamed English-language courses taught by teachers based in North America, completed a fundraising of US$200 million on August 23, the biggest in China's kindergarten to age 12 education industry.
Traditional brick and mortar education giants have also stepped into the field. The top two Chinese education firms listed on Nasdaq, TAL Education Group and New Oriental Education, have invested in more than 100 companies spanning online tutoring platforms, social apps and education technologies.
TAL and New Oriental "could be adopting technologies such as artificial intelligence faster than most investors would expect," according to a Jefferies report by analyst Johnny Kin Man Wong.
The two firms have adopted a dual-teacher model: for each class, one teacher would lecture by live broadcasting, and the other would supervise students in physical classrooms.
In spite of ample capital, analysts said cutthroat competition made it difficult to operate profitably.
Most online educators either charge individual customers or businesses, including schools and government bodies. About 70 per cent of operators suffered net losses, according to a 2016 report by China's Internet Education Research Institute.
One challenge for those in those in kindergarten to age 12 sector is that their customers are the parents who pay for their children's education. And in many cases, they are only willing to buy online teaching services if they come accompanied by supervision and tutoring to facilitate the learning process, iResearch's Du said.
This article appeared in the South China Morning Post print edition as: Online education sector comes of age