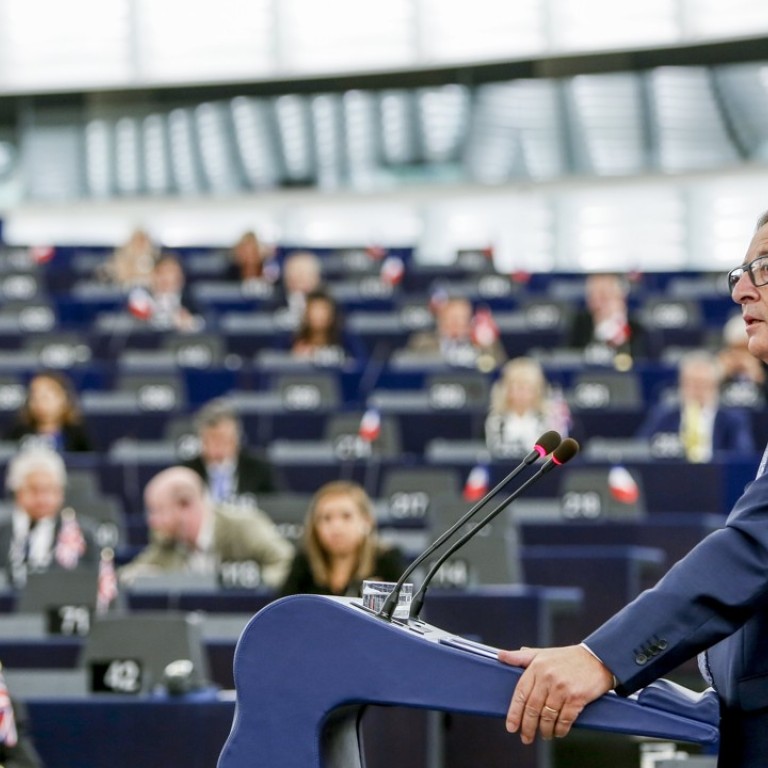 European Commission seeks to restrict investment from Chinese companies
The president of the European Commission has asked for greater powers for the European Union to review foreign investments, a move which analysts said was targeted at Chinese companies.
"If a foreign, state-owned company wants to purchase a European harbour, part of our energy infrastructure or a defence technology firm, this should only happen in transparency, with scrutiny and debate," said the Commission's president, Jean-Claude Juncker in his annual State of the Union speech on Wednesday.
To this end, Juncker said he was proposing a new EU framework for investment screening.
"Let me say once and for all, we are not naive free traders. Europe must always defend its strategic interests," Juncker said.
Analysts said Juncker was speaking about China's economic power, even though he made no direct reference to the country.
"That the speech specifically refers to state-owned companies shows that it's targeted at China," said Alicia Garcia Herrero, Natixis chief economist Asia Pacific.
"Juncker's speech is telling China not to invest in European strategic sectors, but it is not a particularly effective threat, as he does not set out the consequences. This is because there is no agreement within the European member states."
Germany, France and Italy have been leading the charge for greater scrutiny of investment by Chinese companies in certain key sectors, but other states continue to welcome investment across the board.
The latter group includes Spain, Portugal, Greece as well as many Eastern European countries, Garcia Herrero said.
The new regulations offer a framework for European member states to restrict investments on grounds of public security and public order.
According to a draft version of the regulations leaked to website Politico, the sectors that were open to review include infrastructure, energy, transport, space, artificial intelligence, robotics, semiconductors and financial settlement.
"You might say that this is Europe's equivalent to CFIUS in that the proposal looks at inbound investment from a security perspective, but there are lots of differences," said Alastair Mordaunt a Hong Kong based partner at law firm Freshfields.
The Committee on Foreign Investment, or CFIUS, is a US body that can review investments on national security grounds.
"For example, on the one hand, the scope is wider because it also looks at public order which CFIUS doesn't do; but on the other hand, it does not give the commission the power to block deals, as the president can under CFIUS, nor does it strictly oblige member states to follow its recommendations," Mordaunt said.
Under the draft proposal, the new regulations would govern EU programmes such as the global satellite navigation system Galileo. But individual member states can choose not to follow the advice of the commission if they explain why.
The proposed new regulations have not arrived in a vacuum.
In June, the German parliament brought in rules to prevent non EU companies acquiring more than 25 per cent of a German company on security grounds. Last week French President Emmanuel Macron also called for more European investments into Greece to take the place of investment from other countries.
China's largest shipping company, COSCO has been managing two piers at Greece's largest port, since 2009, and last year bought a majority stake in the port's operating company.
During the first half, there were 146 deals involving investments by Chinese into European companies, according to ThomsonReuters and PwC calculations.