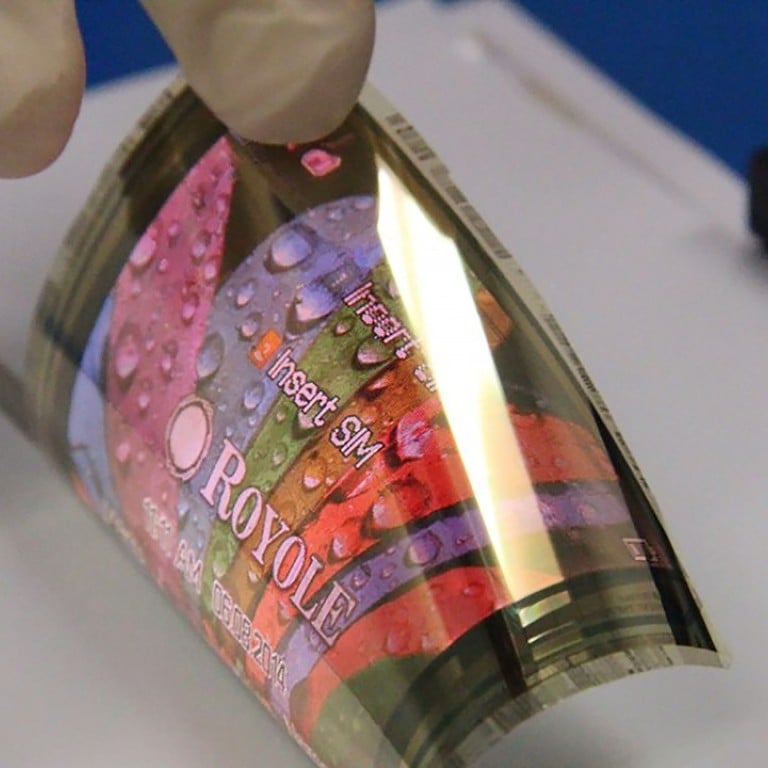 Ultra-thin flexible display maker Royole raises another US$800m
Chinese start-up that makes the world's thinnest full-colour flexible display was valued at US$3 billion recently, making it one of the world's fastest-growing unicorns
Royole Corporation, a Chinese start-up that makes the world's thinnest full-colour flexible display, has raised US$800 million in its fourth and biggest round of funding yet from a group of heavyweight investors, including Citic Bank, ICBC, Agricultural Bank of China, Bank of China, and Zhong Hai Sheng Rong Capital controlled by Chinese billionaire Forest Xie Zhikun.
Royole signed debt financing deals on Tuesday with Citic Bank, ABC, ICBC, BOC, and Ping An Bank to collect US$560 million, the company said in a statement.
It also previously signed equity financing deals valued at US$240 million, with Warmsun Holding, Hanfor Capital Management, Shanghai Pudong Development Bank, Tan Shi Capital Management, and Zhong Hai Sheng Rong Capital Management controlled by Forest Xie, founder of Zhongzhi Enterprise Group.
"The investments will help us devote more resources into research and development, production, and sales, and to speed up our business growth," said Bill Liu Zihong, Royole's founder and CEO.
"We will focus on the next generation technology of human-computer interaction, as well as the R&D, production, and sales of related electronics."
Royole was founded in August 2012 in Silicon Valley, Hong Kong and Shenzhen simultaneously. In 2014, it released the world's thinnest 0.01mm full-colour screen, which is bendable and rollable.
The display uses a technology called Amoled as the front panel and can be integrated with a fully-functional mobile platform. Amoled makes the panel lighter and allows more saturated colours compared with LCD.
Last November, Royole was valued at US$3 billion after raising 500 million yuan (US$75.5 million) from Warmsun Holding Group.
It took around four years for the company to crack the US$1 billion "unicorn" valuation, higher than the average seven years for US start-ups to reach that level, according to information from the Boston Consulting Group.
Other investors in Royole include IDG Capital, Green Pine Capital Partners, and government-backed Shenzhen Venture Capital.
Royole said in the statement that it has invested 10 billion yuan building a production base for flexible displays in Shenzhen since 2015.
In April, Liu said publicly that the production line will officially launch as early as the end of this year.
This article appeared in the South China Morning Post print edition as: Mainland start-up secures US$800m from investors