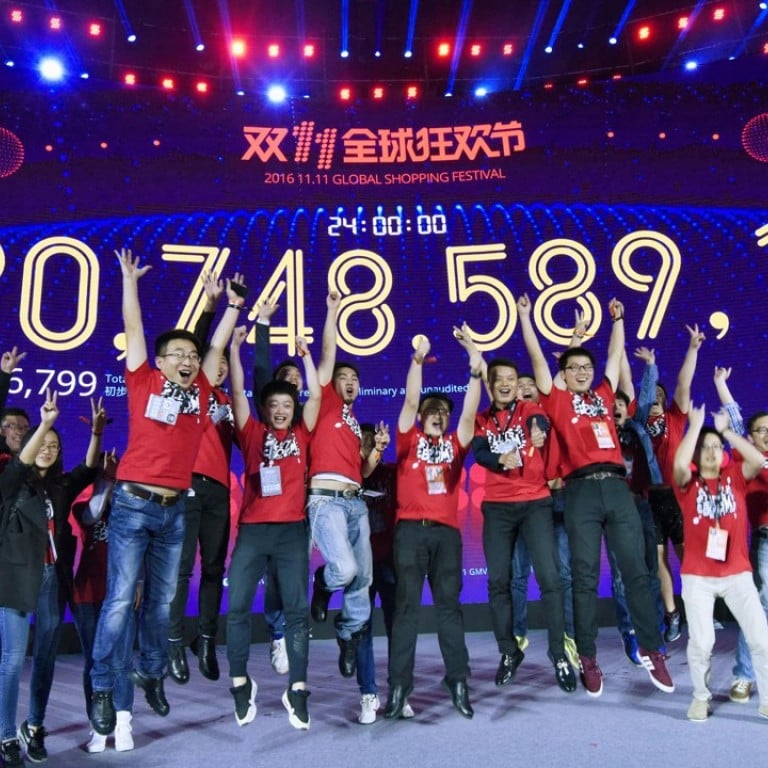 Alibaba's Singles' Day sales set to hit a record US$23b this year
With more international brands and overseas buyers participating, China's Singles' Day festival will continue to dwarf North America's Black Friday online promotion, which recorded US$3b in sales last year
Singles' Day sales transacted across all Alibaba Group e-commerce platforms this year are expected to surge 26 per cent to a record 152 billion yuan (US$23 billion), according to global consulting firm Oliver Wyman.
The growth will be supported by demand for imported products and the participation of overseas audiences, increasing the importance of cross-border e-commerce promotions in the event, the consulting firm said in Shanghai on Tuesday.
Singles' Day spending on Alibaba platforms, including Tmall and Taobao, topped 120.7 billion yuan last year, up 32 per cent from the year before.
Alibaba has pledged to turn this year's 24-hour online shopping extravaganza – which kicks off at midnight Friday – into an international affair, with plans to promote 100 indigenous brands abroad while offering more foreign products and services to mainland Chinese buyers.
Alibaba owns the South China Morning Post.
"With all of China on the lookout for a deal, Singles' Day remains relevant for companies seeking to win new customers," said Jacques Penhirin, partner and managing director of Greater China at Oliver Wyman.
The consulting firm's forecast echoes the findings of a separate survey of 900 Chinese consumers by online market researcher Lightspeed, which found that 60 per cent will try new premium brands that are normally out of reach at their regular prices.
Five per cent of respondents said they will shun this year's Singles' Day shopping spree on all e-commerce platforms, partly due to previous complaints about complicated discount rules. However, about 74 per cent of respondents said they will spend the same or more than last year.
Amid the sales boom, the real challenge for retailers will be how to predict consumer behaviour and identify potential hot items from a pool of tens of millions of products, according to Oliver Wyman.
"Artificial intelligence can help combine all the variables [to enable brands] to make predictions," said Edouard DeMazerac, partner and head of data and analytics for Asia Pacific at Shanghai-based Oliver Wyman Labs.
A separate Oliver Wyman survey of China-based C-suite executives at large multinationals and local companies in the financial and retail sectors found that most see partnerships as the key to developing their own AI capabilities. They also agreed that the clear leaders and eventual winners in the AI race are China's tech majors, led by Baidu, Alibaba and Tencent – collectively known as BAT.
Ultimately, the winners in the new AI-driven world will be companies that train their own talent, hire people with the right mix of business and tech skills, and structure their business to effectively work in a much larger ecosystem, walking a fine line between partnership and leadership, Oliver Wyman said.
This article appeared in the South China Morning Post print edition as: sales 'set to surge'