IPO
Get more with myNEWS
A personalised news feed of stories that matter to you
Learn more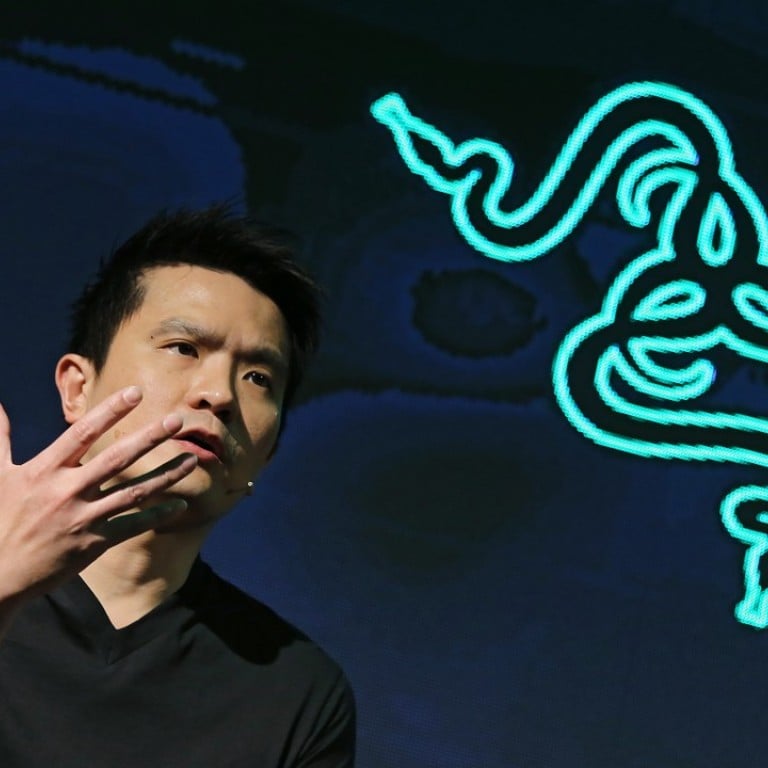 Listing frenzy continues: Li Ka-shing-backed Razer prices IPO near top of range; Yixin way oversubscribed
Share offerings both way oversubscribed, following on from China Literature which this week became HK's most-lucrative debut in a decade
Gaming device maker Razer, which is backed by Intel and Hong Kong's wealthiest man Li Ka-shing, has priced its initial public offering (IPO) near the top of the price range at HK$3.88, after its public offering tranche was 290 times oversubscribed, making it one of this year's most popular IPOs.
The global offering price has put the IPO fund-raising amount at HK$4.12 billion (US$528 million), the fourth-largest tech listing this year, after ZhongAn Online Property & Casualty Insurance, China Literature, and Yixin Group, in all of which Tencent Holdings has a stake. 1.06 billion Razer shares will be offered for sale.
Razer's IPO price gave it a market cap of approximately HK$34.4 billion. The company run by Tan Min-Liang, its co-founder, CEO and executive director, has received retail investor demand of 31 billion shares, 291 times the number of shares it offered originally to Hong Kong's public, the company said on Friday.
About 220,000 retail investors subscribed for the new shares, with the locked-in investor capital reaching HK$124 billion, making the offering one of the most sought-after this year.
Due to the oversubscription, underwriters increased the public offering tranche from 10 per cent to 50 per cent, or 531.8 million shares.
Net proceeds from the IPO, with shares set to debut the Hong Kong stock exchange on Monday are expected to be HK$3.9 billion.
Razer's shares, meanwhile, have traded more than 15 per cent above their IPO price in the so-called grey market, when new securities are bought and sold before official trading begins.
Five cornerstone investors put in a combined US$153 million, including the Singapore government's investment fund GIC Private, and Shenzhen real estate developer Kingkey Enterprise Holdings, each with a US$20 million investment.
Yixin Group, a Chinese online car retailing platform again backed by Tencent, meanwhile, is also joining the new IPO frenzy. The stock, which is scheduled to start trading on Thursday next week, has already locked in more than HK$382 billion – valuing the IPO among the top 10 in Hong Kong history, according to preliminary results.
Its public offering tranche, which closed on Thursday at noon, received an oversubscription of about 560 times, according to Infocast, the financial information provider, based on estimated public orders from local brokers.
Yixin plans to issue 879 million shares in the global offering at an expected range of HK$6.6 to HK$7.7 each. The firm's largest shareholder, online car marketplace Bitauto, has a 51.6 per cent stake while once again Tencent currently holds 24.3 per cent and e-commerce platform JD.com and internet search firm Baidu, 12.7 per cent and 3.5 per cent respectively.
Earlier this week, China Literature, a unit of Tencent and China's largest online publishing and e-book website, attracted retail bids more than 620 times its public offered shares and locked in investor capital of HK$520 billion, the second largest in Hong Kong history.
The stock closed up 86 per cent on its first day of trading on Wednesday, making the IPO debut the most lucrative in a decade for Hong Kong's retail investors.
By early Friday afternoon, they were trading at HK$103.1, down 0.9 per cent, with 8.13 million shares trading hands. The stock price ended in debut day on Wednesday at HK$102.4, 86 per cent up from its IPO price of HK$55.
This article appeared in the South China Morning Post print edition as: IPO frenzy gains steam as razer ready for debut