IPO
Get more with myNEWS
A personalised news feed of stories that matter to you
Learn more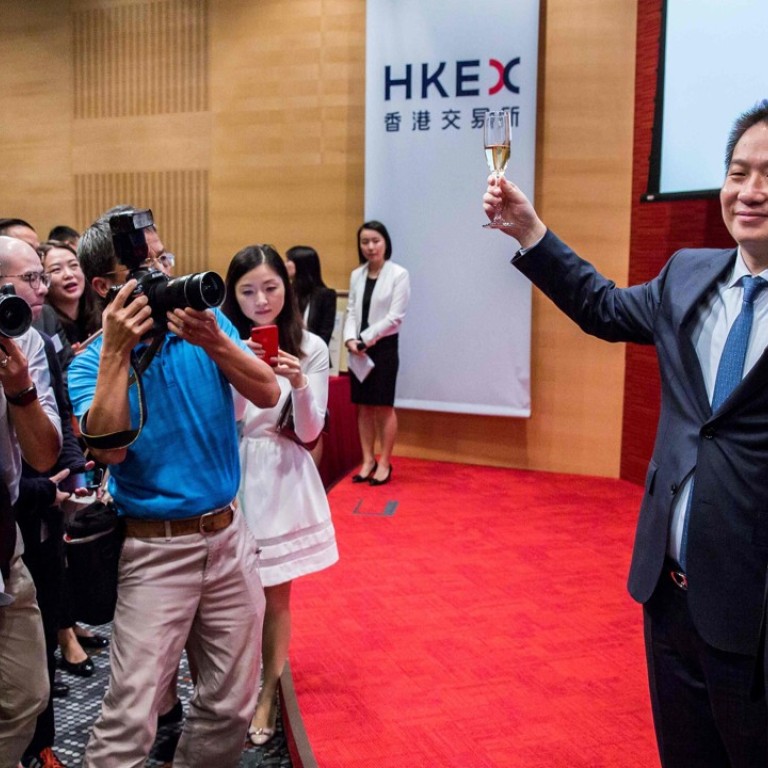 Hong Kong set to lose global IPO crown to New York and Shanghai as fundraising halves
Hong Kong looks to have lost out to New York and Shanghai this year, with Thomson Reuters ranking the city third, while 'old economy' listings continue to dominate locally and hi-techs choose elsewhere to float
Hong Kong is on track to lose its much-coveted crown as the world's top initial public offering (IPO) market as the year draws to a close, with latest figures showing total funds raised here have dropped 48 per cent compared with 12 months ago, leaving the city ranked third behind New York and Shanghai.
IPO funding raised by 67 companies on the main board of Hong Kong Exchanges and Clearing (HKEX) this year stood at US$12.29 billion as of Wednesday, according to data from Thomson Reuters, compared with US$23.72 billion at the same stage of 2016.
New York's 67 IPOs raised US$28.93 billion and Shanghai saw 197 companies raise US$18.69 billion.
The disappointing Hong Kong result comes even after a recent flurry of new listings in the past two months – but even those failed to turn the tide in its favour.
The city has been the top IPO market for the past two years, but a lack of real blockbuster new listings and its failure especially to attract tech firms, have been blamed for getting kicked it off its perch.
Financial Secretary Paul Chan has already announced a consultation paper will be launched by HKEX in the first quarter of next year on plans to examine allowing dual class stock listings – a type favoured by many technology or new economy companies – which it hopes will help reverse its fortunes.
A dual class stock is the issuing of normally two types of shares by a single company, possibly offering more voting rights or dividend per share than other classes of shareholdings. That is the type favoured by tech giants Google and Facebook.
One share class might be offered to the general public, while the other is offered to company founders, executives or family. The class offered to the general public has limited voting rights, while the class available to founders and executives has more voting power and often provides them majority control of the company.
This is allowed in the US, but has been banned in Hong Kong since the 1980s.
Snap, the world's largest IPO this year raised US$3.91 billion, adopted a dual class shareholding structure for its offering in New York. Its stock exchange had three IPO among the top 10 in the year-to-date, including two hi-tech firms.
The Hong Kong market, in contrast, is still dominated by "old economy" financial firms, seven of which make up its top 10 largest.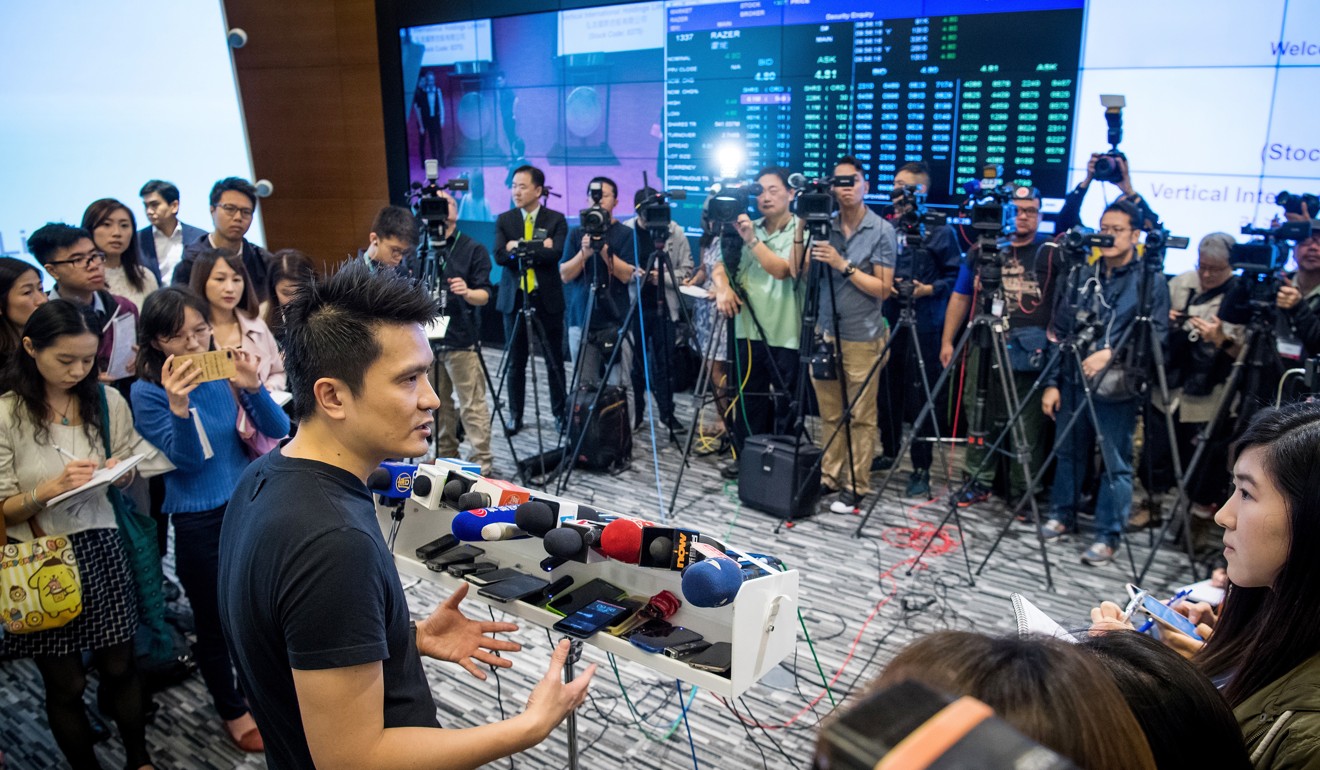 Guotai Junan Securities was Hong Kong's largest IPO this year raising HK$16.5 billion (US$2.22 billion), which was also the only domestic listing to squeeze into the global top 10.
Other more-recent heavyweight HK floats have come from China's largest online car retailer Yixin Group (US$866), gaming device maker Razer (US$524m), China Literature (US$1.06b), China's largest online publishing and e-book site, a unit of Tencent, and ZhongAn Online Property & Casualty Insurance (US$1.52b), China's first online-only insurer backed by Alibaba affiliate Ant Financial Services Group, Tencent Holdings, and Ping An Insurance
.
"Hong Kong needs to fight for both old and new economy companies to list here," said Christopher Cheung Wah-fung, lawmaker for financial services sector who is also a broker, "so as such, we should allow companies with dual class shareholding structure to be listed".
"However, we would need to add in a number of measures to safeguard the interest of investors," Cheung said.
He suggested, for instance, having sunset clauses – regulations that can automatically be abolishing – and possible expiry dates on adopting such a structure. One sunset clause might be the company would have the option to delist, if the founder or key management members were to leave.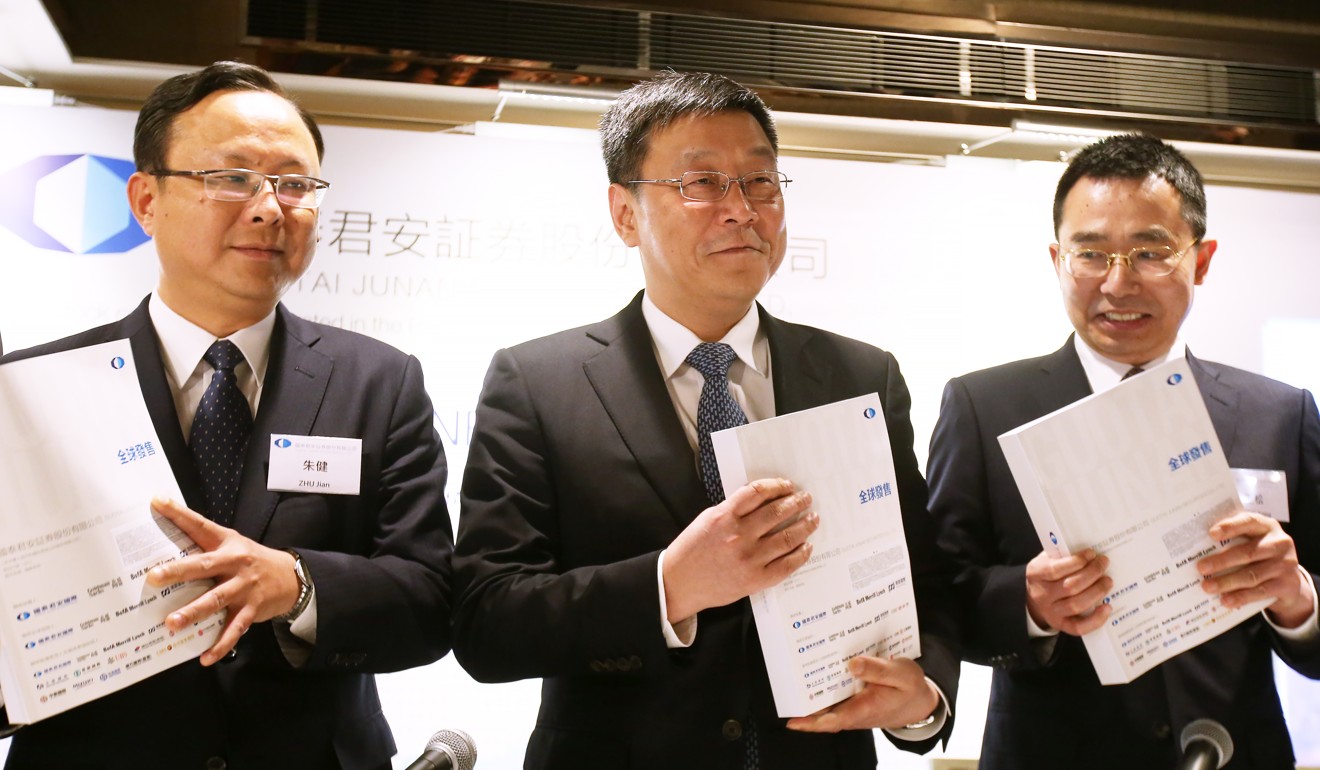 Norm Champ, a partner at law firm Kirkland & Ellis, and the former director of investment management at the US Securities and Exchange Commission (SEC), said it would be "smart" for
Hong Kong to change its listing regime to allow dual class share structures, given the fierce IPO market worldwide.
"The SEC and the US government are also very keen on getting more companies to list in New York by easing the disclosure regulations," said Champ.
He added the actual number of listed companies in the US has fallen by half over the past two decades as many companies stayed private, or delisted, to escape the expense and scrutiny of being public.
The SEC may also relax some regulations such as the disclosure of the pay ratio of the chief executive to other employees, Champ said.
"The IPO market has bounced back in the US this year, and that trend is likely to continue."
This article appeared in the South China Morning Post print edition as: Hong Kong set to lose position as top IPO venue