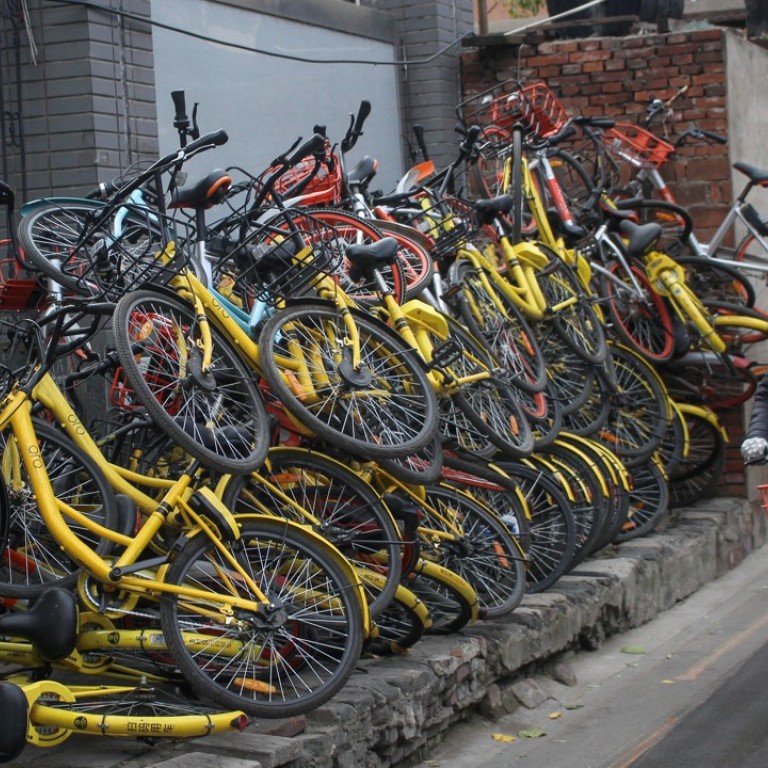 Mingbike becomes first Chinese bike-sharing firm to be sued over deposit defaults
Consumer watchdog files a law suit against Guangzhou-based Mingbike after 30,000 users claimed they were left out of pocket
One of China's defunct bike-sharing companies is being sued by a consumer watchdog for failing to refund users' deposits in what could turn out to be a landmark case leading to similar law suits.
Guangdong Consumer Council filed the civil action on Monday against Guangzhou-based Mingbike, after more than 30,000 complaints made by customers left unable to reclaim their 199 yuan (US$29.87) deposits. Mingbike became the latest casualty of China's overcrowded bike-sharing industry, laying off virtually all its employees, according to media reports last month.
The claimants are demanding immediate refunds, the setting up of a third-party dedicated account for deposit management and the scrapping of such charges for new users, according to a statement by the watchdog.
"Mingbike failed to return deposits as it had promised on its app, and neither did it put users' deposits into a separate account for management," said Chen Wenyuan, a lawyer from F&P law firm representing the plaintiff.
Chinese media reported in November that Mingbike had laid off 99 per cent of its staff, some of whom posted complaints on social media that their salaries had been withheld for several months.
When the South China Morning Post attempted to contact Mingbike, its phone lines were either no longer in use or the calls were directed to a switched-off mobile.
The last post on the company's Weibo account was in early October, while its WeChat account has not been updated since November 10, coinciding with the time when it became "irresponsive" towards the consumer watchdog's censure, according to the statement.
Mingbike's claim to have an escrow account for deposits was contradicted by records provided by banks, the Consumer Council added, citing its preliminary findings.
The latest move comes after the China Consumers Association demanded bicycle-sharing firm Kuqi Bike return deposits to its users and assume its legal responsibilities in an open letter dated earlier this month.
"The deposits consumers put down for rental activities are their own property. No company shall have the right of disposal. They should be refunded immediately once the renting is completed," the association said in the letter.
The Consumers Association said that Kuqi had given a fake address for people seeking deposit refunds, and that it had received more than 210,000 complaints since August.
Winter looks set to rapidly cool this year's hottest start-up trend in China, as the cash-burning bike-sharing industry claims more victims and concerns increase about the estimated billions of yuan tied up in deposits.
Last month the third-largest provider, Bluegogo, closed due to a shortage of cash. Wukong Bike, based in the western city of Chongqing, shut down just five months after its launch in January, racking up losses of nearly US$150,000.
China's bike-sharing market, packed to bursting point with more than 40 platforms, has attracted US$2 billion in funding over the last 18 months. At the top of the heap, with a combined market share of 95 per cent are Mobike and Ofo, Beijing-based companies each valued at more than US$1 billion, making them unicorns in a field with many smaller competitors.
"As companies rush into the popular sector, deposits have become their way to bankroll expansion, and consumers' rights are overlooked," said Chen, who believes similar legal cases may be brought against other bike-share companies.
The industry is expected to be worth 23.7 billion yuan by 2019, according to consultancy iResearch, even though users can now sign up for unlimited rides for just 2 yuan per month because of the intense competition.
The main problem facing bike-share firms is that, unlike the car ride-sharing business pioneered by Uber and its Chinese equivalent Didi Chuxing, bike operators have to buy tens of millions of bicycles and pay for staff to maintain and repair them. Car-sharing firms simply connect passengers with vehicle owners.
However, the sector has attracted sizeable investment from big-hitters including Didi, Meituan, Tencent and Alibaba, because it has proved effective in promoting mobile payments and in collecting user data that can give insights to marketing companies and businesses.