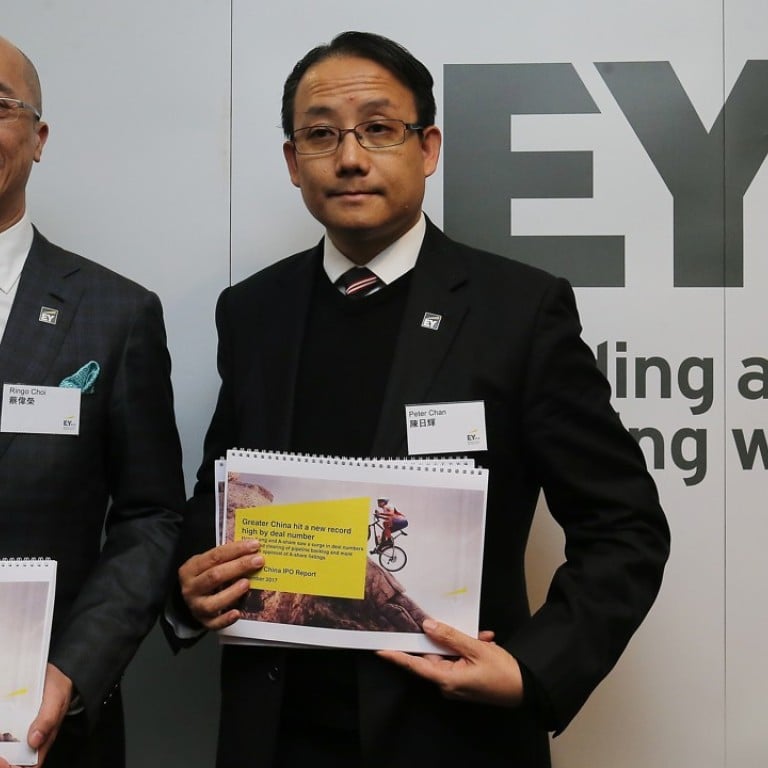 Shanghai and Shenzhen stock exchanges continue to chip away at Hong Kong's IPO attractiveness
With Shanghai and Shenzhen adopting speedier listing processes and a strong IPO pipeline, the two mainland bourses are set to extend their dominance next year
Hong Kong stock exchange will face mounting competition from Shanghai and Shenzhen bourses, as speedier listing approval process and strong demand from investors expected next year will help them to extend their top rankings.
In its annual IPO review and outlook for 2018, EY laid out the prediction based on the number of IPOs and proceeds raised this year – 436 companies mopped up 230.4 billion yuan (US$35.1 billion) from the A-share market.
These represent an increase of 92 per cent in number and 53 per cent in proceeds compared to 2016, and make the Shenzhen and Shanghai stock exchanges the top two respectively in number of IPOs completed this year. Hong Kong was ranked third, with a total of 160 IPOs.
However, in terms of proceeds raised, the New York Stock Exchange ranked top in 2017, with US$39.5 billion, followed by Shanghai at US$20.9 billion; and Hong Kong at US$16.5 billion.
While the number of A-share IPOs reached a record high, a lack of IPO that raised over 5 billion yuan per deal also means that all these IPOs' proceeds raised combined was just 47 per cent the total amount raised in 2010, which was the second biggest year for IPOs in numbers at 347.
However, "there were 508 companies [as of December 22] waiting in the pipeline to have their IPOs approved by the China Securities Regulatory Commission," said Ringo Choi, IPO leader for Asia-Pacific at EY. "There is still good demand from mainland investors for IPOs and so long as the Chinese stock markets do not collapse [in 2018], we believe this pipeline can get listed."
Choi said the A-share IPO market became more "normalised" as 2017 progressed, with an average of 30-40 IPOs completed per month.
In Hong Kong, a record 160 IPOs were completed, up 37 per cent from a year ago. Combined they raised HK$128.2 billion (US$16.5 billion), down however by 34 per cent from a year ago.
According to EY, a lack of large IPOs also squeezed total funds raised in Hong Kong. But more significantly, a record 80 companies got listed on GEM board.
The bullish performance of the Hang Seng Index, which has gained 34 per cent this year and ranked first among major indices including Nasdaq and Dow Jones Industrial Average, has benefited the IPO market, Choi said, adding that 28 overseas companies were also attracted to list in Hong Kong, the highest in six years, raising a total of HK$10.02 billion.
"New listing rules to be introduced in 2018 for allowing listing of dual-class share structure on the main board; and the proposal to increase the minimum expected market capitalisation of main board applicants to HK$500 million from HK$200 million are all positive for the Hong Kong IPO market for the first half," Choi said.
However, for the second half he was more cautious. Apart from uncertainty about whether investors would still continue to favour equities like they did in 2017, Choi noted competition from the two exchanges in China.
He expected that as A-share IPO vetting process accelerates with simpler approval procedures, this might erode the attraction of the Hong Kong bourse as these companies might opt for a listing on the mainland because of the attractive pricing levels that can be achieved.
For 2018, he expects IPOs in Hong Kong to raise HK$150 billion, but a mega IPO, such as that by listing hopeful Saudi Arabia's national oil giant Aramco, will bring the total to over HK$200 billion.
This article appeared in the South China Morning Post print edition as: HK bourse faces growing challenge from mainland