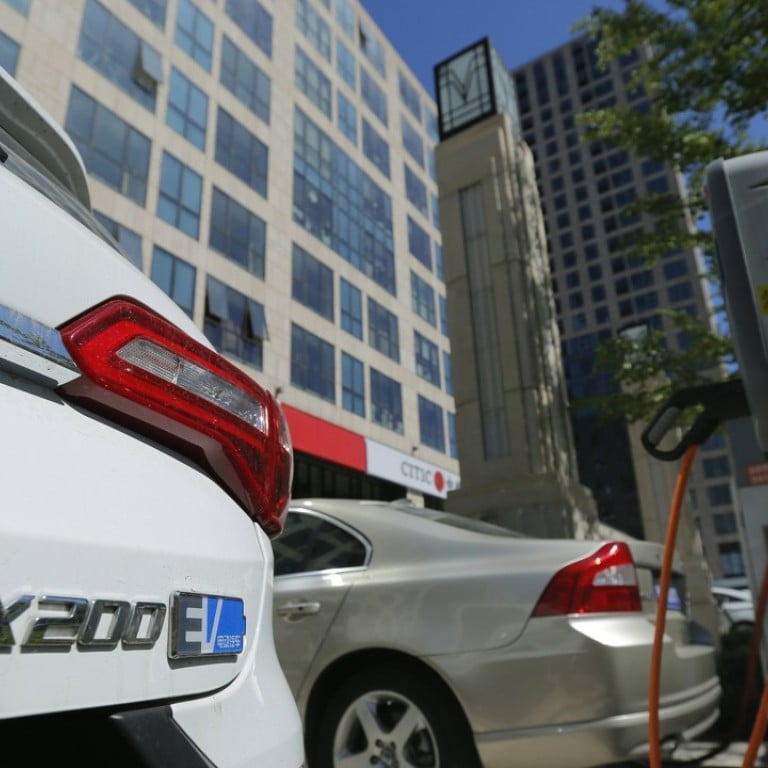 China's biggest electric-car maker, BJEV, to list in US$4.5 billion deal
China's biggest electric-car maker will gain a stock market listing in an asset swap valuing the state-backed manufacturer at 28.8 billion yuan (US$4.5 billion), giving investors a chance to bet more directly on the world's largest market for new-energy vehicles.
One of BAIC Group's publicly traded affiliates, Chengdu Qian Feng Electronics, will buy Beijing Electric Vehicle Co, also known as BJEV, in a stock sale and asset-swap deal. As part of the plan, Qian Feng will sell 761.1 million shares at 37.66 yuan apiece to all shareholders of BJEV for the acquisition, a BAIC subsidiary said in a statement to the Shanghai stock exchange on Monday.
BJEV will become the first state-owned manufacturer of new-energy vehicles to list on a mainland stock exchange, competing for attention from investors who have driven up the share price of BYD, a Warren Buffett-backed carmaker that trades both on the mainland and Hong Kong. BJEV – which is disclosing a valuation publicly for the first time – is among companies raising funds and expanding to get a head start as China's government encourages more clean-energy vehicles to hit the roads.
BJEV's sales of electric vehicles almost doubled to 103,199 in 2017. The company said it boosted its share of the Chinese electric-vehicle market to an estimated 23 per cent last year, from 15 per cent in 2016.
BJEV raised 11 billion yuan in its latest round of fundraising announced in July, mainly from state-owned companies, following a 3 billion yuan round in 2016.
China surpassed the US in 2015 to become the world's biggest market for new-energy vehicles as both traditional automakers and a bevy of start-ups work to meet the government's target to boost yearly sales of plug-in hybrids and fully electric cars tenfold in the next decade. China has made electric vehicles a strategic initiative as part of its push to lead in automotive technology, curb pollution and cut dependence on imported oil.
At this month's Consumer Electronics Show in Las Vegas, Chinese electric car start-ups were at the forefront. Byton, a Nanjing-based company started by former BMW executives, unveiled a US$45,000 SUV. Within days, XPeng Motors, backed by funding from Alibaba Group Holding, unveiled a production model.
Of the 4,500 exhibitors at the annual event in Las Vegas – a global stage to showcase the latest developments in consumer electronics – more than a third were from China.