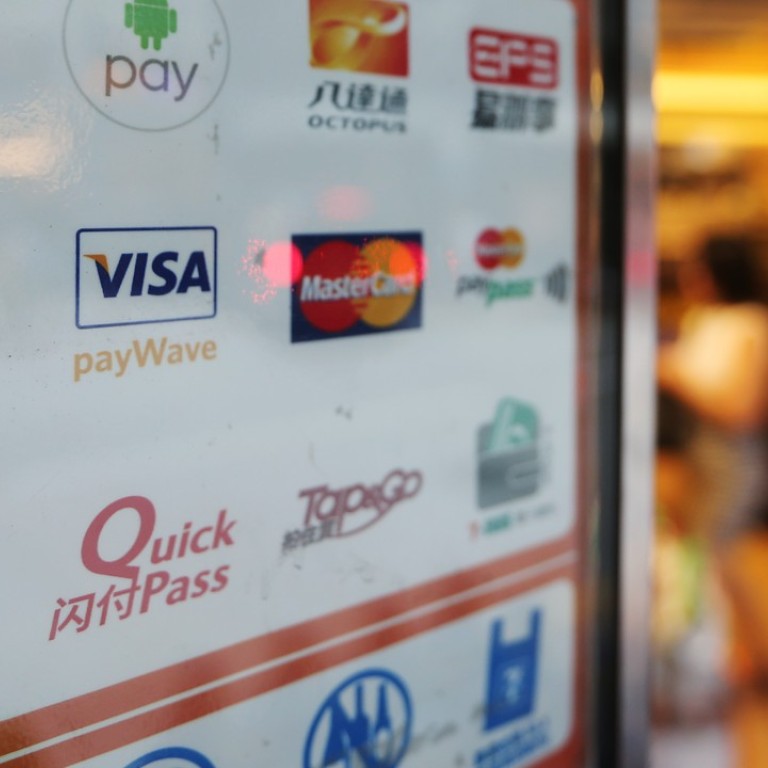 China UnionPay rolls out cash incentives on integrated payment app, ramping up battle with Alibaba and Tencent
China UnionPay is ramping up the marketing on its recently released integrated mobile app, in an attempt to make inroads into a sector dominated by third-party payment services backed by Alibaba Group Holding and Tencent Holdings.
Under a promotional campaign that winds down on March 2, participants who download and use the QuickPass app to transfer funds or invite friends to join are eligible for cash prizes of 2,018 yuan (US$322).
The promotion known as the "red packet feast" will run throughout the Lunar New Year holiday.
The app, launched in December, represents UnionPay's strongest ever effort to compete against Alibaba and Tencent in the fast-growing online payment sector. Transactions through UnionPay's quick response code were up sharply in December, the company said.
"UnionPay is playing catch-up with the internet duo of Alibaba and Tencent in the now ubiquitous mobile payment sector," said He Fei, a senior researcher at Bank of Communications in Shanghai. "An aggressive campaign could help UnionPay grab more users and build up its brand awareness in the segment."
According to UnionPay, bank card transactions through its network including traditional point of sale and mobile payment grew to 93.9 trillion yuan in 2017, up 28.8 per cent from 2016.
To boost growth, Alipay has been able to leverage its parent's expertise in e-commerce, while WeChat Pay has been able to benefit from the technological prowess of its parent, which owns the messaging app WeChat.
UnionPay's advantages include its reputation as an established state-backed bank card clearing system provider, he said.
UnionPay's app can be linked to more than one bank account by different banks with all of their mobile payment services accepted and conducted via the platform, the company said.
"The biggest challenge is if it can retain users once the promotional campaigns ends," He said. "It's likely that it's a short-lived effort as users, especially the tech-savvy younger generation, have already formed the habit of turning to third-party payment providers."
According to Beijing-based consultancy Analysys, the mainland's mobile payment market is projected to rise to 108 trillion yuan in 2017, or three times the level in 2016. By 2019 it could be worth 296 trillion yuan, the consultancy said.
Alipay led with a 53.7 per cent share of the market in the third quarter, trailed by WeChat Pay with a 39.4 per cent share.
UnionPay has at most a 2.3 per cent share, according to recent data.
Wang Pengbo, an analyst at Analysys, said Alipay and WeChat were leveraging their respective ecosystems in an effort to build a full-service digital wallet.
"They have ambition to rise as a place where different types of needs, such as insurance, wealth management and even borrowing can be me," he said. "Payment is only part of it."
Alibaba is the owner of the South China Morning Post.
This article appeared in the South China Morning Post print edition as: UnionPay eyes slice of mobile payment sector